Set to release today, Prem Ratan Dhan Payo, directed by Sooraj Barjatya and starring Salman Khan and Sonam Kapoor is a film which takes us back to the classic Bollywood filmi family movie. It tells the story of Prem 'Dilwala', a happy-go-lucky man who does 'Ramleelas' (stage plays based on Lord Rama) in Ayodhya, India. He knows all the Shlokas by heart and the purity of the scriptures resonates in all his pranks and fun. All that he earns, he donates to a charitable fund which is run by Princess Maithili. He is enchanted by the simplicity of her nature, her leading a normal life and yet being brave enough to save people in the middle of floods. The film is all about the two meeting and telling the story of the purity of the bond that they share.
Check out the trailer!

http://youtu.be/Vd4iNPuRlx4
We have a very special and exclusive Prem Ratan Dhan Payo interview just for you! Stars Salman Khan and Sonam Kapoor recently took part in an international video conference both in London and New York and we have highlights of what they answered in this special conversation about all things Prem Ratan Dhan Payo.
First we learned that Salman will be playing a double role in the film! "Yes, I am playing the roles of Vijay Singh and Prem – but if I open up too much about the characters I will spoil the suspense. But what I can say is that both the characters are phenomenal."
Prems of the Past and Prem Today
Talking about the history of his Prem characters, Salman had this to say, "The first one is always going to be special, Maine Pyar Kiya. Because that's THE Prem. Now Sooraj wrote Prem. I play Prem in the movie. Now does Prem make us? Or did we make Prem? We don't know. I have been accepted as Salman Khan because of Prem, this character that Sooraj wrote for me. Then came Hum Aapke Hain Koun. You know Sooraj just took it to another level of greatness. It is still one of the better films that we have made in our country. And then came Hum Saath-Saath Hain, which was a better film. And then now, we just finished this film, Prem Ratan Dhan Payo. With this film, he has made a really sweet simple film about romance and family values with an incredible amount of entertainment and humor."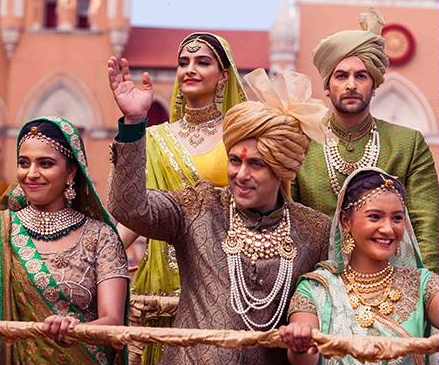 He added that this Prem is one of his favorites, "Prem is my favorite character too. I think this Prem is lovelier; he's a grown man but a very childlike. Sooraj has written this character. He has always been a mature man and romance has also grown in his life ten folds. The way he has written this character, he basically wants men and boys to be like Prem; he wants to change the way they are and to change this for women in the world. He wants men to be funny and charming but to also be respectful to women."
He also said, laughing, "I mean now, when you saw Hum Aapke Hain Koun, when there was Maine Pyar Kiya, there was a lot of people who have named their kids Prem. They did a contest recently, of how many Prems are there. And Jesus Christ, there are lots of Prems!"
Raves for director Sooraj Barjatya
Saying he is one of the best directors in the industry, Salman went on full of praise, "The qualities that he has are very godlike. I think he is undoubtedly one of the best directors that we have ever had. As a human being, I think Sooraj Barjatya is on a different plane altogether. He is one of the finest humans that I have ever met. And he has been like this since he was 19. He's the nicest person that you would ever meet. What he says he believes. He will never do anything that he is not convinced of. And he is one of the strongest people that I have ever met! He does not need to raise his voice. He does not need to show any anger. He is so clear in his thinking. And he speaks very little. He listens."
Also saying, "I just wish I could do another 4 or 5 films with Sooraj! I'm here in this industry only because of Sooraj Barjatya. A 19 year-old boy took a stand when he was directing his first movie, at a point in time when Rajshri Productions weren't doing that well, to take on an actor who had already done a film that's releasing before his film. Sooraj had seen Biwi Ho To Aisi, and we all knew that I sucked in the movie, but despite that he took me on because he thought I was good in the screen test for the film. He went by his instincts and the gut feel of his sister Chanda and cousin Charu."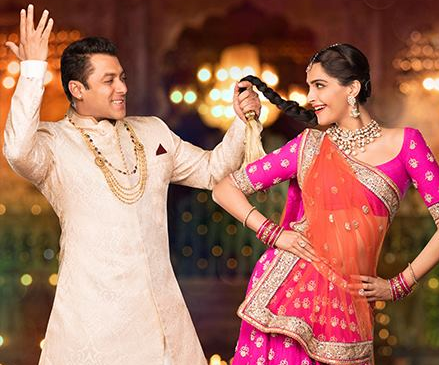 Sonam added with a smile: "You see Salman was always gorgeous looking…it's because they had a crush on him!"
Salman answered back with a laugh, "Well, they thought they saw something in me to suggest I would make it. I still don't see what, how… I don't even question it…let it go!"
As for Sonam, this is her first time, "Sooraj Ji is one of the most amazing people to work with. Besides the fact that he is an amazing filmmaker, there is such kindness and generosity as a human being that you just learn from it. And I am fortunate enough that he considered me for this film, because he makes few films, and decided to cast me. It was my luck. I'm very grateful for the opportunity. And I hope he keeps casting me in films!
Salman went on to say, "I think PRDP is Sooraj's best work to date. What I see in the character of Prem is what every guy should be like with a girl, which is very difficult as you need to have a lot of patience to be "Prem" in real life. Prem is so endearing that every girl would want to marry someone like Prem. He's somebody like … he's actually Sooraj Barjatya! Trust me, Prem is Sooraj. In fact Sooraj likes to see that side in me but the problem is that I only don't see that side in me in my real life. So Sooraj puts that on film. I would like to think I am Prem deep down."
Sonam on Maithili
Talking about her character Sonam had this to say, "With Maithili, she is a very modern day girl. She knows what she wants from the person that she wants to spend the rest of her life with, and she knows what she wants from life, and she is not afraid to ask for it. At the same time, she has her values intact. In a lot of ways, I hope that I get inspired by that. We all make mistakes when we are younger in a lot of ways. She's got enough courage to be like I'd rather be alone and happy than unhappy and with somebody. And she has the courage to face that."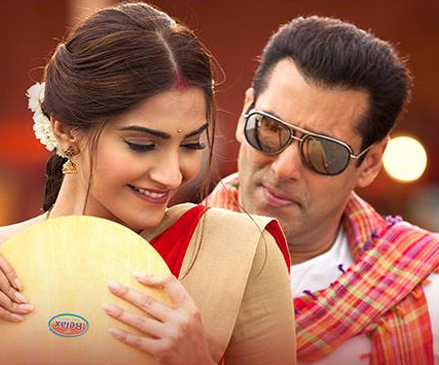 She was asked how similar she is to her characters in real life, which sparked a very cute exchange between Salman and Sonam. 
 
Sonam: "I don't think I'm similar to any of the characters that I played, I mean I'm definitely not a princess."
 
Salman: "Yes, she is a princess because her father spoilt her."
 
Sonam:  "I'm not spoilt! (She laughs). No, answering your question…I don't know, I hope I'm inspired to be someone with that much conviction and I try and do whenever I can to be like that. Perhaps there's a little bit of me in every character."
 
Salman: "I think she's got it in Prem Ratan Dhan Payo … I remember when Sooraj was showing me pictures of a lot of leading actresses and each and every picture that Sooraj showed me of Sonam were absolutely stunning. He showed me all the pictures when she was at her worst test, and she looked like the way she looks now, so that is one quality that he saw in her, and he said this is the lady for my film. This is something that I want." 
Starring Opposite Salman Khan
Sonam admitted that she was very nervous to star opposite Salman Khan, "I was very nervous, like really nervous. It's not easy working with someone who you've been a huge fan of. Also it's not easy because before Salman, I had never worked with a big star like him before. It's usually been contemporaries. I was nervous but he really made me feel comfortable."
"The best thing about him professionally is that he is the most hardworking actor that I worked with, he pushes himself and he is extremely talented. He's also very modest. Also, professionally it's easier to work with someone who doesn't judge you in anyway. I remember when I was messing up he'd come and tell me really nicely, he has a lot of patience," she added.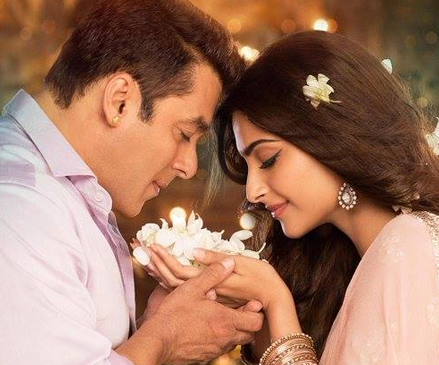 Amazing Music and Dubsmash
 
Here is an interesting tidbit from Sonam about the popular Instagram promotions that they have done with PRDP, "Okay, I'm going to tell you a secret, when I spoke with the marketing team at Fox, they mentioned that people were finding the title Prem Ratan Dhan Payo a bit of a mouthful. They told me we needed to come up with a really fun and genius way to talk about the film a lot. So, there was this really cute guy who did this dubsmash on Prem Ratan Dhan Payo and I thought let's put this up on instagram and maybe people would be excited about doing dubsmash. I thought it would be cool so I put it up and people really liked it a lot. And then a friend from New York told me to call a competition and to get the 5 best dubsmashes on Instagram – I did just that. There were lots and lots of people who did the dubsmash. It was easy to do and people loved doing the dubsmash as it has a great rhythm. Salman did one too, but he didn't do it for long.
"My aunt Sridevi also did one with Shilpa Shetty.  She loves me so much! I remember when I was just becoming an actress, she sat down with me and showed me how to do make-up really patiently for like hours and hours really patiently. I think she was extremely kind to have promoted me and the film. I've known Shilpa for a very long time and they had done the dubsmash at my home whilst I was away on promotions for the film. Once they did it they put it up on Instagram and I got a message from Shilpa saying to go on Instagram to see what we've done!"
They also talked about the amazing music by Himesh Reshammiya and Salman revealed his favorite song is the title track – 'Prem Ratan Dhan Payo' and that he also likes 'Jalte Diye', 'Jab Tum Chaho', 'Prem Leela' and 'Aaj Unse Milna Hai'. Adding, "As soon as the music released everyone loved this beautiful music. It is different. I was worried because it is different. I knew it would fit with in the film but I was worried. The kids have seen something really special about this movie and about the music of the film. This is why all the kids are doing dubsmash because they like this music. They have seen the songs with meaningless lyrics and vulgar dancing and they will see it again. But this is beautiful."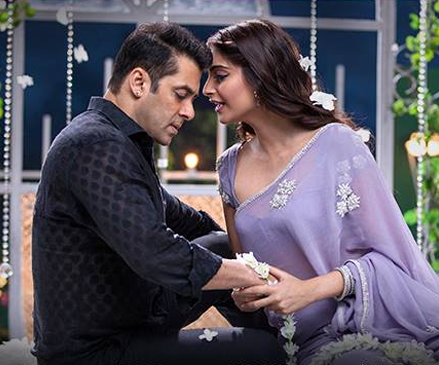 For Sonam, "'Jalte Diye' and 'Prem Leela' are my favourite songs from the movie. I also like 'Aaj Unse Milna Hai' as well – it's a very beautiful, romantic song.  I think that one of the reasons these songs are so popular is that people are looking forward to this entertainment and to this grandness and to this kind of melody in music."
A Beautiful Experience
Salman revealed that shooting for this film was a really beautiful experience, "I think every single day was beautiful. Actually walking to the set was a really beautiful feeling. The set were so lovely that we didn't mind shooting long hours. Sooraj actually is very particular about shooting long hours – he doesn't like to shoot that many hours, even if the scene was not complete he used to say, let's leave it now and we'll continue tomorrow, even if we were like no let's do it now.  You see, it's a very large-scale film; in every frame there were like hundreds of people, there was a regal theme, which also made it a very expensive film. Each day costs the production 45, 50 lakhs so when Sooraj said let's pack up and continue the scene tomorrow, it seriously took a lot of courage."
Sonam agreed adding, "It was a happy time – I think that's the best way to describe it, we were very happy and content."
 
The film's set and scenery is very grand and Salman said for this character and this film, you needed that to set the stage. "He is making a film about people who actually live in palaces. The whole film is about is this prince and he has this palace and you have to show this. It is about this one dude and he has got everything. We've shot in bout 3-4 palaces for this film. We've also gone back and we've put up our own palace, which perhaps would be as big and as grand as any other palaces. It's big. It's very large. It's very beautiful. And you need that grandness and grandeur. But I also have to say the emotion is the same no matter what the setting is. The emotion has to be correct and for me he has gotten that correct."
PRDP is relevant
Do they think that in today's distracted world, can this new film bring families together?
 
Sonam replied with an unequivocal yes: "I think that's the reason that this film is so relevant. It's relevant in the world of social media, and mobile phones, and the Internet, and laptops and everything. I've gone to parties and 50% of people are on their phones and they aren't interacting with each other. Think about the parties of before. I feel like it's so relevant because the one thing that we actually lack, even though we have every medium of communication, is communication! We actually aren't communicating and talking to each other and seeing each other. We can't do without our phones and we don't connect. And that's why a film like Prem Ratan Dhan Payo is so relevant because the one thing in relationships that we as a generation we lack is communication."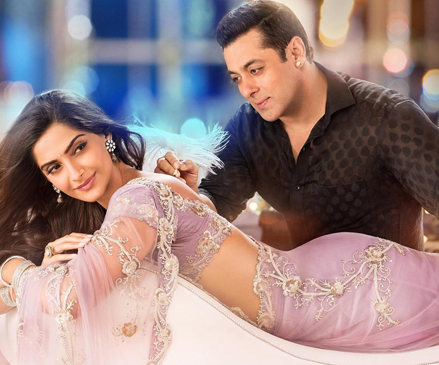 "That's why, I feel this is relevant. Sooraj ji told me something really really amazing when Khoobsurat was coming out. I was really nervous and he told me Sonam it is a family film. People really want to watch this stuff. It will do well. And he was right. I think he understands the pulse of what the world needs at that point. And you know art and cinema is a reflection of what is going on in society at the moment. Cinema is a reflection and this is what is needed to propagate change. And a film like Prem Ratan Dhan Payo and other films that propagate that change are what we need to bring families together."
 
Salman agreed and added: "We were watching this film with my friends and a lot of the time they see them as rushes not as the complete film. And a lot of times their phones will come out because they get distracted. And I know this one particular guy. I know he is with his phone all the time. I wanted to see his reaction so I stood behind him. He was watching the film. In the first fifteen minutes, he put his phone aside. Which I thought was a great quality. This film has that thing. It just gets you into it. But you need to see it with the right mindset. It's a funny film that is full of humor, sensitivity, romance, but the plot is so beautiful, in all that romance and everything, it comes to this one small point, which is messing all of us up. That is that brothers and sisters should not fight. There is no reason why they should fight. They need to just sort it out. Just negotiate and finish it. It is all going to be fine."
What Salman loves about PRDP
He says his favorite thing is the film's "nice, sweet, cute, ticklish moments. I like the film overall and how this really nice, happy, sweet film turns into this really emotional, beautiful, romantic love story which involves the family, brothers, sisters. I want everyone to go see this film and even more that they should go see it with their whole family. It is that type of film."
"He (Barjatya) has made a really sweet and simple movie about romance and about family matters with an incredible amount of entertainment and humor," Salman adds, "I mean you've seen Sooraj's films, every film also has a lot of entertainment and comedy. He doesn't need to give a message. He just writes and the message automatically comes in. I believe that whenever Sooraj Barjatya comes in and makes a movie, he changes people. That is what Sooraj Barjatya has done. Brought people together. He's brought back our culture. He changes people. When you leave a Sooraj Barjatya film, after the end of the titles, you emerge a better person."
Prem Ratan Dhan Payo is in theaters today.