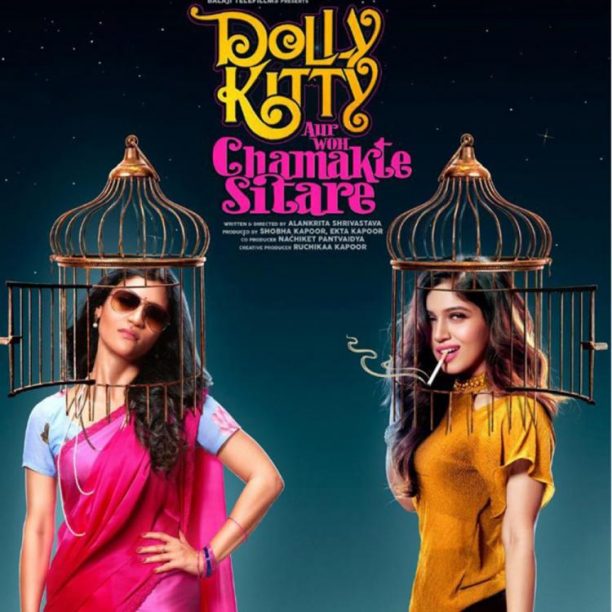 I don't know how far it would be correct to call Alankrita Shrivastava's Dolly Kitty Aur Woh Chamakte Sitare a "new" film. I remember Bhumi Pednekar talking excitedly about it with me two years ago.
But I guess everything happens in its own time. Now is the time for 'Dolly' Konkona Sensharma and 'Kitty' Bhumi P to do the sister act. And they do look comfortable enough to pass off as sisters .I must say they make for a rowdy pair of siblings, discussing each other's sex lives(haawww) with a titillating temerity.
This is the same universe of "liberated" women we met in the director's Lipstick Under My Burqa. Disturbingly Konkona Sen Sharma is still the sexually frustrated wife with a thoughtless husband lurching mechanically over her inert physique in a bed that needs oiling. In Burqa the heaving husband was Sushant Singh (not Rajput, the other one).
Here it is the very talented Aamir Bashir, in the role of an unthinking brute who asks his wife, 'What do you see in that boy?Do you think you will remain young forever?'.Silly man! Husbands who question their wives about their lovers in films are branded insensitive and oppressive.
There is the other male prop Vikrant Massey brought into any and every heroine-centric film by any enlightened director to play the Vinod Mehra of the new millennium. In Dolly Kitty etc etc Massey seems to serve mainly one purpose. To serve smooches to Bhumi Pednekar. Hope he had fun.
In the midst of the activity-crammed trailer Kitty(Kajal) is seen getting a toy-boy(Anmol Parasher) a deliver boy and he seems to be doing his delivery job in bed much better than ther husband, going by the sounds that Ms Sen Sharma makes.
As for the trailer, it gives away too much of the plot. TMI …. It looks interesting, though. But has nothing new to offer. Alankrita Shrivstava took us on the same feminist ride in Lipstick Under The Burqa. The women are still angry. And hungry. And there is little we men can do about it.
PS Bhumi comes up with a startling statistic: 1 out of every 4 men enjoy phone sex. Here is one in return: 1 out of every 4 women enjoy working as a phone sex worker.