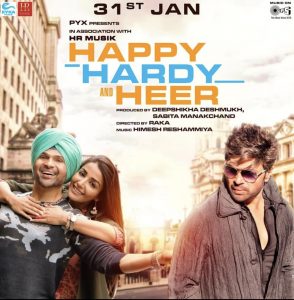 Happy Hardy Heer
Starring Himesh Reshamiyya, Sonia Mann
Directed by Raka
It is difficult to evaluate the true merits of this film. Most of the playing-time is devoted to projecting the film's leading man as a multi-talented mass entertainer with his finger on the pulse. Himesh Reshamiyya not only plays a double role he makes sure his presence is felt in every frame even when he is not there.
There are songs, some of them quite pleasing to the ear, composed by Himesh carpeting the soundtrack. Surprisingly Himesh doesn't sing all the songs in his own voice, though he does seem to sing all the time on screen. Even when some of the songs don't go with the plot they are meant to remind us that Himesh is a force to rock-on with.
The frilly film is shot in around London. Looking pretty as a postcard (cinematographer Chandan Kowli loves his camera lenses) the landscape accommodates some Gora characters played by what looks like random passersby offered a job on a film where a Brown Sahib lords over the proceedings. Quite a grim Colonial revenge, this.
The plot, if you must know, is about a loud, aggressive Punjabi girl Heer (debutante Sonia Mann, no threat to this week's other debutante Alaya F in Jawani Jaaneman) who for reasons known only to those who scripted this quaint concoction, resorts to repeated physical violence against the men she is close to. The men in her life are Himesh No.1 (a Sardarji) who is called a 'loser' throughout , and Himesh No 2, in tight teeshirts and tinctured hair riding an expensive sports car who's called 'Achiever' all through.
Achiever Himesh has his own subplot about a lonely mother whom Hotshot Himesh (a.k.a Achiever) encourages to re-marry. Now, that's quite an achievement!
Who gets Heer at the end? Loser or Achiever ? You are most welcome to find out at theatre nearby. And my best wishes.
PS. Who is the director billed mysteriously as Raka? Could it be the multi-faceted hero? Definitely an achiever!