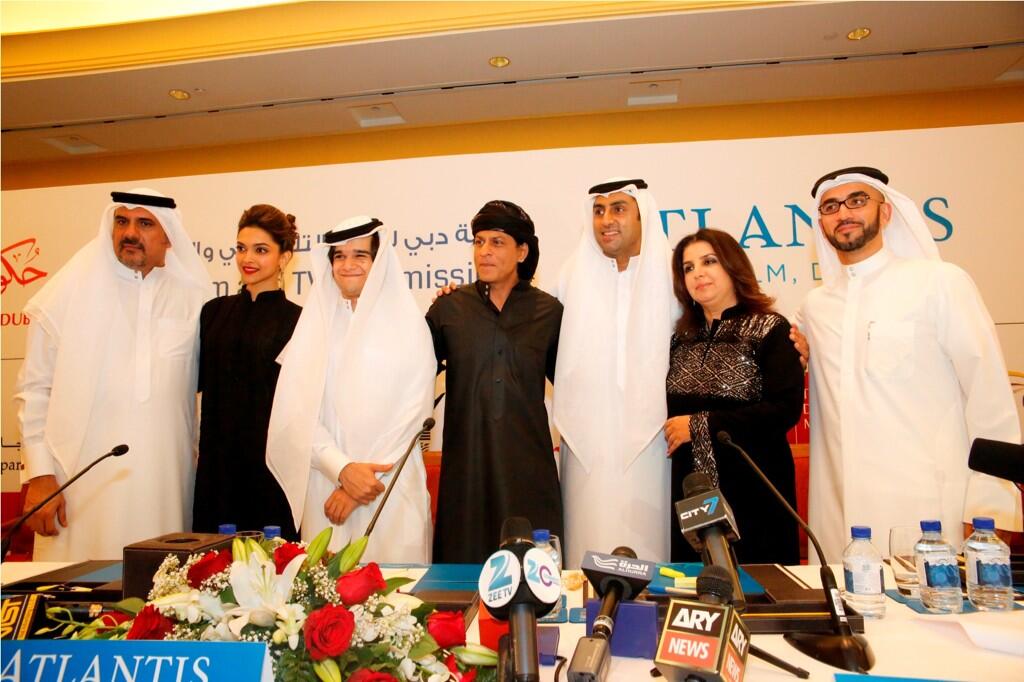 Farah Khan's Happy New Year has begun and the first location shoot is in Dubai! The thriller boasts an all star cast with Shah Rukh Khan and Deepika Padukone in the leads as well as Abhishek Bachchan, Boman Irani, Sonu Sood, Jackie Shroff and will have music by the great Vishal-Shekhar.
Recently the full cast attended a press conference and what was so cool is that they all wore traditional Kandoura and Abaya!
At the conference SRK said, "Dubai is a beautiful city. It has a great scenic balance of ancient and modern architecture. It's not just the shopping capital of the Middle East but is a perfect location for a film shoot. We have been shooting for our film since Sep 2nd Dubai is like home for me and I have loved every bit of experience of shooting for 'Happy New Year' here."
Both Farah and SRK have taken to twitter to talk about the film!
Farah: "Most hectic 2 days went smoothly,thanx 2 the lovely management at both Dubai Mall n Emirates! n the lovely people of Dubai who never hassle."
"4th Day of shoot n iv already lost my voice! Sounding like a cross btween Raza murad n amrish puri..
"
"What a Fantastic crowd in dubai.. shoots with us all day without a complaint n without hassling any actor..Thank u!"
About working on the film SRK wrote, "Articulate,FootballConversations. Wot a lovely set of co actors. Hassle free,happy & extremely competitive! This is going to be a H N Year!"
"The graciousness & warmth shown by Dubai..their Film org…security…the airport authorities & Atlantis makes filming such a pleasure."
See how the director and the stars rocked the traditional look!
Farah tweeted before the event!
Me n my boys all dressed up 4 our Press conference at the Atlantis..my girl deepika was getting ready in her Abaya.. pic.twitter.com/0glcY9eNyJ

— Farah Khan (@TheFarahKhan) September 12, 2013
Here are some more!
Plus you can watch the full conference here from City1016!