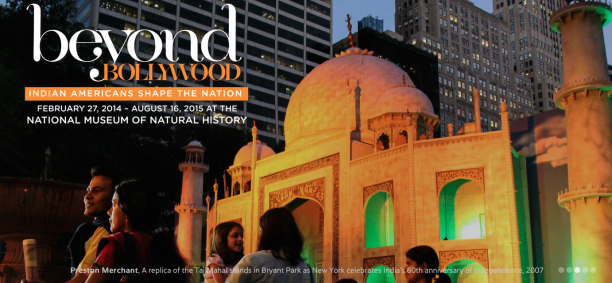 Opening this weekend at the Smithsonian is a special exhibit titled "Beyond Bollywood: Indian Americans Shape the Nation". This is a first-of-its-kind exhibition detailing the history of Indian Americans and their contributions to the United States from the 1700s to the present. The 5,000-square-foot exhibition presented by he Asian Pacific American Center will open at the Smithsonian's National Museum of Natural History February 27th.
"The vibrant life, culture and history of immigrants from India and Indian Americans is the story of America," said Konrad Ng, director of the Smithsonian Asian Pacific American Center.  "This wonderful exhibition deepens our understanding of the American experience as lived by the Asian Pacific American communities who have journeyed from being exotic outsiders to being the faces and voices of the future. We are excited to present an exhibition that we hope will excite and inspire generations."
Talking about the exhibition, Curator Dr. Masum Momaya said, ""Beyond Bollywood" is the first major national exhibition to focus on Indians in America. Despite the fact that Indians have been here since 1790 and now number more than 3 million, we've been largely left out of this country's history. Beyond Bollywood marks a significant step toward not only documenting the history of Indians in America but also imprinting this history onto the collective conscience of this country."
So why the title Beyond Bollywood? "We chose the title and the theme Beyond Bollywood very intentionally to attract visitors and suggest that we intended to go beyond stereotypes. When we surveyed the public as to the first word that came up when they thought of Indians, India or Indians in America, "Bollywood" emerged most frequently. While the exhibition takes Bollywood as a point of departure for the stories we're telling, we paired it with the word "Beyond" to show that we're a lot more than you think we are, to show the fingerprints and footprints that Indian Americans have left and are leaving on this country. As with any group, we are a lot more than popular stereotypes suggest and my intention as a curator has been to focus on cultural, political and professional contributions that Indian immigrants and Indian Americans have made to shaping U.S. history," Momaya explained.
"Deciding what to include was the most challenging aspect of the exhibition as we encountered so many meaningful stories, wonderful photographs, telling documents and resonant artifacts," she says. Adding, "We selected artifacts, art, objects and images that exemplified the contributions that Indian immigrants and Indian Americans have made to the U.S. and that that tell a larger story in and of themselves. In this way, curating is as much an art as a science, adding and taking out things and stepping back to see the larger whole. Also, it's my belief that an exhibition isn't finished when it opens to the public but rather just the beginning of an expanding and extended sharing that lives in the gallery, in social media, in classrooms and at dining tables through conversations. As the Smithsonian, we also see this exhibition as a first step rather than a definitive account."
The exhibition will explore the heritage, daily experience and numerous, diverse contributions that Indian immigrants and Indian Americans have made to shaping the United States. Included in the exhibition will be historical and contemporary images and several dozen artifacts, including those documenting histories of discrimination and resistance, those conveying daily experiences and those symbolizing achievements across the professions. Music and visual art works providing commentary on the Indian American experience will also form a critical component of the exhibition. Among the specific topics to be covered are: early (late 1800s-1900s) immigrant experiences, struggles for citizenship in the first half of the 20th century, professional contributions from the 1960s and beyond, organizing for labor rights, women's rights and labor rights and cultural contributions through food, music, dance and in the entertainment industry.
Highlighted artifacts include a dress worn by First Lady Michelle Obama designed by Indian American Naeem Khan, which was a challenge to get for the exhibit. Says Momaya, "We spent more than a year pursuing—and eventually were able to borrow—a dress designed by Indian American designer Naeem Khan and worn by First Lady Michelle Obama at the 2012 Governors Dinner. Aside from the Inaugural Ball gowns that are shown in the National Museum of American History, it's rare to be able to show a dress of a First Lady, let alone a sitting First Lady. The First Lady's Office at The White House and the National Archives (which stores presidential artifacts) were very generous in working with us on this. Khan comes from a long line of embroiderers and designers, dating back to the Mughal Courts in India and this particular gown incorporates embroidery techniques passed down to him on a classic American silhouette. It's literally an example of Indian American being woven into the fabric of the garment."
Also part of the collection are the 1985 National Spelling Bee trophy awarded to the first Indian American winner, Balu Natarajan; and Mohini Bhardwaj's 2004 Olympic Silver Medal for gymnastics.
Talking about some of the pieces that really resonated with her, Dr Momaya said, "To complement the historical narrative, I added several dozen works of art by Indian artists living and working in the United States. These are some of the pieces in the exhibition that most resonate with me as they touch mind, body and spirit. These are blended into the narrative itself and comment on the portrayal of Indians in America, some aspect of the Indian American experience or Indian American identity."
Another highlight are the public programs, which include performances featuring Indian American art, comedy, cuisine, dance, film, television, literature and music. The Center will also offer online education curriculum and an opportunity for individuals to share their family stories through a digital portal.
What does she hope people will take away from the exhibition? "As curator, I am aiming for five main takeaways: First, I want visitors to walk away with an understanding of the vast and deep contributions of Indian immigrants and Indian Americans in shaping U.S. history. I want those who are not Indian to understand their Indian American neighbors, friends, classmates and co-workers in ways that go beyond stereotypes. Second, I want visitors to walk away questioning: who is American and who is a foreigner? What is American history? Whose stories should be told as part of the history of the United States? Third, since a lot of the visitors at the Smithsonian are children, I want children to walk away with a sense of the roots of this community. I'm hoping their parents will feel this also. Fourth, I'm hoping that for Indian immigrants there is emotional resonance in having their experience reflected and honored in seeing their stories as part of the Smithsonian. Fifth, for those of us who are children of immigrants, I'd like us to feel a sense of belonging but that we don't have to leave our roots behind in order to belong."
"Beyond Bollywood" is the Smithsonian Asian Pacific American Center's largest exhibition and will be on display on the second floor of the National Museum of Natural History for at least one year. It will then travel around the country to libraries, museums, universities and community centers as a part of the Smithsonian Institution Traveling Exhibition Service beginning May 2015 for five years.
For more information please visit: http://apa.si.edu/indianamerican/beyond-bollywood.html