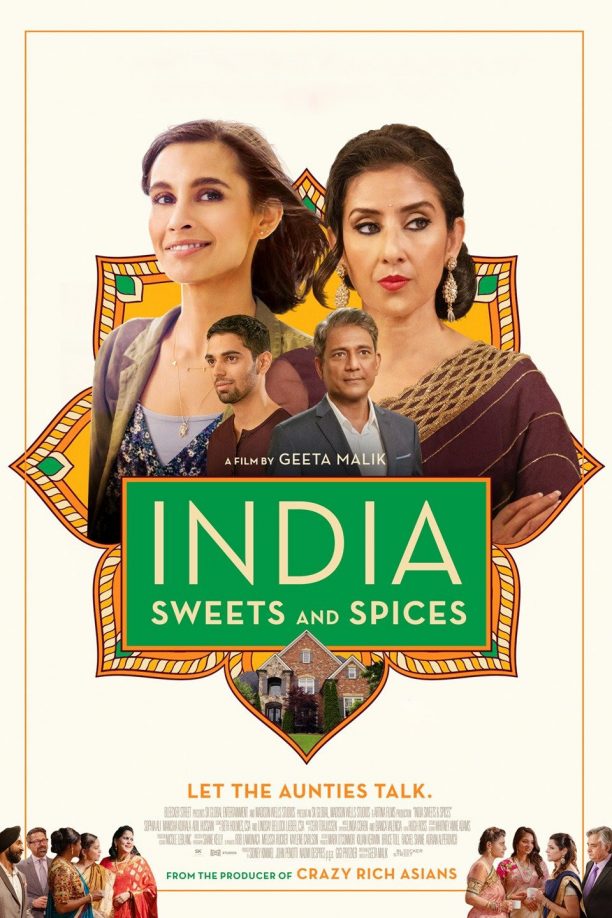 Starring Manisha Koirala and Adil Hussain, the Geeta Malik directed film India Sweets and Spices opens in theatres in North America on November 19th. Featuring Sophia Ali, the cast also includes Rish Shah, Deepti Gupta, Ved Sapru, Anita Kalathara, Richa Chandra, among many others.
A glimpse into the life of an Indian American family, India Sweets and Spices focuses on the story of Alia Kapur (Sophia Ali), who returns home and the family's posh suburban New Jersey home after a year at UCLA. She quickly discovers that she is ready to trade in the lavish Saturday-night dinner parties and gossiping "aunties" of her community for a more authentic, worthwhile existence — even if she doesn't quite know what that looks like yet. However, during her summer stay, Alia accidentally uncovers some family secrets about her straight-laced mom Sheila (Manisha Koirala) and her seemingly perfect dad Ranjit (Adil Hussain) that will have consequences for everyone involved. However, I don't want to spoil the chai so you must see the film to find out the whole story.
To give you an idea of the tale of India Sweets and Spices, here is the trailer.
India Sweets and Spices is a unique film that is funny, moving, romantic, thought-provoking, and even more.
One of the best things about India Sweets and Spices is how the story unfolds. It begins simply with a college girl coming home for summer vacation. It then takes you inside the lavish parties with everyone trying to one-up another. However, there is an underlying current that eventually plays out. As the full truth reveals itself, the movie transforms. One huge event creates a chain reaction in Alia's life. With each new revelation, the movie continues to surprise and transform. You will be in awe of this story and the journey it takes you on. I don't want to say too much because you have to experience this yourself; you HAVE too. It is an exceptional screenplay by Geeta Malik, who deserves a standing ovation. I almost did at one point, and in the end, I cheered. Yes, I cheered at my computer, watching the screener.
Geeta Mailk's direction must also be praised, traversing this challenging story, with a cast of hundreds, she never hits a wrong note. She created a real world and a fascinating story. Every moment felt authentic and is a testament to her directing style. I cannot wait to see her next film.
The performances are absolutely brilliant! Everyone in the cast is so real on reel and are their character to a tee. From the men, aka the uncles, to Sheila's particular friends – the ladies who lunch and also the "aunties", they are perfectly played within the India Sweets and Spices world.
Shout out must be given to Anita Kalathara, who plays Alia's best friend, Neha. Though not seen as much, in every scene she was in; she was terrific. Both Ved Sapru as Rohan and Rish Shah as Varun are perfectly cast and wonderful in the film. The scene where Varun yells at Alia is really, really good.
Sophia Ali is fantastic as Alia. She has to carry the entire movie and accomplishes that utterly without ever feeling like she gets out of character. The arc this character goes through is astonishing, and Sophia portrays each part so, so wonderfully. She really shines in the latter part of the film. That is when she truly comes into her own in every aspect.
Adil Hussain is always, always good in his films. With India Sweets and Spices, he takes on a different character than he usually portrays in Indian cinema. This one is lighter in essence. He is amazing in a representation of the "typical of Indian men of his generation", but when his story expands, he really takes his performance and even more the film to a higher level. The ending scene with him… just wow. He is incredible!
Manisha Koirala is absolutely outstanding, phenomenal, extraordinary, and many other adjectives. In the beginning, her character Sheila is very proper and always is living like what she thinks is the perfect and the right way to act in her life. She plays that so well, so much so that you dislike this character. However, I always noticed a look in her eyes, and it was not until later I saw it as desperation. It was always there, but she revealed it more and more as the story unfolded. That is a testament to her brilliance. In all the emotional scenes – she gives a brava-worthy performance. She is so honest and genuinely authentic. She is superb in EVERY scene. I have always loved her acting, but she proves how magnificent an actress she is with this role. When you see what her story really is, you will be in awe of her portrayal of Sheila. Did I say BRAVA?
I also must mention Deepti Gupta as Bhairavi. So many of the emotions the character feels are shown in her eyes without a word being spoken. But, when she does deliver her lines, it is so good. She is exceptional and really adds so much to this film.
I must give a nod to the cool references to Bollywood. When Alia first sees Varun, and the wind blows, it was a 'chef kiss' moment. A homage to Indian films, of course, I immediately thought of the many films where that moment happens when there is that gust of wind from nowhere when the heroine first sees the hero. Also, the use of the song 'Sheila Ki Jawani' was very apt, but you will learn why if you read our upcoming interview with Geeta Malik. There were also many other Bollywood songs and references, so Hindi film fans see if you can catch them!
I really, really enjoyed this film; what made it so good was the story ended up being not at all what I expected. It was so much more. Did I say the performances were outstanding? I highly recommend that you see India Sweets and Spices – this is a film not to be missed.
A Bleecker Street film, India Sweets and Spice, was produced by Sidney Kimmel (The Lincoln Lawyer, The Age of Adaline), John Penotti (Crazy Rich Asians, Hell or High Water), Gigi Pritzker (Drive, Hell or High Water), and Naomi Despres (Kill the Messenger, High Crimes). This excellent film releases in theatres on November 19th.
Stay tuned for our interviews with director Geeta Malik and star Sophia Ali coming up soon!
Local US theater/showtime information can be found here.