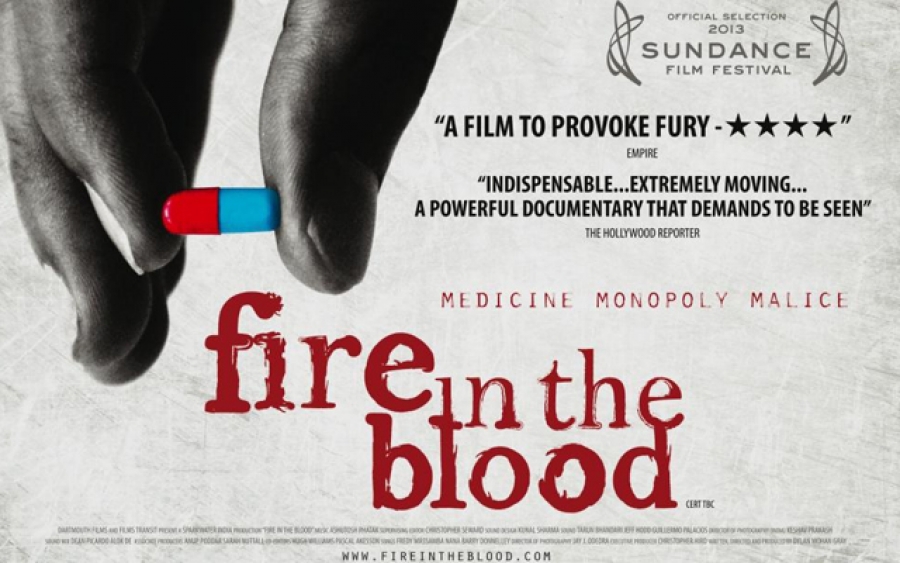 Sundance Grand Jury Prize-nominated Indian film Fire in the Blood has been held over for a fourth week at PVR Phoenix in Mumbai, thus becoming the first-ever nonfiction film to achieve a four-week commercial theatrical run in India.
"This is a dream come true and a real testament to the fact that audiences in India are hungering for new and different types of films," said producer-director Dylan Mohan Gray. "The word of mouth has been just incredible, and definitely the key factor in sustaining interest in Fire in the Blood ", he added. "I get e-mails, especially from students, every single day telling me how blown away they were by the movie and how they've prodded their friends to rush to go see it while it's still running."
Fire in the Blood tells the story of a unique and eclectic group of people who came together from India and other parts of the world to stop the 'Crime of the Century', whereby low-cost AIDS medicine was being deliberately withheld by Western pharmaceutical companies and governments from reaching Africa and other parts of the developing world, resulting in a minimum of ten million needless deaths. The film has won three major international awards, including the Prize for Political Film in Hamburg in early October, and has been consistently listed as an outside Oscar contender in the documentary feature category by The Hollywood Reporter and other US industry sources.
Mr. Sanjeev Kumar Bijli, Joint Managing Director, PVR Limited, said "We feel a huge amount of satisfaction in seeing our film Fire in the Blood break the record for most consecutive weeks in theatrical release by a documentary in India. PVR Director's Rare has been the standard-bearer for bringing world-class nonfiction and art house films to Indian audiences , and it is a source of immense pride for us to see audiences responding so strongly and keeping a film like this in the cinemas, fueled by strong word of mouth and outstanding critical acclaim."
Leading critics such as Anupama Chopra and Rajeev Masand, along with star journalists like Barkha Dutt, have championed Fire in the Blood, which had earlier released theatrically in the US and UK to rave reviews.
Fire in he Blood is narrated by Oscar-winning actor William Hurt.
Along with Mumbai, the film opens at PVR Lulu in Cochin on November 1st.