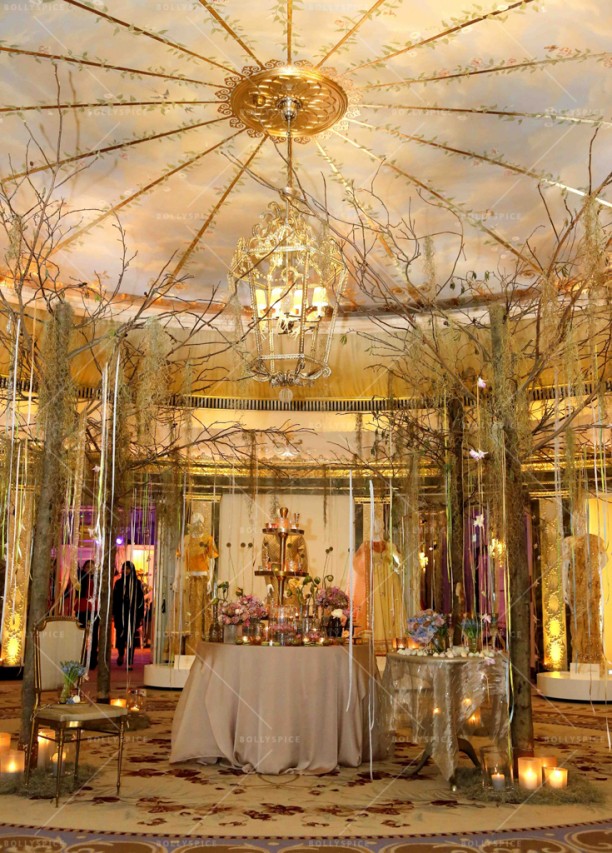 Indian fashion royalty descended on London's iconic Dorchester hotel, Mayfair on Sunday 25th January to present their latest bridal and couture collections at the UK's most high fashion Indian bridal exhibition – Aashni + Co Wedding Show in association with Zouch & Lamare – one of the leading, luxury planning services in the UK that specialises in exquisite, original and bespoke weddings and events. Aashni + Co Wedding Show also featured floral styling by Zita Elze, an award-winning artist, designer, teacher, creator of the Living Embroidery Bridal collection and design consultant, who also exhibited as the show's exclusive luxury florist.
Aashni + Co Wedding Show presented on one platform high end, bridal and occasion wear by India's most celebrated designer brands – from established, A-list fashion houses to the crème of new gen talent, namely: Anamika Khanna, Anushree Reddy, Arpita Mehta, Ashima-Leena, Elisha W, Jaipur Gems, Kotwara by Meera Muzaffar Ali, Manish Malhotra, Monisha Thahryamal, Nikasha, Pallavi Jaikishan, Rajesh Pratap Singh, Rimple and Harpreet Narula, Sabyasachi, Shehlaa, Sonali Gupta, Tarun Tahiliani and Varun Bahl. The participating designers presented their collections exclusively in the UK at Aashni + Co Wedding Show, rendering it further unique. In excess of 1,000 visitors were wowed by the event taking place in The Dorchester's sumptuous Ballroom Suite and the opportunity of meeting and interacting with some of the leading Indian designers themselves. In addition to designers, further VIP's in attendance included Kanika Kapoor, Pratham UK Brand Ambassador and singer; Tamara Al Gabbani, Jaipur Gems Brand Ambassador, UAE; and Paul Sagoo, Founder, Asian Awards.
Speaking at the event, Manish Malhotra said, "My collection here today is basically bringing back the classic red. I like taking vintage and heritage culture and giving it a modernising nature, which is easy to wear and personality driven. It is available at Aashni + Co. The Manish Malhotra bride is young, fashionable and knows what she wants. It's wonderful to be here and to get such a fantastic response"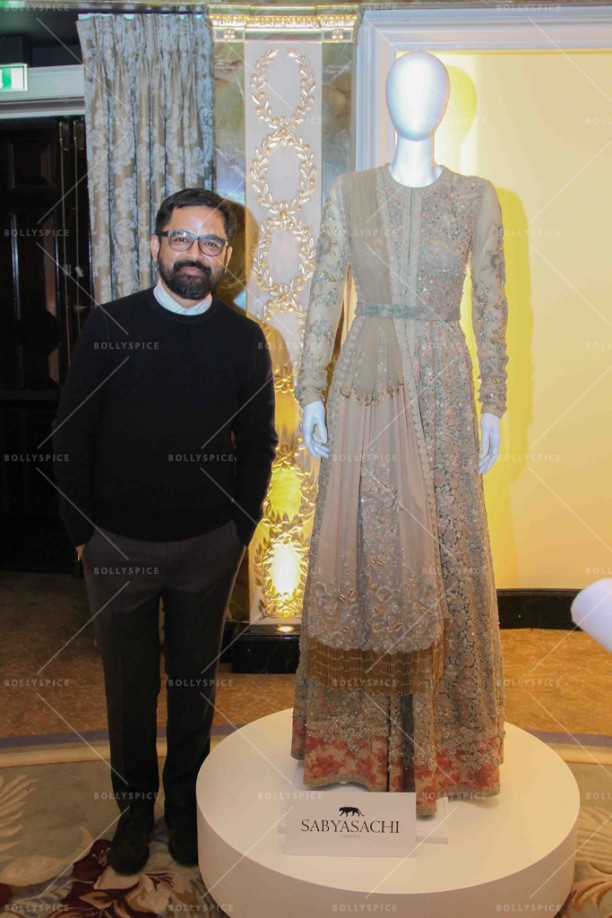 Sabyasachi Mukherjee said, "It's spectacular here today. I have brought a lot of pieces here today that our Bollywood girls have worn, from Aishwarya to Deepika, and I have also brought my latest collection that was on the runway. Indian brides in the UK are hungrier for culture. They are used to the best things and London is truly the most cosmopolitan city in the world."
Tarun Tahiliani said, "My first show at the Dorchester was in 1995. It was the first show I ever did and it was one of the most beautiful, magical nights. When I heard the venue for this event was the Dorchester, I had to do it just to do something a little different. It is wonderful being here. I had no idea it would be such an incredible turnout. It has been wonderful speaking to brides and the audience here. "
Shehla Khan said, "The event is amazing. I am showcasing with people like Manish Malhotra who I have worked for, Sabyasachi and Anamika whose work I admire. They are my seniors and to be under the same roof as them is a privilege. Brides have now become open to experimenting. People are looking for a change and that works well for me as I think more internationally. I have created a vast collection as it is the first time I am showing here in the UK."
Anushree Reddy said, "It was important for me to be here because as designers we need to experiment with different markets and know what brides want internationally. It's only being here that I know what my bride wants as, for example a Gurdwara bride would not want a short choli with her lehnga as she would much prefer it being longer, so it gives me a better insight into what to design and sell at a store. For example, for what I am stocking at Aashni, I probably create a little longer bloused bridal wear. It's all knowledge; you learn because each city, country is different and you can tweak your product. It's been great to be a part of."
Sonali Gupta said, "It was important to be a part of this bridal and couture exhibition because Aashni is the only person who could have pulled off something of this scale, hence we are all here supporting this. It is truly fantastic."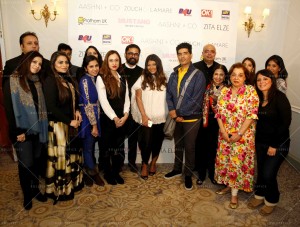 Pallavi Jaikishan said, "I wanted to be a part of Aashni + Co Wedding Show because it's a great concept. You have so many designers to choose from and brides are spoilt for choice. It is great to be a part of it. My collection here today features bright colours, laces and flowers. It's all very vibrant. Just how a bridal outfit should be."
Aashni + Co Wedding Show was presented by one of the UK's leading Indian fashion influencers, Aashni Anshul Doshi (Shah), Founder and Creative Director of Aashni + Co, a high fashion, Indian concept store located in Notting Hill, London. Speaking at the event, Aashni said, "I'm overwhelmed by the atmosphere, the energy and the response here today to a luxe exhibition concept and retail platform of this scale. It was important to feature the right mix of designers and fashion houses, from established A-listers and luxury designers to the most sought after and desirable new generation talent. It is time people stopped travelling all the way to India to find their wedding outfit – we wanted to bring the best of India's bridal to our doorstep and we've achieved that. The response has unanimously been amazing."
Photo credits: Adnan Qazi and Rajiv Shah Photography
Designers' Group Shot L-R: Varun Bahl, Monisha Thahryamal, Rimple Narula (Rimple and Harpreet Narula), Siddhartha Sacheti (Jaipur Gems), Sonali Gupta, Shehla Khan, Sabyasachi, Aashni Anshul Doshi (Shah) – event host, Manish Malhotra, Tarun Tahiliani, Leena (Ashima-Leena), Pallavi Jaikishan, Arpita Mehta, Nikasha, Anushree Reddy.