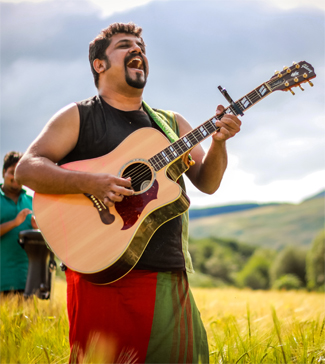 Folk music is an integral part of many cultures the world over. As times are changing there is a growing need for this traditional form of music to undergo transformations in order to reach out to a larger audience.
The merging of folk rhythms and international tunes has given rise to new melodies in India, forming the basis of contemporary folk music, that has reached different parts of the globe and the man who has made this possible is Raghu Dixit, founder of Raghu Dixit Project – a band that transcends all boundaries in creating music of international appeal.
Raghu Dixit has carved a niche for himself in the music industry. His accomplishments are many. The former scientist is the only Indian artist to play at the Queen of England's 60th centenary at Windsor Castle and is also the first Indie artist to have an exclusive worldwide publishing deal with Sony ATV.
Dixit is the recipient of Songlines 2011 – Best Newcomer Award and has appeared in Later with Jools Holland and Andrew Marr shows.
Raghu Dixit Project has over 600 shows to its credit, having played in more than ten countries so far to a staggering audience of 100,000 people. Performances at Glastonbury, London Mela and WOMAD by Raghu Dixit Project have introduced the band to the world audience.
Dixit took the Indian independent music scene by storm with his debut album 'Raghu Dixit' way back in 2008.  The album became the highest selling non-film music album of that year and was number one on iTunes World Music charts in the UK and also number one on Amazon UK's Movers and Shakers list.
"I started my musical journey by writing my own songs. I didn't emulate anybody," says the 39-year-old, singer-songwriter, composer and producer who is a gold medalist in Masters in Microbiology.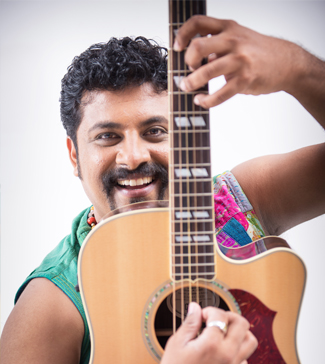 Raghu Dixit is a trained Bharatanatyam dancer as well and draws inspiration from everyday experiences and emotions while composing music. "My music is influenced by many factors including the people I meet and the different kinds of compositions I come across during my concerts and travels," he adds.
This versatile self-taught guitarist and singer mostly sings in South Indian language Kannada and takes immense pride in introducing the language to music lovers outside his native state and abroad. "It feels great to see an 18-year-old head bang to my Kannada songs. The challenge I had was to present original Kannada folk songs in a new manner. Singing songs which have been written hundreds of years ago by renowned poets in my mother tongue gives me true joy," informs Raghu.
Other than folk tunes Arabic, Reggae, Latino and Western Rock are the different forms of music that Raghu Dixit incorporates in his songs. Mysore se aayi, Mumbai, Antaragni, Hey Bhagwan, Har Saans Mein, Gudugudiya and Khidki are some of his most popular numbers and the latest being Jag Changa from the band's second album of the same name.
Raghu Dixit also composes songs for feature films in different languages. "I thoroughly enjoy creating music for films. It is a different experience altogether," states Raghu.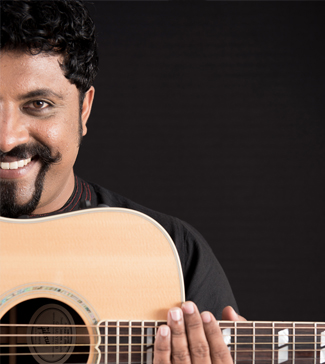 Mujhse Fraandship Karoge, Bewakoofiyan and Amit Sahni Ki List are the Bollywood films Raghu has composed music for thus far and he is very keen to give music to more Hindi movies in the future.
Apart from playing at concerts, touring, making film music and a host of other activities, Raghu Dixit is working on an original Indian musical based on Girish Karnad's Hayavadana, in collaboration with British folk band Bellowhead in association with British Council and South Bank Center in London.
Dixit is also associated with social causes. From recently performing at a concert in Bangalore, India to raise money for a child suffering from Cancer to funding for education and setting up of small businesses for the needy, this large-hearted musician has done it all.
"I am closely associated with a non-profit organisation in India called Rang De. I had invested Rs.50,000 two years back to fund fifteen displaced farmers below the poverty line to help them start alternate small businesses and today my investment has grown to little over Rs. 2,00,000 and has impacted 135 families with the help of Rang De."
"I have further invested Rs.5,00,000 to fund education loans to 100 kids in various rural, under privileged areas across India. I urge everyone who wants to do their bit for the country to join www.rangde.org and see how you can join the crusade to eliminate poverty from India," stresses Raghu.
We wish the amazing and highly talented Raghu Dixit the very best in his career and social work.
Photo Credits: Daisy Costello / Gaurav Vaz / Gomtesh Upadhye /