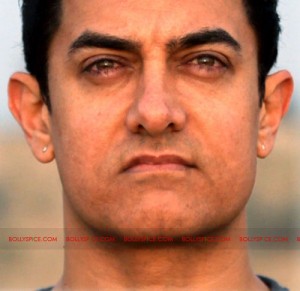 The sensitive, yet harsh reality of female infanticide in India became the first issue Mr Perfectionist Aamir Khan tackled with his TV debut Satyamev Jayate (Truth Alone Prevails) on Star Plus this week.
The premier episode evoked mixed response with thousands immediately taking to social media to voice their opinions. Many compared it to the Oprah Winfrey Show of the West, but remained unsure how it will shape up in the times to come.
"Aamir Khan trying to be the Indian Oprah! Disappointing. He is sooo fake," posted Apar Dham who has studied media. K Himaanshu Shukla of Scrutiny blog found the show, "Aamir Khan's emotional atyachaar". He posted a status message saying, "I was expecting something different."
But not everyone was skeptical of Aamir's 'crusade pop-pourri'. Filmmaker Ramesh Taurani praised the actor on his Blackberry Messenger calling him "the best".
Abhigyan Jha, the producer of the online show Jay Hind, said the show reminded him of the days when he "sat writing Rajani with the belief that it would change the country". He added on Twitter that he wasn't a fan of Aamir, but thought it is a show "well done". "If I were him, I would have tried to do a similar show. Somethings have to be done," added Abhigyan.
httpvh://www.youtube.com/watch?v=SoYf6vB1zbY
"Satyamev Jayate is the Naya Bharat after Mahabharat," wrote producer Manish Goswami. "Hats off to Aamir Khan for walking the road less traveled and attempting to serve humanity by inspiring millions," said film exhibitor Akshaye Rathi on Facebook.
Bollywood PR guru Dale Bhagwagar wasn't yet sure if Aamir's crusade through the show could effectively turn into a movement. However, on a positive note, Dale concluded, "The fact that Aamir has managed to make a hardcore entertainment channel see reason to spend their crores on an idealistic cause, should be enough to cheer us up for now."
Check A conversation with Aamir Khan where he talks about the show.