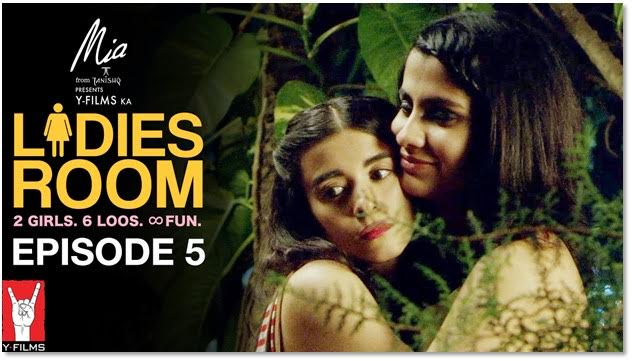 In three weeks, the internet's most outrageous and funny BFF (Best friends forever) comedy Ladies Room, is now is also its biggest hit! Within 12 hours of its 5th episode going live, the series has garnered over 1 Lac views, a feat that no other new Indian series has ever managed. The fastest growing show on the Indian web, Y-Films' third original series, Ladies Room now has over 4 million views in 3 weeks only!
The series has received overwhelming love and some outstanding reviews for its two lead characters Dingo and Khanna, with Anupama Chopra's Film Companion giving it four and a half stars and calling it a 'riot' and a 'quirky comedy you'd expect from Tina Fey' and Firstpost.com calling it a 'crackling show' and an 'answer to the rampant stereotypes about girls' The series is out for free on YouTube.com/YFilms.
The fifth episode finds Dingo & Khanna taking a leak behind a bush at a farmhouse party only to find Khanna's ex-boyfriend making out with Dingo's potential boss, Naima… leading to another funny, messed up situation that only the two girls can find themselves in!
CHECK OUT EPISODE 5 HERE:
CHECK OUT ALL 5 EPISODES HERE:
The third Y-Films series, Ladies Room, is directed by Ashima Chibber, whose directorial debut was the hilarious critical and commercial hit, Mere Dad Ki Maruti, and produced by Ashish Patil, Head of Y-Films. The comedy stars two actresses from the YRF talent roster in its lead, the talented Saba Azad and the electrifying new find, Shreya Dhanwanthary, and features the writing of Ratnabali Bhattacharjee and Neha Kaul Mehra. The first four episodes of Ladies Room are OUT NOW on www.youtube.com/yfilms. Mia By Tanishq is the presenting sponsor of the series.
Here are some of the glowing reviews the show's got:
'Ladies Room is a riot. Something about the humour in Ladies Room seems reminiscent of the kind of quirky comedy you'd expect from Tina Fey. Like in 30 Rock.' – Four and a half stars by Shreevatsa Nevatia of Film Companion
'The show is a big win in merging a realistic story line that is still mighty entertaining. Ladies Room is an answer to all those rampant stereotypes about girls: sleepovers in underwear, pillow fights and an overdose of pink. Kudos to the writers!' – Swetha Ramakrishnan, Firstpost.com
'It's real, it's funny, and each conversation is spot on. This is the way women speak to each other. It's great to see comedy with women as lead characters. Should you watch it? I'd say, definitely!' – Rajyasree Sen of LiveMint.com
'Every damn thing is super hot. Not to mention, the rocking performances of the two HEROES of this series: Shreya Dhanwanthary and Saba Azad. This is one of the most unapologetic and funny takes on being a woman in India. Oh, please watch Khanney and Dino's antics and you will never have a dull day, that's promise. Need we say more? – Preeti Kulkarni of BollywoodLife.com
'The dialogues are natural, the acting is even more spontaneous! Watch the episodes to light up your weekday and cope with the regular work blues. We can't wait for the next episode!' – Zinia Bandyopadhyay of DesiMartini.com
'The comedy series captures the bonding of its two actors who, despite their differences, stick together like an odd pair of modern-day suffragettes championing their rights to be accepted as unconventional.' – Scroll.in
Even Twitterati can't get enough of Dingo and Khanna's madness!
'Delighted to watch #LadiesRoom. The first 2 episodes are out! Must watch. Try Y-Films on YouTube.' – @PritishNandy
'Ladies Room: Love the attitude, the acting, the writing! Super Stuff!' – @RoshanAbbas
'Frenetic, crackling wit and chemistry!' – @MeiyangChang
'Dingo & Khanna are a riot. Loved the episodes. Best show of @Y_Films' – @irocksid
'The finest 'FEMALE' centric web series I've come across. Bold & Unabashed.' – @PatelDevansh