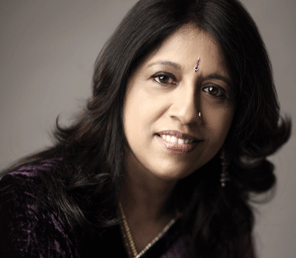 Running from April 12th to the 22nd, The Alchemy Festival in London celebrates the best of music, debate, film, dance, literature, fashion and design from India and South Asia. One of the coolest things about the festival is that it showcases classical masters alongside emerging British Asian talent as well as presenting folk traditions alongside today's youth culture.
On opening night, audiences are in for a real treat because Bollywood singer Kavita Krishnamurti Subramaniam is taking the stage. You have heard her beautiful voice on such fabulous songs as 'Dola Re Dola' from Devdas, 'Nimbooda Nimbooda' from Hum Dil De Chuke Sanam and most recently on the outstanding 'Tum Ko' from Rockstar, plus so many more.
Talking about being a part of the Alchemy Festival she told us, "I am very happy and honoured to be part of the Alchemy festival. The special thing about this concert will be my collaboration with talented UK musicians and working more towards an unplugged feel to my songs. I will be singly mainly my Bollywood hits, but I shall also perform some fusion compositions with my husband Dr. L Subramaniam and my son Ambi, which makes it all the more exciting. I am really looking forward to this very special event!"
During the show, not only will the singer treats us to her classic songs, some as she said with a new twist, but she also will be joined by her husband Dr. Lakshminarayana Subramaniam, who is an acclaimed Indian violinist, composer and conductor, as well as her son Ambi, an accomplished musician in his own right.
Dr. L Subramaniam is one of India's finest violinists and the music composer of Mira Nair's Salaam Bombay! and Mississippi Masala. About being a part of the festival he said, "I am really looking forward to this Global Fusion concert and performing as part of the Alchemy festival. It promises to be an exciting evening with a number of new collaborations from artists across the globe and the youth of the UK. London is always a place great to perform at, and a great place to innovate. I have had great experiences at the Royal Albert Hall and South Bank, and I'm excited about coming back." He is also on the advisory board of Double Oscar and Grammy winner AR Rahman's KM Music Conservatory, in South India.
Kavita's son, Ambi Subramaniam, is one of India's rising stars and has played the violin to great accolades, from the likes of Shah Rukh Khan and Farhan Akhtar. He is evidently thrilled to be a part of this very special show, "I'm extremely honoured to be performing at Southbank for the Alchemy Festival. London holds a special place in my heart because it was where my first CD was recorded. This being the Olympic year makes it all the more special and exciting!"
Also featuring in this special opening night event at the Alchemy festival, for both the Global fusion and Bollywood sets, are some stellar UK musicians, like the National Youth Orchestra, Alok Verma (Tabla), Sunil Jadav (Keyboards), Nikhil George and Suroj Sureshbabu on the guitars, Kaz Rodriguez (Drums), Damien Langkamer (Bass), Rosabella Gregory (Grand piano) and the African Kora, played by Jali Fily Cissokho, who was a big part of Mani Ratnam's Raavan soundtrack. His was the voice heard during the end credits, as well as his African Kora, which adorned the score by AR Rahman. Also featured are three instrumentalists from India, Preetam Koilpillai (Keyboards), Satya Sai Ghantasala (Morsing) and Sekar Thiruvallikeni Kothandaraman (Thavil).
To find out how to purchase tickets and more about this cool festival click here.