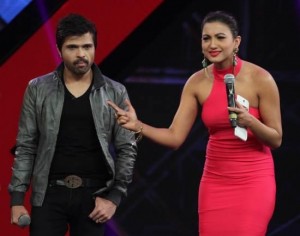 Sunday's episode saw Music Director, Singer, Actor and Producer Himesh Reshammiya take charge of the mentoring seat for YoYo Honey Singh as he recovers from his illness.
Himesh is not a newbie to judging these kind of musical reality shows and one could tell that he felt very much at home being back in the judging seat. Having already appeared once on RAWstar, the contestants were very excited to have Himesh back as their mentor. We remind you all, that last time, Himesh had already said he will record songs with Akasa, Rituraaj and Darshan.
The theme of this episode was the phrase Black or White. Mentor Himesh explained to the contestants that certain situations in the music industry are either black or white, hit or flop. His judgement of their performances in the episode, would also reflect the same.
The first face off was between Mohan and Akasa. While everyone appreciated Akasa's performance, unfortunately Mohan forgot the lyrics of his song and was unable to pick them up despite even competitor Akasa giving him the cue. Akasa naturally, won this face off.
The second face off was between Sagar and Pradeep. Sagar outshone Pradeep here and therefore Pradeep lost.
Third face off was between Darshan and Jeffrey. Darshan sang the retro song 'Badan pe Sitaare' while Jeffrey being a bit more brave, sung 'Tere Bina' from Crook. Jeffrey impressed judge Himesh with his soulful performance and he won this face off. The fourth face off was between Mohan & Rituraaj (Rituraaj won) and the last face off was between Akasa and Sagar (Akasa won).
Mentor Himesh gave some valuable tips to the contestants to keep up their spirits. In this weekends episode, we will see Himesh along with the cast of the forthcoming film Happy Ending.
In association with www.himesh-reshammiya.com
Stay with BollySpice for more updates on your favourite show India's RAWStar!