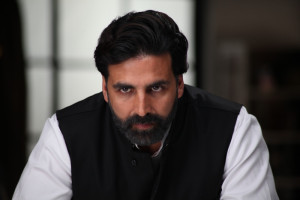 Superstar actor, action supremo and Bollywood's man of the moment Akshay Kumar has once again dominated the India and international box office with the tremendous performance of his latest film 'Gabbar Is Back' taking 46.46 crores in the first four days, making it the highest opener of 2015 so far, and counting. The fantastic performance of 'Gabbar Is Back' has also had industry insiders crediting Akshay's vigilante extravaganza as having resurged Bollywood's recent lean period, taking more at the box office in one weekend then many recent films have taken in three weeks.
The movie is a mass entertainer with Akshay delivering some power-packed punches. Riding on the Aam Aadmi wave in India, the film carries a strong message against corruption with Akshay as the new vigilante in town. Gabbar is a story of a common man, Ajay (Akshay Kumar) wronged by the establishment, who starts the Anti-Corruption Force (ACF) that aims to track down and cease the corrupt strata of society.
Akshay Kumar is India's most bankable star and according to many close to Akshay, both professionally and personally, the secret to the actor's enduring appeal, ongoing and recent box office success and longevity is his winning formula for choosing commercially viable films and his no-nonsense, ultra-professional approach towards his work. Akshay Kumar is one of the few stars in India who has consistently given a break to first-time directors, producers and newcomers. Krrish, the director of Gabbar is Back, is also making his Hindi directorial debut with Akshay this time.
Akshay has proven his mettle as a versatile, intuitive and highly talented actor, with a plethora of films under his belt. His work ranges from hardcore action movies like Rowdy Rathore to nail-biting thrillers like Holiday and Baby, emotional dramas such as Waqt to romcoms like Namastey London, Comedies such as Houseful and Hera Pheri franchise to a more thought provoking and avant-garde offerings such as OMG: Oh My God and Special 26 — the list is endless. Akshay Kumar has enjoyed a highly successful career spanning over 20 years and covering over 100 films. It's no wonder that Akshay is the 'go-to' man for filmmakers, as he instinctively understands and reacts to the needs of the script as well as to his director, producer and co-stars.
Securing his place as Bollywood's most bankable entertainer, Akshay has received both critical and commercial acclaim, as well as personal praise.
Actor Riteish Deshmukh says of his close friend and co-star: 'Akshay as a person is the one of the most secure people that I have met. This also reflects in his choices. He does a solo hero, two heroes or a multi-starrer film, as long as he likes the script. He depends on his gut while choosing a script. Then it could be directed by a newcomer, an established director or a director who might have given a failure before. None of that matters to him. He has been around for more than 25 years and yet to be relevant as an actor is an achievement in itself. There is no genre that he hasn't done or mastered.'
Agneepath director, Karan Malhotra, who has just wrapped up the filming of Brothers with the actor, says of Akshay: 'I feel his uniqueness lies in the fact that he has not stuck to one single image as an actor. Also during my experience of working with Akshay sir, I have realized that his biggest strength is that he is a very secure man and that shows on screen, which is why I believe he has chosen to play the most unconventional main leads.'
Girish Johar, distributor and film business analyst, explains: 'Akshay Kumar is definitely one of the most versatile stars of recent times. Where stars do one or at maximum two films in fifteen months, he gives four in twelve months, which is huge! For the trade, he is one the most preferred stars as he regularly ensures the rotation at the box office. Even with an average of 75 crore per film, he alone gives 300 crore in a single year, which is amazing. This roughly is 30% of our annual net box office. Also overseas, with good content films, he does well and attracts good value. He has definitely created his own path, worked on his own set rules and is hugely successful too. He is definitely a strong pillar for the Indian box office.'
His fans certainly went the extra mile to celebrate the release and success of the film and really touched the actor! Check out these pictures!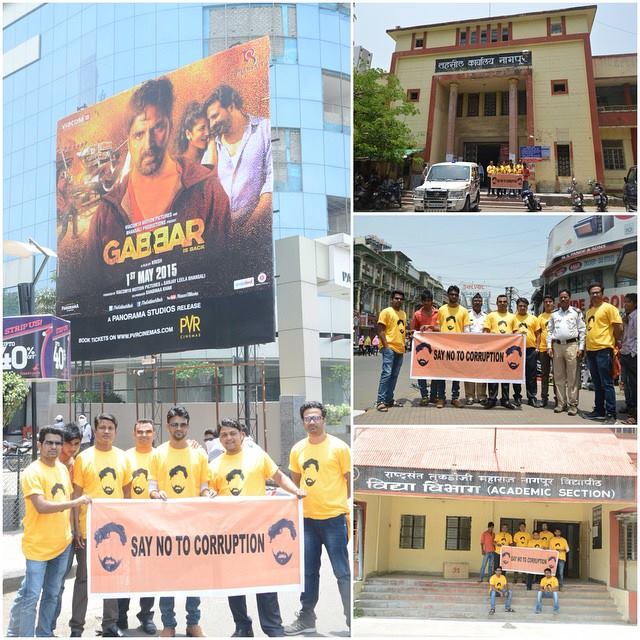 Gabbar is Back is on general release internationally.