By: Shalu Dhyani
Just when you think that Bollywood has finally grown up enough to tackle issues of sexual harassment at workplace, it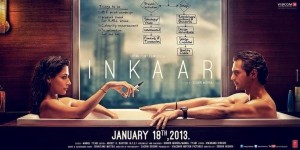 gobsmacks you with an Inkaar – a film so inept and confused that I wonder what was director Sudhir Mishra's intention in the first place.
Maya (Chitrangadha Singh), the National Creative Director of a successful advertising agency, accuses her boss Rahul (Arjun Rampal) of sexual harassment. Scared of the negative publicity it will get the agency, the head honchos decide to set up an internal inquiry into the matter. The committee consists of Maya and Rahul's colleagues and is headed by a NGO representative (Deepti Naval). As they talk to Maya and Rahul by turns, we get two different perspectives of the same story. Turns out that Maya was Rahul's discovery and his protégé. A short affair was followed by a bitter break-up and Maya got herself transferred to the agency's Delhi and later New York office to get away from Rahul. Six years later she returned as an ad-world veteran who could give Rahul tough competition for his place in the agency. Two ambitious people with a bitter past working together in a highly competitive environment was a perfect recipe for disaster and that's what happened.
A very interesting idea on paper sadly ends up as a frustrating film. It shows some promise in the first few minutes but fizzles out soon after. Though it was a good idea to see both the sides of an argument, the way the film goes about doing it is merely yawn-inducing. The main culprit is the poor writing.  Add to it Mishra's lacklustre direction and the unintentionally funny dialogues. I could just not get myself to sympathise with either of the protagonists and you know a film is dead when you are indifferent to its characters.
It didn't help that both Arjun and Chitrangadha were such boring performers that it was a relief whenever the focus shiftedto the side characters. They are exceptionally beautiful people yes, but those repeated close-ups only ended up highlighting their lack of acting talent. In fact it seems like the lighting and camera angles were meant to give the audience a headache. The pre-climax scene has both the protagonists having a long argument in a washroom with flickering light. Not only was it totally unnecessary, I needed eye-drops for my tired eyes by the time the scene ended.
A badly made film can still be forgiven to an extent if its intentions are good. However, Inkaar flatters to deceive. It promises to take on sexual harassment but dishes out a boring saga of office politics instead, which further turns out to be a convoluted love story. Handling a sensitive issue with sensitivity was something I thought I could expect from Sudhir Mishra, but his refusal to take a strong stand and then ending the film on such an infuriating note left me feeling thoroughly let down.