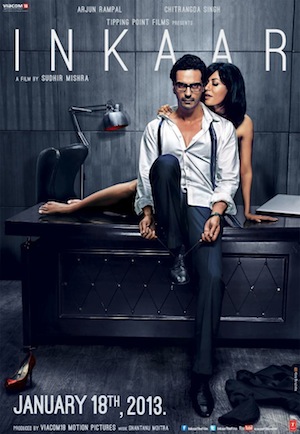 It is arguable that Suddhir Mishra's Inkaar may not have scope for music, but over the years situational tracks for non-musical features have proven to be musically appealing, the likes of Shor in the City and Shanghai being proof of it. Therefore, Inkaar cannot be readily dismissed.
The musical-lyrical duo of Shantanu Moitra and Swanand Kirkire (3 Idiots, Parineeta and Munna Bhai series) are at the helm of Inkaar. The soundtrack compromises of five tracks and features the musical talents of Suraj Jaggan ('Sadka Kiya' – I Hate Luv Storys and 'Afatoon Ke Parindey' – Ishaqzaade), Swanadand Kirkire amongst others.
The album commences with Darmiyaan, a pseudo-sufi sung by Swanand Kirikire. Its beginning suggests a sufi/rock fusion and therefore once anticipates a promising start to the album but 'Darmiyaan' falters. Lyrically, the track is sound but vocally and musically it favours the unremarkable. Kirikire's performance, arguably intended to be raw just appear bland at the end of the day.
Maula Tu Malik Hai redeems the lack-lustre start. A rock/sufi fusion with a jazz-y tinge, 'Maula Tu Malik Hai' features a catchy chorus line. Kirkire's vocals are stronger this time round despite his laissez-faire tone which he employed in 'Darmiyaan'. Once again, lyrically it is above apt.
K Mohan's Zindagi Karobaar Hai perfectly contemplates life's proclivities to imitate trade and commerce. Mohan's vocals suit this rock-esque number. The only complaint is that it is quite short for such a well-composed track.
Kuch Bhi Ho Sakta has Suraj Jaggan doing what he does best – rock. Lyrically, the song distances itself from the conundrum of similes and metaphors and simply brainstorms indicia of the phrase, anything can happen. Whether it relates to life and the world in general or the corporate world, the film's playfield, is unclear. In any case, great track, short and fast with an infinitely energetic performance by Jaggan.
The soundtrack closes with a thematic piece featuring Monali Thakur. It is hauntingly beautiful with an air melancholy that borders on the sinister. Violins give it its melodious charm while the slowly increasing electronic guitars gives it a dramatic flare. In short, one of best instrumental pieces of the year, second only to the thematic piece in Luv Shuv Te Chicken Khurana.
Once again, a subject-heavy film such as Inkaar proves that it can be musically appealing as well. Arguably, more so than your average masala fare, as it claims to drink heavily from his foundations, its chosen subject matter, rather than pulling together a myriad of mindless run-of-the-mill phrases against the backdrop of loud music. All tracks with the exception of 'Darmiyaan' are worth any music-enthusiast's while. Inkaar maybe not climb the charts but it is still a sound album, well composed and equally well written.