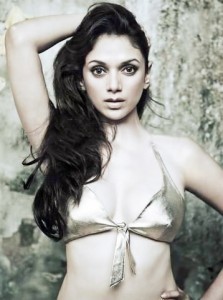 People choose to start with a bang, however Aditi Rao Hydari has chosen to silently climb the ladder and slowly enter the hearts of the viewers. She debuted in a Hindi film (after a Malayalam and a Tamil film) with a supporting role in Delhi 6. To our disappointment we hardly saw her in the film. However, she returned with a bang in Yeh Saali Zindagi and gave us a performance that we can only expect from actresses who are not just 3 films old. After playing one of the leads in YSZ, she returned to a supporting role in Rockstar and thankfully this time she didn't go as unnoticed. But the real commercial break came with her 2012 release London Paris New York, which although didn't sound loud and proud at the box office, was a solo film to her credit that got her noticed by the industry and audience alike.
She is now ready to return to the screens and once again in a role and film that is nothing close to whatever she has attempted thus far. Rao has signed Visheh Bhatt's debut film which is the third instalment in the Murder franchise. After the immense success of Murder 2, it was only a matter of time the Bhatt's would announce the third instalment.
But is this option to join the Bhatt camp, who are known for their bold and controversial films, a definite attempt to shed the coy and innocent image? Dare to ask the 33 year old the question and she quickly fires back with, "I am what I am. I won't fight that, however as an actor I aim to attempt different roles. And who's to say that innocent cannot be sensual."
Going by her short but impressive filmography, the choice to sign on something so different from her past outings comes hardly as a surprise. Aditi says she is not approaching the project with any pre-conceived notions and is happy working with debutant Vishesh because of his great vision and a thrilling story.
Will the third instalment be as successful as its predecessor? Only time will tell.