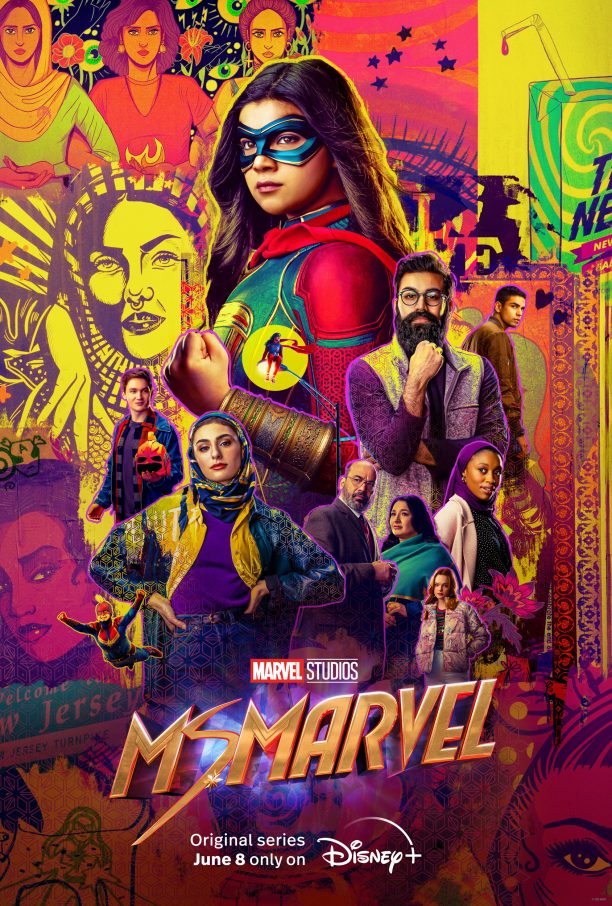 With the first two epic episodes of Ms. Marvel now streaming on Disney+ and the next ready to drop, we thought we would deliver even more scoop on this very special show.
Marvel Studios' Ms. Marvel is a new, original series introducing Kamala Khan, a Muslim American teenager growing up in Jersey City. An avid gamer and a voracious fan-fiction scribe, Kamala is a Super Hero megafan with an oversized imagination— particularly when it comes to Captain Marvel. Kamala feels like she doesn't fit in at school and sometimes even at home—that is until she gets superpowers like the heroes she's always looked up to. Life gets better with superpowers, right?
We were fortunate to attend a virtual global press conference that had cast members Iman Vellani (Kamala Khan, Ms. Marvel), Matt Lintz (Bruno, Yasmeen Fletcher (Nakia), Mohan Kapur (Yusuf Khan), Zenobia Shroff (Muneeba Khan) Rish Shah (Kamran), and Saagar Shaikh (Aamir Khan). Also joining in the fabulous discussion was Kevin Feige (executive producer), Adil El Arbi (director/executive producer), Bilall Fallah (director/executive producer) (Episodes 101, 106), Sharmeen Obaid-Chinoy (director, Episodes 104,105), Meera Menon (director, Episodes 102,103), Sana Amanat (executive producer), Bisha K. Ali (head writer/executive producer).
But wait, there is more! We also got access to a treasure trove of additional info about this groundbreaking new series!
Check this preview as we take you inside the making of Ms. Marvel.
In case you did not know, Ms. Marvel was the first comic book that featured a Muslim superhero. Sana Amanat created this very popular comic with writer G. Willow Wilson, artist Adrian Alphona and editor Stephen Wacker. Recalling the beginning of Ms. Marvel, Amanat said, "When we had the opportunity to create a young South Asian female superhero character who is Muslim, it felt new and fresh. But it still aligned with the core principles of what Marvel characters have always stood for. Powerful and fantastic, but who are also flawed with vulnerabilities that are very relatable. So very early on, Steve, Willow, Adrian, and myself would talk about everyday life. I would share my personal experiences growing up as a South Asian Muslim American and integrate that kind of cultural authenticity into the character and storylines in the comics."
"The comic did really well. We had incredible runs", she says. They never thought it would get past episode nine, let alone be developed into a live-action series. "A few years later, when Kevin let us know that he wanted to make this into a show, I was thrilled. I also feel like it's kind of perfect for a series, a live-action series," Amanat added. Sana Amanat is also an executive producer on the Ms. Marvel series.
Mr. Kevin Feige responded, "Why not, I say. Every once in a while, a new character comes around that catches the audiences' imagination. And this character clearly did that. When Disney+ came around, it really gave us the opportunity to do what we really wanted to do, which was to tell her full story in six episodes. And then have her then transition into a feature."
Head writer Bisha K Ali talked about the new world of this Ms. Marvel, "There are like border lines of how we can do this and stay true to the character that's in the comic books, and that's on that on the pages and still add something new, add a freshness. Add a vitality and a contemporary edge to what we're gonna see on screen. Every single person involved in this project loves those comics deeply, personally, from their full hearts. And I think we're all committed to that love."
Then it came to casting Kamala Khan/Ms. Marvel. Sana Amanat explained, "The question was 'how do we find Kamala Khan in the real world? And when we discovered Iman Vellani, we knew she was our Kamala Khan. In so many ways, she embodies the character 110% through and through. She is a huge super fan of Marvel. She showed us her bedroom on Zoom, and it was just like a fan explosion of all her love for Marvel. She knows the finite details of every single character, just like Kamala Khan, and it just felt very meta and crazy that we were able to find that needle in a haystack. She's just so honest, sweet, vulnerable, a little nerdy, and has a lot of heart. It's all these different qualities that made her the only choice to play the character."
As for Iman, who could not be any more suited for this role, she first revealed at the press conference that she found out about the audition from a WhatsApp message from her Aunt. "This is the brownest way this could happen. (Laughs) I thought it was a scam…it turned out to be real. I sent in a very academic resume and the one photo I had of myself. They sent back the sides for the self-tape, and I knew exactly which comic books they pulled them from. I was like, okay, this is real. I can't do it. I was like making excuses for myself out of fear of failure. I didn't want to be an actor, but because it was Ms. Marvel and I have loved the comic for years, it felt like I had no choice because I knew my ten-year-old self would hate me if I didn't audition. Then at, like, 3:00 a.m., the night it was due, I sent in my self-tape. And two days later, I get a call. They're like, do you have a lawyer? We wanna fly you to LA. And I was like, I have a math test, but okay. And next thing, I'm in LA with my dad. It was like the greatest trip of my life. And I wanted to take full advantage of being in that room, 'cause I didn't know if it was gonna happen again. June 2020, sent in the last self-tape. And then, we did a screen test over Zoom. And I got cast on the last day of high school."
Iman says, "The idea of playing Ms. Marvel was just so natural because of the parallels between my life and Kamala's in the story. We are so much alike, and I just have so much love for the character." In fact, she is still processing that she is actually playing Ms. Marvel, "I don't really feel anything. It's been a big part of my life before I even got cast, and so I'm just excited that people can finally, you know, see what I saw when I picked up those comics for the first time and fell in love with Kamala and her world."
Mohan Kapur, who plays Yusuf, gave an eloquent answer at the press conference about the world of Ms. Marvel: "I don't think this series is shouting from the rooftops "Watch me." We're talking about representation. It's a wonderful story of a community that's so ethnically diverse and culturally rich. And for me coming from that region, I think it's a fabulous opp because we certainly say this is the Marvel Universe telling a story about our milieu. And it's so beautifully and so subliminally, you know, translated over scenes. The process of entering a mosque, the festivals, the wedding ceremonies, they're just so beautiful. And I'm sure that… I know this for a fact from whatever little social media that I'm into, that side of the world; they just can't wait to see this happen. This is us. This is us".
"Now, the fact that if Marvel could, you know, run this juggernaut, it's a big thing for the rest of the world and the other production houses. To say, if they could do it, they knew what they're talking about, let us do it. And it's gonna be a rollercoaster from here on. Hopefully, actors, writers, directors, for the entire caboodle to sit up and say, let's do this. Let's show their story and not shout from the rooftops. This is not a political statement. This is a story of one family, one girl. But it's so beautiful. It's the story of a family in a land that's not their own, but they've called it their home. And that's beautiful."
Iman agreed, saying, "Culture and religion were never the main thing of her personality; it was just some part of her life. You know how it was for me. It's like, this is the time I wake up. This is the time I go to school. This is the time I pray. This is the time I eat. Like, it's just a set, a normal thing. And we didn't wanna make the show about a Pakistani Muslim, it was about, you know, this Avengers loving, fanfic writing dork, which just so happens to be a Pakistani Muslim."
One of the best exchanges at the press conference was with the director team of Adil El Arbi and Bilall Fallah. They knew they HAD to be a part of this.
Adil: "What do we do next…And the next step had to be Marvel." Adil and Bilall together: "Marvel, It's the biggest in the biz." Adil: We were kind of joking around and saying, "If you're gonna do a Marvel show, it's gonna have to be a Muslim character. Bilall: Damn sure. Adil: Muslim superhero. Not knowing that it existed, actually. So that's how we discovered Ms. Marvel and knew that they were going to do something about it. And we fell in love with Kamala Khan, with her world, her character. Then we met the great Kevin Feige, and we said, "Yo, we cannot, not be part of that." So that's how we convinced them. And, alhamdulillah, he gave us the great opportunity and chance to be part of this amazing project. Thank you."
Billal: "Yeah, it was an honor, true honor to be part of the MCU; it's a dream come true. '
Adil: "Being part of the MCU and doing it in such a way with the first Muslim superhero it's just beyond a dream. alhamdulillah Forever grateful'. Bilall:" Alhamdullilah."
However, Billal did say that once they got on set and began shooting: "It's like the little kid comes outside. Sometimes we were like, yeah, really kids on the set that the producers were like, come here and direct." Laughing, the producer Sana explained, "There was a lot of dragging them by their shirts, being like, "Okay guys, the camera's this way. Especially on the day, they shot the Avenger Con scenes [Episode One], Them and Imani at Avengers Con actually was, like, a bunch of just kids running around."
Bilall revealed that was his favorite day because they were shooting next to the Spiderman No Way Home set, "When we were on the Avengers Con set, and Kevin brought us in and took us through a door onto the Spiderman set, and we saw all of the three Spidies. Then Tom Holland came back over and saw Avenger Con. It was a pretty epic moment to be there."
We heard that the story is going to be a little bit darker in upcoming episodes. The stakes are going to get higher – as they do in comic book hero stories. Director of episodes four and five, Sharmeen Obaid revealed a teaser: "I think that in searching for her identity, Kamala Khan is going to go on this journey to reconnect with her family to understand why it's so important for her to tell her own story and to craft that story. And on that journey of discovery, we as an audience are going to go on what I can safely say is gonna be the thrill of our lives."
So what do they want audiences to take away?
Iman says, "I think Ms. Marvel, you know, always understood fan culture on such a cellular level, and it just really elevated the storytelling in a really unique way. She's a 16-year-old kid with super powers; fine, we've seen that before. But she's also a fan of every other hero within the MCU canon. And you know, that fascination and excitement is so shared with real-life Marvel fans, so that's why we relate to her. You know? She reacts how we would when she gets powers. And so yeah, I love that part of her, and that's why I fell in love with her. It's so colorful, and just the fandom of it all, it's truly a love letter to all the MCU fans."
Meera Menon, who directs episodes two and three, says Ms. Marvel is important in many ways, "I was gifted the comics by a friend that was like, 'This girl on the cover kinda looks like you.' I'd never seen that before. And I think the power of that reflection is to be able to see yourself in someone who has to then go on a journey to summon their own bravery and sense of self to save the world, not knowing whether or not brown girls from New Jersey are capable of doing that.. So, it's incredibly powerful. It's possibly the most powerful thing we can do. "
Sharmeen Obaid, agrees, "I think it was about letting the world into the secret that the South Asian culture is pretty freaking cool. Our food, our music, the way the parents' relationship with the kids are. I wanted to make it cool so that anybody watching it would be like, that was my argument with my mom when I wanted to go out, and she's like, "There are going to be boys there. Stay home." And you know, sort of make it such that anyone watching beyond, you know, the Muslim world, South Asian immigrant families watching could see a reflection of themselves on screen."
She added, "I always believe that everyone has a superhero in them; they just have to activate it. And telling this story is going to change so much for so many people because I know I have two young girls that when they see Kamala Khan, they too will know that they can also be a superhero."
Director Adil El Arbi said, "That they can see the show, and fall in love with Kamala Khan with her friends and her family. Because you know, she has superpowers, but her real powers are the love and the care from the friends and the family. So, this magnificent cast here that brought these characters to life that's the real main reason to watch the show. And I hope, you know, it's gonna be their family, the same way that we all became family."
Sana Amanat, executive producer, wholeheartedly agrees and ends with, "Watch this show and go back to your own households, your own community and kinda relish in it. And celebrate your community and the fact that we can be proud in whatever skin color, background, sexual identity that we might have and embrace it. We want the show and the people to feel joyous afterwards and to celebrate the fact of who they are and who their communities are and just kinda spread that love outwards. So, I hope …"
Be sure to watch episode one and two now streaming on Disney+, and Disney Hotstar and find out what happens next when episode three Ms. Marvel drops on June 22nd!
We know we will be watching!