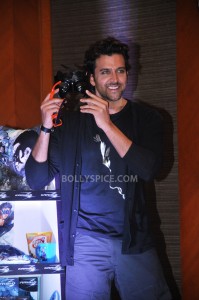 Ever since the first trailers of Krrish 3 hit YouTube over the summer, it became the most watched trailer in the history of Bollywood cinema on its first day alone. Krrish 3's trailer even went on eclipse trailers of big-budget Hollywood superhero film trailers (Thor & Avengers). However, unlike any Hollywood superhero films, which are based on comic book characters and have had multiple cartoon, television and film adaptations, the character of Krrish is the vision and creation of Rakesh Roshan and is comparatively young.
All superheroes have a past, a present and tales of their stories. Whether it is Batman witnessing the murder of his parents and seeking revenge and social justice, or Superman being rocketed to earth to save him from the destruction of his planet, we know the stories well and have seen them adapted and presented over the decades. However, Krrish as a character is still evolving and continuously being developed with each film.
Hrithik Roshan believes that there is a Krrish inside all of us. We share with you, in Hrithik Roshan's own words, what Krrish the character is all about and how it inspires him:
Who is Krrish?
– Krrish is an idea…a symbol, and a symbol is more powerful than any actor, movie, individual or person.
– Krrish uses all his powers in service of others…he believes that life is less about you and more about the people around you who love you.
– Krrish is a symbol of courage, strength, power and harmony.
What does Krrish mean to Hrithik Roshan?
– The values that define Krrish have by far had the biggest impact on my life.
– Krrish to me is more than a just a character, more than just an actor playing a part, more than just a movie.
– I keep the symbol (of Krrish) to remind me of those values…to remind me in times of despair that I can overcome anything!
– This symbol (of Krrish) has constantly helped me find the hero within through many of my innumerable struggles…it empowers me to rise each time and create the greatest story ever told.
So there we have Hrithik Roshan's insight into the character of Krrish and now we leave you with his parting words: "I believe in the Krrish inside all of us. Its time now for you to find him inside of you."
Krrish 3 is expected on Diwali 2013.