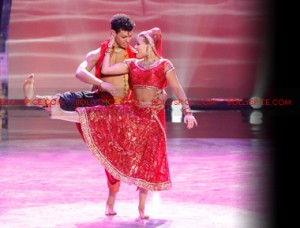 A few weeks ago, I had the amazing opportunity to talk with Nakul Dev Mahajan, the Bollywood choreographer on the fabulous dance reality show So You Think You Can Dance. We ran the interview (you can read it here) last Tuesday, the day before the show goes live on Wednesday on Fox Network. I thought it might be the week for a Bollywood number and I was right and what a number it was! Closing the show ballet dancer Chehon Wespi-Tschopp and Ballroom beauty Witney Carson blew everyone in the audience and the judges away with their outstanding performance in the highly technical piece. It was done brilliantly with energy, style, very good hands and fingers and it brought the house down.
Of course, after the number was so successful, I had to find out more about the rehearsals and the performance from Nakul. Once again he took time away from his school and rehearsals to give me his insight into the number.
I also was able to catch Chehon in between rehearsals for this week's show and he was nice enough to take time to answer my questions. In case you don't know him, let me introduce you to Chehon, who is one of the three professional ballet dancers that are part of the contestants in Season 9 of SYTYCD. A brilliant technician, he graduated from the Royal Ballet School and has danced with Los Angeles Ballet as well as Twyla Tharp's Come Fly Away national tour.
So take it away, Nakul and Chehon…5-6-7-8….
It's Bollywood for Chehon and Witney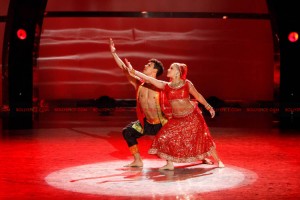 Chehon, what was your first reaction when you knew you had Bollywood?
The worst part was when Witney and I were left with Bollywood as the only dance style to choose…I was not exited especially after last weeks Samba. I was horrified!!!!!
Did you know Bollywood before this?
Not really…I used to laugh a lot when I saw it at the end of a movie!
So Nakul, what were your first thoughts when you knew you had Witney and Chehon?
I was thrilled to get Chehon. He is ballet trained; I knew he would be very dedicated, disciplined, and powerful. I was a little nervous about Witney, as my experience with Ballroom dancers hasn't been the best. I was relieved when I saw her Samba. The girl can move and she's stunning to look at.
The First Rehearsal
Nakul, their first reaction when they saw the Bollywood choreography?
Overwhelmed. Neither dancer had ever done Bollywood before.
Your first reaction, Chehon, when you saw Nakul and Mala show you the incredibly hard and fast choreography?
I was trying to control my face and not let the fear show on my face. I died a little to be honest! I have never been good at picking up fast past steps as I am more of a strong big/slow mover.
What was the rehearsal was like?
Chehon: Rehearsals were a lot of fun…Nakul is incredible to work with and really made me feel relaxed and comfortable about enjoying this dance style. He is inspiring and funny! There isn't a lot of rehearsal time so we had to learn it in two days. I was initially worried because we only learnt about 20 counts on the 1st day and for the rest Nakul was telling us different stories about India or Bollywood. I realized later that it the exact thing that we needed. We had to connect to the culture that we were dancing.
Nakul: I always have a great time with the contestants on SYTYCD. They are always professional and grateful. I stuck to the choreography that I had planned. No adjustments and no watering down. The routine was extremely challenging and technical. It was a time-constrained journey of a lot of hard work and practice. Mala and I were nervous with certain sequences that they couldn't execute. However, they eventually got it to my satisfaction. Chehon and Witney were a delight. I would love to have the opportunity to work with them again.
Performance on the SYTYCD stage
How do you think they did, Nakul?
For the short time they have, less than 10 hours with the choreographers, I feel they did great. Learning Indian classical combinations take years and half of the routine was classical.
Judges loved it and so did the audience!
Chehon, your reaction to the amazing response from the judges and the audience?
I had no idea that the Bollywood routine would go down so well with the judges! I think having been able to let go in this routine definitely helped me to know that that is what I need to do with dance styles I feel uncomfortable with or unfamiliar. Also the judges seemed to pick up on our new found chemistry/personality. Coming from the Ballet world I am not used to compliments…It's a very negative world…So it has made me quite nervous when it comes to showing things I am uncomfortable with, as I am extremely scared of failure. That's also why I was so nervous in my initial NYC audition. But as soon as we started the Bollywood I told myself: I am there for myself. To have fun and learn, grow. If I give it my all there won't be any regrets!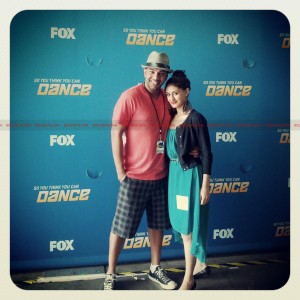 Nakul, how did you feel hearing the applause and the great comments from the judges?
The response has been positive. I am always grateful for having the opportunity in showcasing Bollywood. The support, encouraging words, and love from viewers are reasons that motivate and inspire me to always put my best foot forward. I am humbled that the judges understand how difficult Bollywood can be.
Many are calling it the best dance of the night, how does that feel?
It is kind for people to say that and it makes me feel great. Hard work pays off and all the credit goes to Chehon and Witney. This routine could have been a train wreck.
Did Bollywood save them? We think so!
They both were in the bottom 6 after last week's Samba. Nakul, do you feel this piece saved them? How does that feel?
I have been getting floods of messages from supporters that the Bollywood piece "saved them." I do not know if that is completely true. Chehon and Witney were saved because they are amazing. The routine definitely proved that these two contestants will fight to the end!
Chehon?
I am overjoyed that I was saved from elimination…It still hasn't sunk in and I don't know why I deserved it. But I am so ready to grow from this and keep pushing even more!
Check out their fabulous performance!
httpvh://youtu.be/1uytJdTWaGU