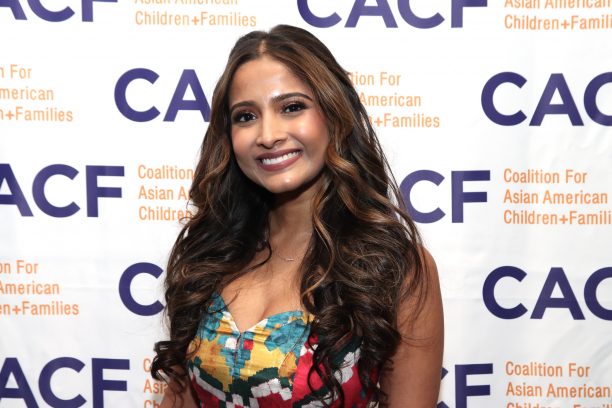 Shoba Narayan, star of the recent hit musical Come Fall in Love – The DDLJ Musical, as well as Broadway's Aladdin in 2021, was the featured performer at a very special gala for the Coalition for Asian American Children and Families (CACF) 2022 Catalyst for Change Gala. The event celebrates leaders and change-makers in the Asian American Pacific Islander communities (AAPI). 
CACF, the nation's only pan-Asian children and families advocacy organization, brings together community-based organizations as well as youth and community allies to fight for equity for Asian Americans and Pacific Islanders (AAPI).
On the red carpet, Shoba talked about what she feels is the importance of CACF's mission, about playing Jasmine in Disney's stage version of Aladdin, and what it was like to star in the Aditya Chopra directed Come Fall in Love – The DDLJ Musical as Simran.
About CACF and what connects her personally to their mission, she explained. "I honestly feel like CACF's biggest mission is actually what I connect to, in my core beliefs and how I attack my professional and personal life. I have always been outspoken and passionate about making sure that Asian Americans are represented in theater – that we are seeing that we are being supported. And so being a part of an initiative like this really aligns with my core values very closely."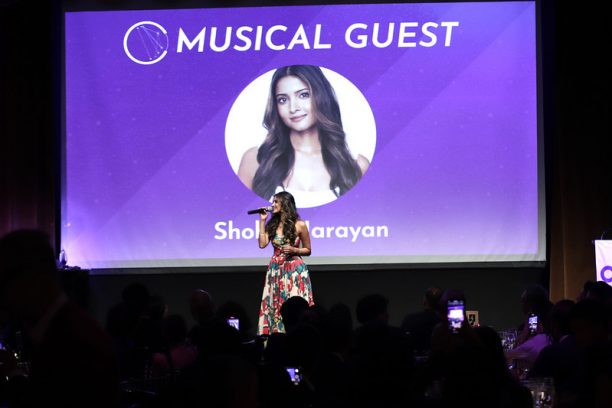 As for being cast as Aladdin's first South Asian Princess Jasmine on Broadway, Shoba said the experience was terrific. One of the things that made the experience so wonderful was they were receptive to including South Asian aspects in the show, "When I joined the cast, they were open to some little tweaks in the script or little tweaks in the choreography to make the story more culturally inclusive and sensitive in terms of making sure there was more specificity when it came to some of the choreography that was more South Asian-based. Disney was wonderful in allowing that to happen, which was great because that was really important to me."
Expanding on this, she expressed, "I wanted to make sure that if we are telling a story that is supposed to represent some Asian cultures, that folks who come to the show can see themselves represented on stage. They can see their hand gestures, their mudras, their art, represented in a way that makes them feel like they're part of the story, and they're being represented, you know, in an authentic way. It's been a really wonderful experience. Also, just by virtue of being up on stage by seeing all of the children of color who are, you know, sitting at the edge of their seats, watching the main characters of the show being played by people of color, it just has an impact. Casting someone from a certain background to tell this kind of story has a ripple effect."
What made it even more special was the representation children would see, "I'm so glad that so many Asian American kids have been able to see the show and have been able to see what the possibilities are for them. They do deserve to take up these spaces, and being the one who is the center stage, and who are the ones who sing the beautiful songs, and, get to win the day."
The actress also spoke about when she was 13, she tried out for the school play and was not given a part because she was South Asian. Because of that discrimination, this made Shoba more determined to be in the theater. "Yes, they said, 'well, we're doing Wizard of Oz, and Dorothy is not brown. She's white, and she has red hair.' And they taunted me. A big thing that they'd say is, 'there's no one like you, Shoba, who is starring in a show.' So I made that my mission. I said I'm going to do this. And I'm going to star in shows; I'm going to show the next generation that it is possible for them, and they don't ever have to feel like there is not a space for them on stage.'"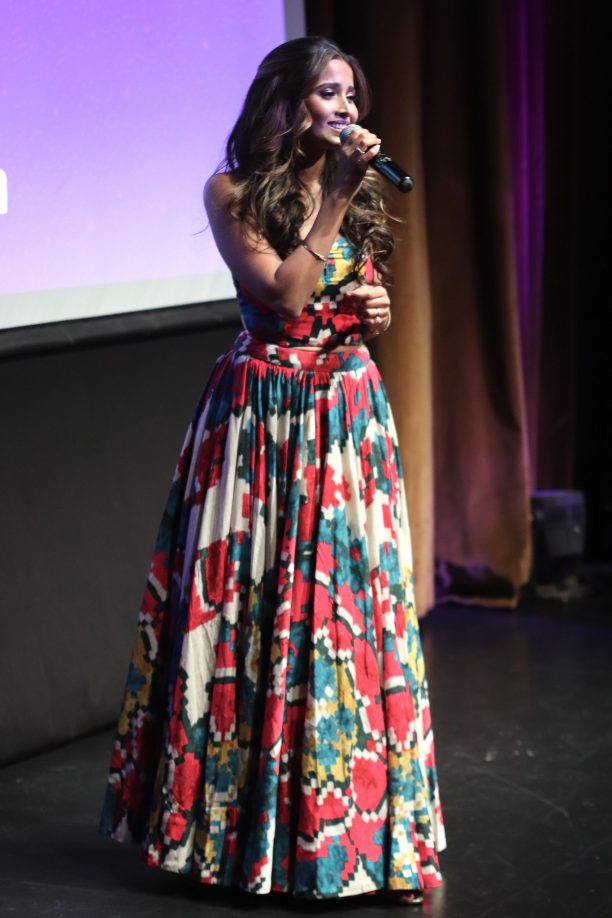 Of course, the discussion turned to the excitement of Aditya Chopra's stage production of Come Fall in Love – The DDLJ Musical, which is set to debut in the Broadway season of 2022-2023. So did she watch Dilwale Dulhania Le Jayenge, which starred Kajol and Shah Rukh Khan? "I did.. I grew up watching the movie."
An amazing bonus was that she was working the director of the film and now the musical. "Hearing stories about Shah Rukh Khan and Kajol on set and how he wants to recreate that for my co-star and me has been really, really cool. I mean – it's Bollywood history,"
She added, "It has been the coolest experience working with director Aditya Chopra and him telling me what he wanted in the stage version versus how he presented the story in the film version."
Shoba shared even more exciting information about the upcoming Broadway production of Come Fall in Love – The DDLJ Musical. "It's very inclusive; it's very joyous. And it is exactly the medicine that we need right now. You can expect an amazing 18-plus pop song score by Vishal Dadlani & Sheykhar Ravjiani, who have written for several Bollywood films at this point. It's going to be a really exciting moment for the South Asian community. I don't remember the last time there were these many South Asian actors on stage."
Shoba can't wait to have this special theatrical musical come to Broadway, "Aditya Chopra has been very, very excited about the idea of celebrating India in the best way possible. And I think that we do it in a really authentic and beautiful way. So I'm just really excited for everyone to come see it." 
Find out more about the Coalition for Asian American Children and Families here
Photo Credit: Lia Chang