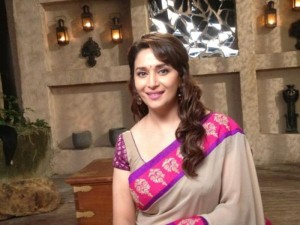 When talking about intimacy and Indian cinema Madhuri Dixit is not a name that first comes to mind but it seems the fan favorite has no reservations about shooting intimate scenes for Dedh Ishqiya. Madhuri will begin to shoot for her role along side Arshad Warsi and Naseeruddin Shah in September. While the actors and director Abhishek Chaubey are preparing for the project it is plenty time for fans to ask the question what will this new character be like?
Dedh Ishqiya is of course the hotly anticipated sequel to Ishqiya in which Vidya Balan played the powerful role of Krishna. Despite the film doing well at the box office and Vidya receiving awards for her performance, it was the fiery kiss that she shared with Arshad Warsi's character that became to topic of discussion across discussion forms. Given the impact of the first film Madhuri has a lot to live up to in that department but given her on-screen kiss in Dil with Aamir Khan and her intimate scene in Dayavan along side Vinod Khanna, we can expect a flawless performance to match the first film.
Talking about Ishqiya and the sequel Madhuri was full of praise not only for the director but Vidya Balan also. The star says, "I'm really excited about both my co-stars. They were brilliant in Ishqiya. I loved that film also because of Abhishek. It didn't seem like a debut film. And I don't have enough words to praise Vidya. Her performance took the film to another level."
She goes on to talk about the possibility of intimate scenes saying, "I don't think marriage or motherhood has anything to do with an actor's work. My kids (Arin and Rayan) and husband (Dr Sriram Nene) know that I'm an artiste. I can't shy away from anything that a script demands, even if it's physical intimacy". For Madhuri however the one condition for the go ahead for such scenes as that the form an integral part of the film. "If I'm convinced that it's essential to the script, and I know it will be shot aesthetically, I won't say no to intimate scenes. Vidya's scenes were shot so beautifully in Ishqiya. If Dedh Ishqiya absolutely needs something of that sort, I'm game" she explains.
Preparing for the film has not been the only thing Madhuri has had on her plate recently after completing a move back to India. Madhuri explains that on arrival back to India her main focus was allowing her children to settle into their new environment before taking on any big projects. Seems the settling in happened quickly as her focus has now turned to season give of Jhalak Dikhhlaa Jaa where she will take to the judging panel along with Karan Johar and choreographer-turned-filmmaker Remo D'Souza.
Talking about the next season she says, "It's my second season on this show. It makes me happy because my husband and kids love to see me on this platform. I get to see so many celebrities, who aren't trained dancers, sweating it out to dance to perfection," she says, adding, "This time, there's even a dance segment for me. I'm excited because it'll be my re-entry onto the dance floor!"