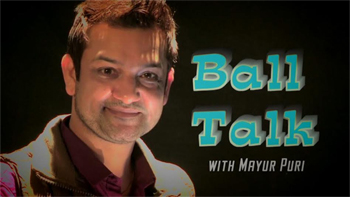 Every Friday sees the release of a film in the world of Bollywood cinema. It does not matter if the film is of a low budget, high budget or has a huge star cast, the film is guaranteed to be subjected to at least some form of criticism. After all, there are many facets of cinema and it is an extremely difficult task for one film to please everybody, right?
This is where Ball Talk with Mayur Puri comes in. Mayur Puri is a lyricist (Saree Ke Fall Sa, Tu Hi Tu and many more), a dialogue writer (Om Shanti Om and Happy New Year) and he has also been a screenplay writer. His unique concept of Ball Talk has opened its doors for film makers, to talk about the criticism (good or bad) of their film and answer the critics with their justifications. We know that there are certain film reviews that go too far and cross the line, and this will be the first time that film makers from Bollywood will be able to reply to the criticism they receive from film critics.
The very first episode of Ball Talk features actor and lyricist Swanand Kirkire and the director of the recently released Crazy Kukkad Family Ritesh Menon. We recently caught up with Mayur, who gave us some more background of his show and its concept.
"Ball Talk with Mayur Puri is all about freedom. The right of the filmmaker to make what they want and not be judged in a personally vindictive way… AND also the right of the people/critics/reviewers to raise questions and demand answers from the proverbial horse's mouth. It is a platform which brings all kinds of comments and observations about a film to its makers directly and sees their response to it. The show is intended to open a healthy but fun dialogue and be the bridge between those who make art/music/movies and those who consume it."
Ball Talk with Mayur can be watched online on YouTube. Watch the first episode below:
http://youtu.be/8aZc7Z8I1ww
Do share your thoughts with us about this unique concept where film makers finally get the chance to have their say. Stay tuned to BollySpice for more updates!