Ever wondered what it would be like to hear Bollywood music with a Motown twist? Now you can thanks to the British home grown band Botown.
Botown are a uniquely formed Bollywood/Soul Motown band. The founder/frontman of Botown, Ajay Srivastav, is a full fledged musician and has worked with artists like Jamirooquai and Shah Rukh Khan in the past. The name Botown has been inspired by the music genres of Bo(llywood) and (Mo)Town. Botown formed in 2009, even though auditions for the band began in 2008.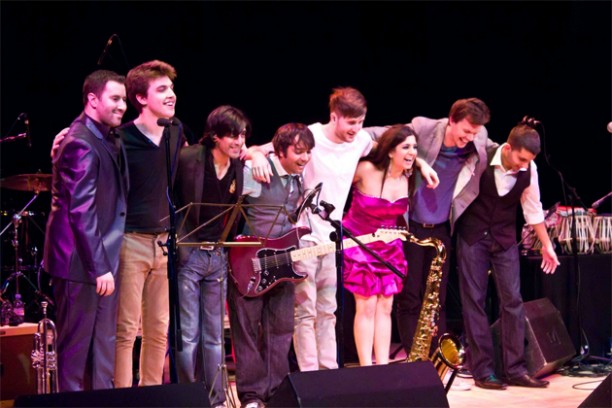 Botown has taken inspiration from the 1960's band The Bluesbreakers who constantly changed their line up in order to promote new talent. However, regular members of the band are Pavan Verma (saxophone), Jeff Brown (trumpet), Renu Hossain (percussion). Vinod Kerai (percussion), Max Lauder (drums), Joel Ison (Keyboards) and Sam Sherawi (bass).
Their first single was a soulful cover of the super hit Rajesh Khanna song 'Roop Tera Mastana' from the film Aradhana. When you listen to the Botown version of this song, you realise it is way more than just a cover. The haunting sitar like intro and the jazzy interludes give this song a whole new sound. It is no suprise, that Roop Tera featured in the number one spot on the BBC Asian Download chart. Other achievements for the band include hearing their songs on the BBC1 Soap EastEnders, being the headlining act at Trafalgar Square, and bringing Bollywood to The Jazz Cafe.
The band have also performed for The Princes Trust (a charity that has been set up by Prince Charles) and performing to sell out venues during their tour season.
If you have been excited with what you have read so far, then look out for Ajay's future plans: he is currently working on some solo original acoustic material which explores the transcendent vibes of Delta Blues and Indian Folk. This project will hopefully be launching in Autumn this year. Ajay is also developing a Jazz Trio with Pavan Verma as the lead musician.
Botown are also back at the end of the year at the Jazz Cafe and will be performing in the Midlands. More details at www.botown.co.uk
Check out their stunning version of Roop Tera in the video below and enjoy the band at their best performing live on stage.
Roop Tera ~ Botown
http://youtu.be/EwLg2aYSREw