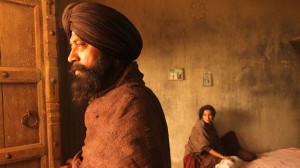 Award winning actor Irrfan Khan, known internationally for his stellar roles in The Lunchbox, Life of Pi, Slumdog Millionaire, Paan Singh Tomar and D-Day is delighted that his new film Qissa, directed by Anup Singh, has been selected for the 5th edition of the London Indian Film Festival (LIFF, July 10-17). Irrfan was a big hit in London last year when he delivered a masterclass at the prestigious British Film Institute and was present at the sold out festival screening of D-Day.
Says Irrfan: "I'm delighted my film Qissa will be screened at LIFF this year. What makes me even happier is that you'll see something very different of me. I believe there is a quality of performance in Qissa that goes beyond skill or experience. What seems to emerge from the performances here is a gentle but powerful rhythm that will bring to your mind the music of our mystic traditions. It is a gentle film about our very violent time. It is a film I hold close to me and I hope it haunts you as it does me. I would also like to add that working with Anup Singh and getting to know him through Qissa has been a profoundly fulfilling experience."
Qissa will enjoy its UK premiere at the BFI Southbank on July 12, 20:20, followed by a screening at Cineworld Haymarket July 13, 18:00. A Q&A with director Anup Singh will follow both screenings.
Synopsis:
Acclaimed actor and LIFF 2013 guest Irrfan Khan (The Lunchbox, Life of Pi), plays the role of Umber Singh, a rural Sikh, dispossessed from his homeland by the Partition. He obsessively focuses on the 'ideal' of having a son and heir, but as his fourth daughter is born he hides the child's true identity, she becomes the son of his dreams, but at a terrible cost. Deftly directed by Anup Singh with stunning performances from an ensemble cast including Tillotama Shome as the 'son'.