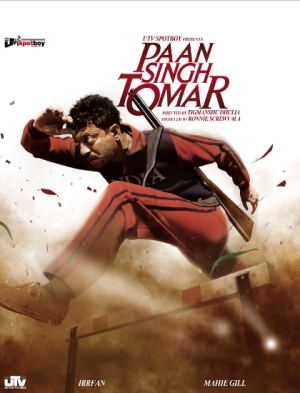 In between juggling his Bollywood and Hollywood assignments, actor Irrfan Khan seems to have made sever­al friends in both the film industries. Having been a part of several suc­cessful films out there, including the Oscar-winner British Slumdog Mil­lionaire and the much-ac­claimed A Mighty Heart and The Namesake, seem to have helped the actor become a popular name in H-Town too. So much so, that the actor is now hold­ing special shows of his Bollywood films for his firang friends.
Earlier, the actor was reported to have arranged a special screening of his upcoming film Paan Singh Tomar for Holly hotties Angelina Jolie, Brad Pitt and Natalie Portman and now buzz is that Irrfan will soon be hosting a special show for his Spiderman co-star and director as well.
According to a source, Irrfan, who will be seen in an important role in the spidey installment, The Amazing Spider-Man, had been talking about his Indian film to the lead actor Andrew Garfield and di­rector Marc Webb, when the two showed a keen interest in watching the film. "Both Andrew and Marc were apparently very intrigued about the story of this athlete-turned-dacoit that Irrfan is portraying. They expressed this to Irrfan, who decided to host a special screening of the film for them. He is likely to show them the film sometime later this month, after all the arrangements have been formalized," says the source.
The source added that Irrfan has been quite thrilled with the response he's been getting for this role even before the film's release. "There has been a lot of buzz about this film, di­rected by Tigmanshu Dhulia."
Set to release on March 2nd, Paan Singh Tomar, is based on the true story of a runner, who turns into a rebel. Paan Singh, from a small town of Madhya Pradesh, joined Bengal Engineers to escape poverty. He then became a runner and won the steeplechase event at the National Games for seven years in a row. Later, he gave up running and his past as a subedar in the army and went on to become a rebel & create a havoc at the Chambal valley. It is about an unsung hero, a player who turns into a rebel and how the system makes him a dacoit. Irrfan plays the title role while Mahie Gill will be seen as his wife. Director Tigmanshu Dhulia researched for two years before visiting Singh's village in Bhind while Irrfan trained rigorously with stee­plechase coaches. The film, shot in actual Chambal locations and Roorkee, is produced by UTV Motion Pictures. It was completed two years ago, premiered at The British Film Institute London Festival in 2010.
httpvh://youtu.be/enwaoPOO0Ik