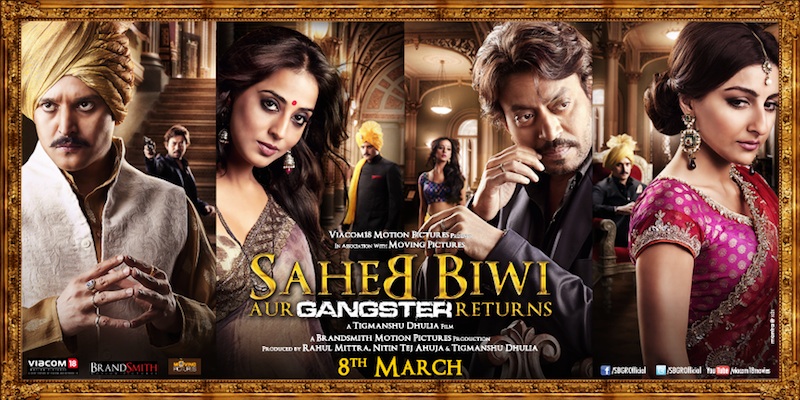 After the success of Pan Singh Tomar, producer, director Tigmanshu Dhulia and Irrfan are teaming up once again for Sahib Biwi Aur Gangster Returns (SBGR). SBAGR cast includes Jimmy Sheirgill and Mahi Gill from original while Soha Ali Khan is a new addition in the film along with Irrfan Khan.
Irrfan plays the role of a sexy royal gangster in the film. Producer, director Tigmanshu Dhulia explains, "Irrfan's got a great sex appeal and he triggers the sensitive side of women in an intellectual way. He's not for frivolous women, but for those with substance. Any woman who has some intellect will find Irrfan really attractive."
Incidentally Irrfan is considered sexy by many women in Urban Indian. They find his earthy personality appealing.
Tigmanshu Dhulia says that he has witnessed many women blush and going coy when they see and meet Irrfan, "He doesn't get a reaction like people screaming his name but I can see the admiration, lust and passion for him," he adds.
When quizzed if SBGR will be a bigger film for the duo? Tigmanshu says, "We will feature a world which you rarely see in movies today. The old world charm, royalty, attitude and etiquette, which are missing in today's society and in our films, will be depicted in it."
Talking about Irrfan's character in the film, Tigmanshu reveals, "His character is of royal descent who has lost everything. He becomes a small town gangster, who holds a grudge against Jimmy's (Shergill) character and wants to reclaim his lost glory. The film is all about his revenge."
In the film, which releases on March 8, Jimmy marries Soha (Ali Khan) who becomes the choti bahu (younger daughter-in-law). Irrfan is her protector, who has a liaison with Mahie Gill. Sahib Biwi Aur Gangster and the sequel trace the palace intrigues of a royal family who are trying to survive and find their place in post independent India.