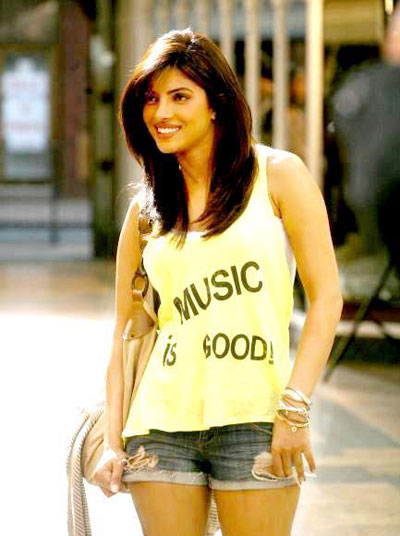 A few weeks ago we put out a call to Priyanka Chopra fans to tell us which of the three was their favorite Priyanka avatar in Teri Meri Kahaani and why!
So was it…
The feisty Aradhna of 1910?
The gorgeous movie star Rukhsar of 1960?
Or the fun loving Radha of 2012?
Drum roll please! The winner is….all three! Most fans love Priyanka in every character in the film! We got some amazing creative answers and it was incredibly hard, we mean INCREDIBLY HARD, to choose! Check out what they told us! Priyanka fans totally rock!
Jessica Khare
In the movie TMK out of the three avatars that Priyanka plays, my favourite avatar is THE FUN LOVING RADHA OF 2012… This avatar is just totally like me 🙂 I am a fun loving girl by nature, enjoys life to the fullest, believes a lot in true love and destiny…
I know that Priyanka's favourite avatar in her movie is THE FUN LOVING RADHA OF 2012… 🙂 Because this role in her movie also portrays the way she is in her real life… she is EXACTLY same as Radha in her REAL life, she too enjoys life to the fullest. She is a very fun loving woman and she is very romantic by nature…. a very down to earth person… I just love her for the way she is… words fall less to explain how much I really love her.
Ankita Khurana
It's certainly difficult to choose one character of Priyanka Chopra from Teri Meri Kahaani, but the one which I like the most is Aradhana of 1910! She is this full on Punjabi Kudi, chirpy and enjosy every moment of her life but at the same side she feels shy when Javed (Shahid Kapoor) says all those lovely shayaris for her – a boy can only make such beautiful shayaris only if such a gorgeous and beautiful girl is in front of his eyes! And the fact, which I love, the most is that she too LOVES Javed a lot, but she keeps on denying that she doesn't! One of the amazing shayaris she said, "na jaagte hue khwaab dekha karo, na chaho usse jisse paa na sako, pyaar kahan kissi ka pura hota hai. pyaar ka pehla akshar adhoora hota hai". The way she dances in 'Humse Pyaar Karle Tu', aahhh it's just awesome! She is a girl in a Billion. I heart this character of PC the most, full on entertaining. PS: Priyanka Chopra identifies herself to 2012 character the most because it is more like her, but she enjoyed playing the Aradhana of 1910 the most. But the thing she liked more than each character was to bring disparities between them!
Sarthak
I like the fun loving Radha of 2012. She's chirpy, bubbly, gorgeous and also has a great fashion style.
She's also romantic as we can see from the trailer the big smile on her face as Shahid (Krish) gives her the rose.
She's that modern party freak who'd dance till the wee hours and enjoy!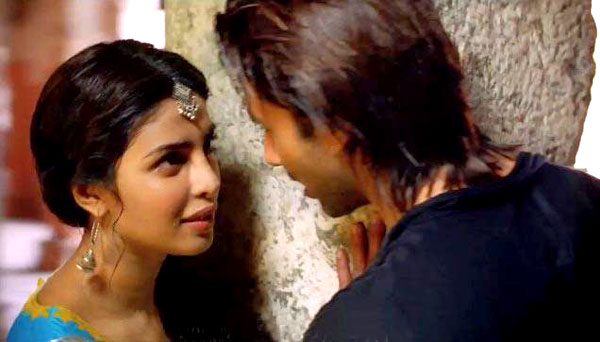 Kunwar Samrat Singh
LOVE NEVER DIES.
IT COMES BACK IN ONE OR OTHER FORM.
TMK's concept of showing Love is just awesome. Thanks to Kunal Kohli and his ideas. The trailer was enough to reveal that this Jodi of PC and Shahid Kapoor can give a tough competition to the epic Love stories and their characters. I am absolutely in Love with all three characters of Priyanka, but especially Aaradhna of 1910. It leaves an Impression of Unforgettable romantic Jodis of 20th century. As in the trailer Aaradhna was the best icon and most influential one. Naughty, simple, cute and sweetest of all–> Aaradhna's dialogues straight away hit to my heart. "PYAR kahaan kisika pura hota hain…PYAR KA PEHLA AKSHAR ADHURA HOTA HAIN!!!" Totally in love with Aaradhna. But who's PC's favourite? That's the toughest Job in the Universe but believe me…she also likes Aaradhna as much as I do. Hope so! Going Mad to see Teri Meri Kahaani. Thrice upon a love story is in air…
Nishita Bhatt
My favorite is "RADHA" the 2012 chick. She seems so cool, chilled out, she is full of fun and she loves PARTYING, so do I. So accordingly I'll love Radha more than the other two! Something that really touched my heart from all three eras was when Aaradhna too starts doing shayaris, Hayyee mein marjawa. And Rukhsar, Oh my, she looks so beautiful. And now back to Radha. She is so PERFECT that I wish I were in her place. And in 'Mukhtasar' she was so effin' hot, I couldn't take my eyes off her. And also I think Radha has a funny character because we see she gets Krrish (Shahid) arrested… Naughty Radha. And also the phone booth scene where they both (Radha & Krrish) are having lot of fun doing crazy stuff in the booth and making funny faces. Hahaha. Radha is HOT but lives a cool life. I wish "RADHA KO AAPNA KRISHNA (Krrish) MILJAYE" Really hoping that in the end Radha-Krrish are together. We will get to see PC doing shayari for the first time as Aaradhna and it's gonna be super fun & amazing stuff coming on & on in Teri Meri Kahaani. Rukhsaar must have been very easy for her coz she is a superstar in real as well as reel in TMK, so yeah that's all! Teri Meri Kahaani is gonna be a SUPER BLOCKBUSTER HIT. It's gonna break all the records of INDIAN FILM CINEMA.
Stacy Singh
Out of all of the three my favorite would have to be Rukhsar because Priyanka is my favorite actress and I loved the 60's era. And it's really cool to see her playing an actress when she is one in real life. I can't wait to see how the life of a 1960's actress was.
Ali Fer
I like all three avatars and this is why… Love is everlasting, time doesn't matter when one is in love, it matters how deep the feeling for that person. Aradhna, Rukhsar or Radha for me these all the same person, because what the feeling for these three person is the same and that feeling is love. Priyanka is a versatile actress she demonstrated that very well in her previous movie What's Your Rashee?, so definitely this has been very swell for her. I think I can say this goes for herself as well, if you would ask her the same question, "Who is her favourite avatar?'' she couldn't probably choose, she has experienced these three avatars in her own way, she has put herself in their skin to try and understand them and while doing that she has created the magic that we've seen in the promo's.
All I can say is that the sizzling duo will be back on screen and I can't wait to see ''this'' love story, because love will always remain the same regardless of the time, era or the place.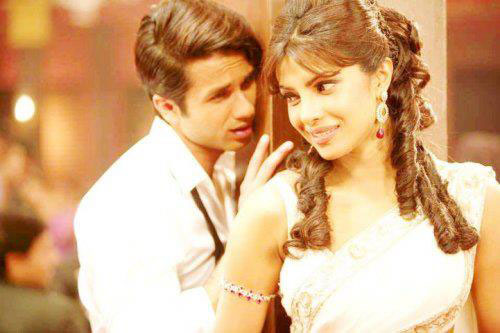 Jacqueline Friedman
My favourite character for Priyanka Chopra in Teri Meri Kahani is as the gorgeous movie star Rukhsar of 1960. My reason is simply because although she's a movie star with everything at her feet, she's also only a young girl who wants to be loved. She looks very down to earth and humble despite her status and also shy and fun loving. I love the 1960's era as it's a period just after World War 2 and when Audrey Hepburn and Elizabeth Taylor were the starlets of cinema. The costumes are beautiful and take you straight back into the time where women were just stepping into freedom and out of the kitchen. I love the fact that Rukshar is a lady of style yet still able to stand her ground while getting to the common-man's level.
I think Priyanka would definitely love feisty Aradhna, as it's in a period pre India's Independence where women were still prohibited from making a lot of choices concerning their own lives yet she's not afraid to speak her mind. I love the costumes in the 1910's era as well, and Priyanka's laugh, especially in this era is of gay abandon. I LOVE Priyanka in all 3 characters and think she does an amazing job.
Sibtain
Asking me what Priyanka Chopra character I prefer out of the three she portrays in Teri Meri Kahaani, is like asking a mother, who her favorite child is. No matter how hard she tries, she can never pick one over the other. I seem to be on the same boat. It's absolutely impossible, for me, to determine which Priyanka Chopra character is my favorite. There's a special 'tadka' in each of her characters that makes each one of them lovable. As the feisty Aradhana, she is sensationally breath-taking. Her sher-o-shairi's are applaud-worthy and she very rightfully represents the classic, timeless beauties of those eras. As the gorgeous movie star Rukhsar, she comes across every inch a super star. With that much of panache & attitude, there is no reason to not love Rukhsar just as much as the other characters. Then there is the fun loving Radha of 2012. The perfect girl for every guy. She is crazy, she is sexy, she is full-of-life. She is every man's ultimate dream. Priyanka Chopra adds so much spunk to this character and her "chulbulapan" is what is the most appealing about her character, Radha. Each and every character has their own vibrance & Priyanka Chopra adds the x-factor within each of these characters, which hence makes each of her characters oh-so-lovable!
Pavarasi
Definitely I would choose the 2012 avatar Radha as it is more reflecting us, we modern society girls, and it's more natural (more herself) acting that she has done so its one of her best works ever. Also she is more beautiful in this new look, and those killing green eyes of her! I must say she looks quite comfortable in shorts and shirts… and then this sizzling chemistry of hers with Shahid. Her expressions is just like Krishna ki Radha! 😉
Sonam Yaqub
My favourite Priyanka avatar in Teri Meri Kahaani is the fun loving Radha because she is cute and modern. Priyanka's favourite avatar in the film is the feisty Aradhana.
After God had created me
He thought to Himself
What to gift this masterpiece?
Something of the highest fee
That's how he created Rukhsar ji 🙂
If Rukhsar forgets me I'll be sore
I'll be upset and that's for sure
But when she leaves my memory core*
That's the day I'll be no more 🙂
Twist on Shahid's line in the trailer from 0:55-1:10
Twist on Shahid's dialogue in the trailer from 2:05-2:20
*Magnetic-core memory was the predominant form of random-access computer memory from 1955-75. Rukhsar was from the 1960s 🙂
And last but certainly not least we have this creative entry from a Priyanka Chopra Loverz Fan club! We think it rocks!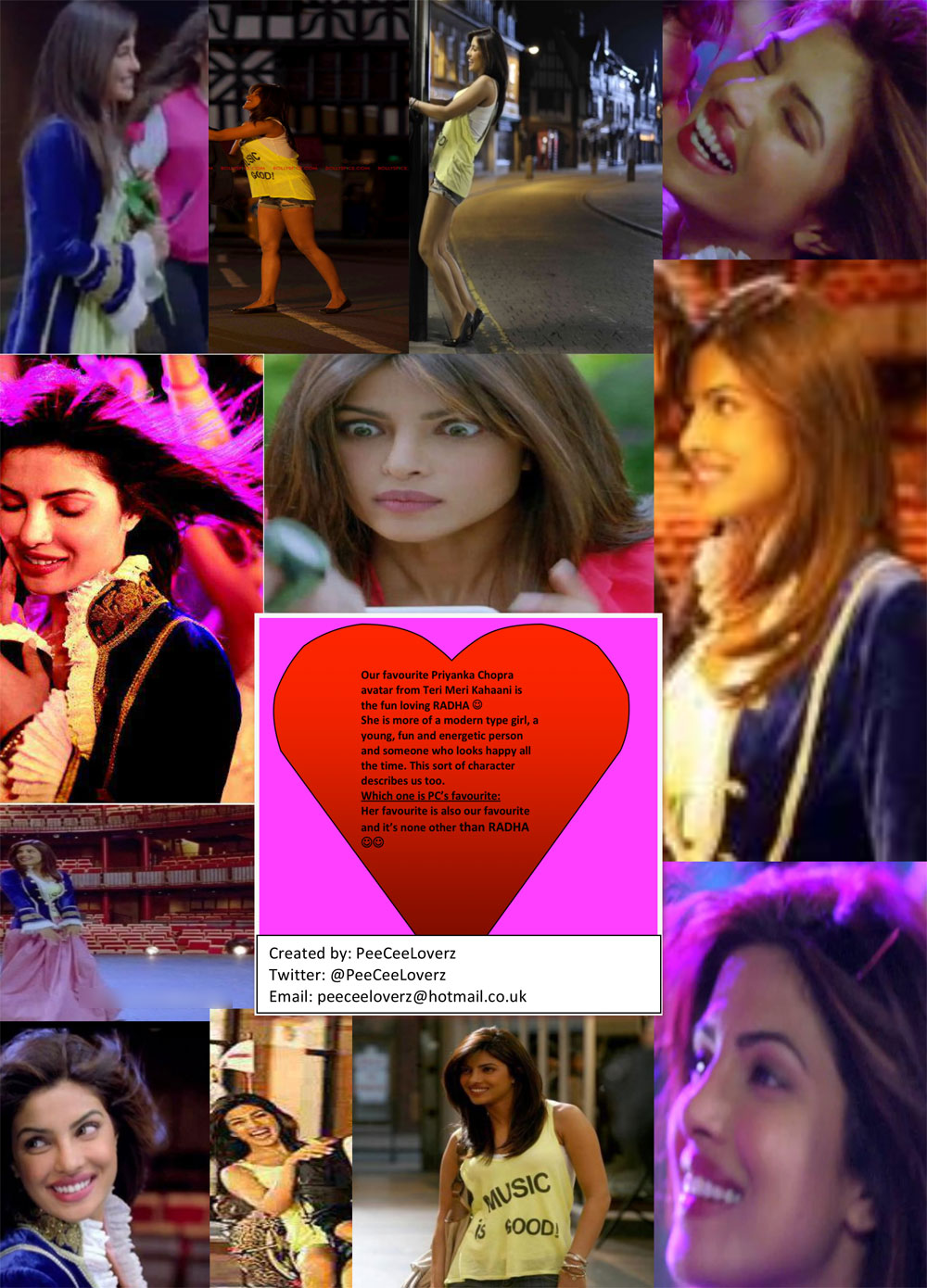 Teri Meri Kahaani opens on June 22nd.