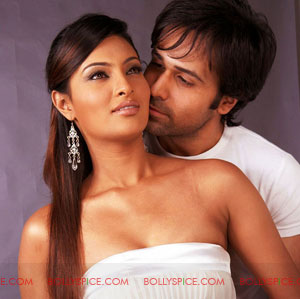 Ex-Miss India World Sayali Bhagat seems to be playing musical chairs with the entire media from a month, while the media seems to be foolishly eating out of her palms! The model and actress, best known for her movie The Train opposite Emraan Hashmi, puts 'sexual harassment' allegations on actors on one day; says she didn't say it the next; then says she said part of it; then says she never said the whole of it. And the gullible scandal hungry media is carrying all her versions, giving her free publicity all the while.
First, through an interview in a gossip magazine, Sayali alleged outrageous things about co-star Shiney Ahuja, who she is acting with in a forthcoming film. Her talent management agency shot press releases asserting Shiney 'sexually harassed' her during the making of a film. A few days later, Sayali claimed in a prominent Delhi newspaper that Shiney didn't.
Again later, her agency shot another press release quoting her that Shiney did sexually harass her. After the said newspaper questioned her about these mysterious turnarounds, and did an article about it, Sayali said, she hasn't made the allegations.
In a few days, her agency sent yet another press note, with her making taller allegations that even megastar Amitabh Bachchan, filmmaker Sajid Khan and actor Arya Babbar sexually harassed her, and that she will file Police complaints and take action against them.
Then again, she told the same Delhi newspaper, she didn't make these charges, and is not planning to file any complaint. This was followed by reports in various net media saying, that Sayali had now claimed that though Big B, Sajid and Arya, were innocent, Shiney wasn't.
When Shiney's publicist Dale Bhagwagar was asked about Sayali's allegations, the otherwise media-savvy PR expert; strangely refused to comment, saying he'd rather verify the credibility of the quotes the talent management company in question had attributed to Sayali, before taking any step.
Two days ago, the actress went ahead and gave a video interview to a prominent Bollywood website stating, she hasn't said any of the things that she has been quoted to have said. In the interview, Sayali repeatedly mentioned that she is having a Press Conference to clarify all this mess that same evening.
Since then, we haven't heard of any such Conference! So is there any credibility in what Sayali has been saying? Or is she bluffing the media? Is she using newspapers and other media as a platform to be in news for scandalous reasons? Would the media still want to believe her in future? Only time will tell.