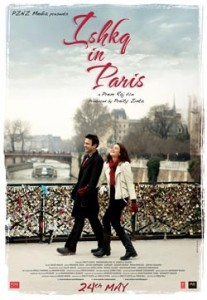 With IPL Finals this weekend, there is a window of opportunity that has opened for 'Ishkq In Paris' and 'Hum Hai Raahi CAR Ke' to find a release as no other major star studded film is hitting the screens. While former is a romantic comedy cum drama in Paris, latter is an out and out comedy set in one night. Both films have been in news for some time and now are eventually arriving in theatres.
Since there is no major competition from any of the earlier releases ('Aashiqui 2' is nearing its close while 'Aurangzeb' isn't expected to cover major distance in the second weekend), the stage is set for both films to bring in some audience. However it is content that would do the talking here since one doesn't really look forward to opening of any sorts doing the trick.
Between the two films, 'Ishkq In Paris' is expected to take a better opening due to Preity Zinta's name attached to it. However, since she is returning to the big screen after a hiatus, there is some distance that the film would have cover before it manages to consolidate its place over the weekend.
On the other hand 'Hum Hai Raahi CAR Ke' has seen some decent promotion coming it's way which has added to the visibility factor. Since the film primarily stars a newcomer hero (Dev Goel) and a two-film old heroine (Adah Sharma), it would all eventually boil down to word of mouth.
Another release of the week of 'Zindagi 50-50' which has Veena Malik as the leading lady. With absolutely nothing known about the film, it would be a challenge for it to find an all-India release.