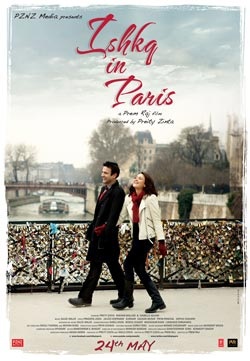 Director Prem Raj Soni's last film Main Aur Mrs.Khanna fought its way to project the stress of the combination of marriage, financial problems and other elements. His second film Ishkq in Paris is about falling in love. So what does one get when one has la Ville Lumière (The city of lights) and La belle fille de Bollywood (The beautiful girl of Bollywood) in one film? Read on to know.
Ishkq (Preity Zinta) is a sparkly and bubbly girl who lives in Paris with her French mother (Isabelle Adjani). Ishkq is a carefree girl who believes that relationships are meant to be short termed, and nothing lasts forever. She is on her way back from a weekend in Rome that she spent to meet 'cute Italian waiters' when she meets Aakaash (Rhehan Malleik) who is on his way to Paris to catch his flight to London. He strikes up a conversation, wine happens and the duo decide to spend that night in Paris together before Akaash takes his flight back to London, on the condition that they will never see each other again. So they set off for a Parisian night which is complete with champagne and partying, the Eiffel Tower and its beauty, dinner and the early morning coffee. Ishkq hates goodbyes, and Akaash spares her the trouble by leaving without one. But will the two never meet again as planned or is the story far from complete?
One thing worth noticing about this film is the way it has been shot in Paris, covering the city beautifully. The camera angles will make one go wild with happiness, right from the museum shots to the Eiffel Tower shots. The small adorable cafes, the lovely dinner places, apartments, French colours and what not! From Ishkq's wine to Akaash's pink tshirt, the film will constantly keep you where it is, i-e in Paris. There is romance, unruffled and beautiful. The handsome Rhehan and the pretty Preity definitely make a lovely couple and complement each other quite well on screen. To add to that is Isabelle Adjani's soft European style narration in Hindi along with her Punjabi look that will come as a surprise in a scene of the film.
Coming to characters, Preity is as charming as ever. But unfortunately, there is nothing different about Ishkq or Preity in the film. It is the same Preity we have seen forever- bubbly, charming and talkative and there was nothing that was a surprise element from her end. Rhehan is a cute debutant and has acted well, but his dialogue delivery at some points is evidently hard tried. More so, what is an obvious factor in the first half are the cheesy dialogues that try their level best to sound like humour, but remain cheesy. Also, a scene or two were a slight reminder of Dil Chahta Hai, or was it just the 'Akaash' irony that felt that way?
The second half of the film is wholly predictable. Basically, if a girl is commitment phobic and prefers life the easy way, there is definitely a troubled childhood deprived of one parent's love behind it that makes her an insecure person who will not trust people. And then, there will be this one man that she will shed all her inhibitions for. She is bound to fall head over heels in love with him, once she is made to realize how she needs to judge her life from her own experiences and not anyone else's. There is a Kal Ho Naa Ho tears in the rain repetition, the predictable standing under the Eiffel Tower with a pained heart and much more to know the story before the film really ends.
Talking about the songs, Kudiye Di Kurti is an interesting number as it always is when Salman Khan makes his dhamaka entry and woos the audience, and it just got better here with Preity shaking a leg with him to good Bhangra beats. Jaane Bhi De is another soothing song with sweet lyrics, but overall the music is ordinary.
Prem Soni's direction and Preity's charm has added to the beauty of Paris. Yet, Ishkq in Paris is overall a predictable love story, shot well in the beautiful city of Paris that takes your breath away and keeps you hooked to the screen for longer than what the story alone could have managed.