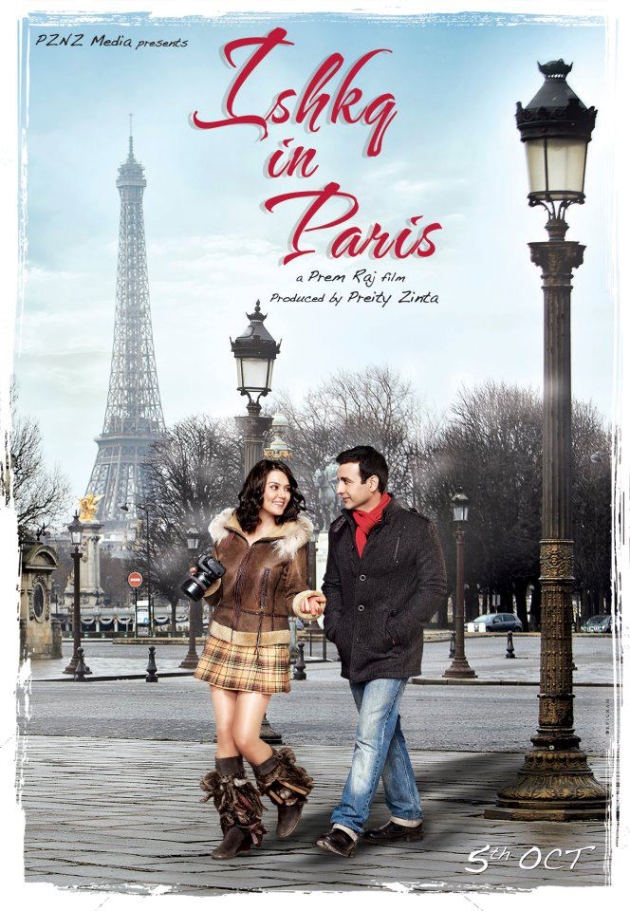 Ishkq in Paris (2012) is an upcoming romantic comedy/drama directed by Prem Raj which stars debutant Rhehan Malliek and established actress Preity Zinta in the leading roles.  This is regarded by many as Zinta's major comeback film after a long absence from the big screen. The film is produced by Neelu Zinta, as well as by Preity Zinta under her new production company PZNZ Media. Originally slated for an October release, the film will now officially be open for all to see in cinemas on 2 November 2012. According to its synopsis, the film is based on two strangers who end up meeting on a train from Rome to Paris. This leads to them spending the night together in the romantic city and they end up having a one night fling. Although Ishkq (Zinta) has moved on from this one night encounter, Akash (Malliek) is unable to and he begins to fall in love with her. They both cross paths once again in Paris and we are left to speculate the answer to the following question: 'will there be Ishkq in Paris?' The soundtrack to the film is composed by Sajid Ali and Wajid Ali, who together form the famous pair Sajid-Wajid. They have given us a number of highly memorable albums which include the enormous hit Dabangg (2010) and the recent blockbuster Rowdy Rathore (2012). The album is unusual, as it has not one but many lyricists contributing to the songs. This includes Prasoon Joshi, who has penned the lyrics for soundtracks like Ghajini (2008) and most recently for Teri Meri Kahaani (2012). Another guest lyricist is Kausar Munir, who has recently written some of the songs for the massive hit Ek Tha Tiger (2012). So without any further delay, let's delve into the soundtrack of Ishkq in Paris and see what it has to offer.
The first track in the album is It's All About Tonight. It is largely performed by the brilliant Sunidhi Chauhan, but also has the voice presences of Rahul Vaidya and Sophie Choudry. Containing a blend of Hindi, English and some alluring French lyrics, this is actually quite a decent club track. I can imagine people dancing to this song at a party or perhaps even secretly in their bedrooms. It is a drum and bass song, but also has a strong techno feel to it which makes it all the more enjoyable. Sajid and Wajid have definitely taken a brave risk here in producing a very Western oriented composition. As usual, Chauhan delivers in this song and gives a great vocal performance. Vaidya and Choudry sing very well in their parts, though I felt Vaidya could have had a greater voice presence in the song. Nevertheless, I am sure this one will appeal to the youths of today so give this one a listen if you feel like trying something different.
Next up is Saiyaan which is sung by the very talented Rahat Fateh Ali Khan. I found this to be a difficult song to make a judgement on. I love the strong classical Indian music incorporated into parts of it, which includes the tabla and the harmonium. Unsurprisingly, Rahat also performs very well and maintains professionalism throughout. However, the emotion he expresses is not as poignant compared to the song with the same title which he recently sang for Salim-Sulaiman's Heroine (2012). In addition, I felt the song dragged on a bit and not surprisingly since it is the longest running track in the album at 5 minutes and 43 seconds. If it was condensed a little, then I think this one would certainly have a greater impact. Yet it is not a bad song and perhaps it may catch on once the film has released and we see what particular scene or situation it is employed in. In general though, it is a very average but listenable song.
We then move on to Jaane Bhi De. There are two versions of this song, though the lyrics remain unchanged. The first version is a duet by Sunidhi Chauhan and the great Sonu Niigaam. The second version is a solo sung by one half of the film's composers Wajid Ali. The duet version is very melodious and has a nice romantic feeling to it. You can hear instruments like the piano and the guitar which complements well with the mood of the song. It also contains pleasant and meaningful lyrics which add to its appeal and quality. Chauhan and Niigaam perform very well and the tone of their voices fits perfectly with this particular composition. The solo version by Wajid is also great and he injects the precise emotion and tone into the song needed to ensure it is equally favoured alongside the duet version. The songs are superb on their own, but I think they will have an even bigger effect when we see the picturizations to them in the film. Overall, it is very nicely produced by Sajid and Wajid, as well as by Kausar Munir who has penned warm lyrics for this particular song!
The soundtrack also has Teri Choodiyan Da Crazy Crazy Sound, performed by Wajid Ali. The song is Punjabi oriented and you can hear instruments like the dhol drums and various other Punjabi flavours. Although the musical composition is quite decent, I found that the major weakness of this song is the fact that Wajid chose to mechanize his voice. This gives the song a very unusual feeling to it and it actually weakens its quality. I think it would have sounded much better if Wajid's voice remained natural, just as it was in his solo rendition of 'Jaane Bhi De.' For that reason, the song can be deemed average but not skip worthy, as the music alone has a unique appeal about it.
Finally we have the dance number Kudiye Di Kurti, performed by Sonu Niigaam and the lovely Shreya Ghoshal. Already sparking interest due to Salman Khan headlining this song as part of a cameo appearance in the film, it has a likeable and rhythmic tune to it which will remain in your head. It is a fast up-tempo track with a very strong Punjabi flavour to it and contains the use of various instruments, including the dhol drums and the harmonium. The Punjabi theme to the song is definitely visible when you see the shortened music video to it as part of the film's promos. Ghoshal provides a good effort in her one track appearance in the album. However, it is really the energy and passion which Niigaam exudes using his talented voice which adds zing to the song. This will surely contribute to its popularity. Despite 'Kudiye Di Kurti' being a well composed song, it is not one of the best songs picturized on Salman Khan. Nevertheless, this should not deter you from listening to it, which is arguably one of the best tracks in the album!
Before bringing this review to a close, I must say that the soundtrack to Ishkq in Paris is a good and worthwhile one to have in your music collection. The best tracks are definitely 'It's All About Tonight,' 'Jaane Bhi De' (both duet and solo versions) and 'Kudiye Di Kurti.' Sajid and Wajid have delivered an album which contains songs that have been thoughtfully composed and which complements the apparent themes of the film. However, this can be said with greater confidence only when we see the film when it releases on 2 November 2012. Thankfully, the album does not have any remixes and they are not needed as the songs are fine unmixed. Although this is not the greatest album Sajid and Wajid have whipped up for us (this title definitely goes to Dabangg), Ishkq is Paris is a commendable attempt made by the dynamic duo. They have given us some tracks which contain specific styles and forms of music that make it a very dignified album. Let's hope the film is just as good and entertaining! To conclude with an overall rating, we here at Bollyspice.com award the soundtrack to Ishkq in Paris with a worthy 3 stars!