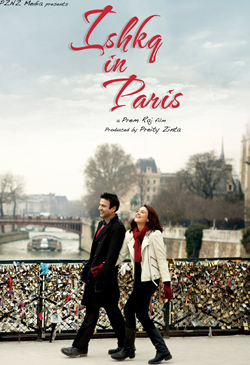 Preity Zinta return to the big screen with her latest film Ishkq in Paris. After many delays, the film was officially slated for worldwide release on 2 November 2012. However, this will not be happening and the film's release has now been postponed until further notice. This is due to the director Prem Raj being unable to do post-production work on it as he has been taken ill after apparently being diagnosed with cancer. Preity, who is also the producer of the film, firmly insisted to Prem that the film will only release once he is feeling better.
In a statement to the Indian press, Prem expressed his thanks to Preity and had the following to say: "I offered to let someone else take over the post-production. But Preity is very clear on this issue. She told me we're in this together and only I will complete the post-production of Ishkq in Paris, no matter how long it takes. I am grateful to Preity for standing by me even if it meant postponing our film's release for the third time." "Hopefully I will be fully healed after the surgery. I have a very simple logic for being hopeful. How much more would God want to test me?" Surely Preity deserves immense praise for making such a graceful decision and supporting Prem during this understandably difficult time for him.
We are now left to speculate when Ishkq in Paris will release, as Prem has stated that he will be having surgery in early December. However, the director's health does come first. Hence, we will just have to wait until an official announcement is made from either Preity or Raj on when this romantic comedy/drama will be hitting cinemas.
From all of us here at Bollyspice, we wish Prem Raj a very speedy recovery!