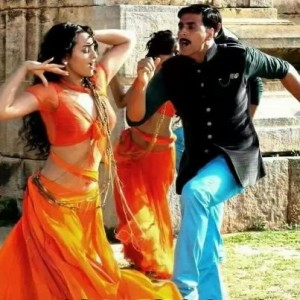 Rowdy Rathore is certainly a hit with audiences and star Akshay Kumar could not be happier. See he is doing a happy dance! Directed by master Prabhu Deva, the film also stars Sonakshi Sinha in a retelling of the Telugu Vikramarkudu. It was a huge hit there and once again it is causing cash registers to ring! The masala film, that sees Akshay return to a full on action avatar, raked in huge numbers at the box office in its first weekend. On opening day alone the film grossed 15.25 crore and the film kept house full over the weekend so it is well on its way to a super hit!
Akshay told PTI, "When we had gone to a few cinema houses we had seen people dancing in theatres, whistling and having fun…and it feels great to see this kind of response. It is a big thing for me. Even if I don't get award it's ok, but it is this reward that makes me happy."
Siddharth Roy Kapur, managing director, Disney UTV Motion Picture, is also ecstatic and said in statement, "We are thrilled with the incredible opening day collections of 'Rowdy Rathore' across the length and breadth of India. It has notched up the third biggest opening day of all time and the biggest non-holiday opening day of all time.It is also Akshay's biggest opening day ever."
So what does Akshay think appeals to audiences so much? "May be the story line. After all, it is a remake film from South and it is surprising that people are liking the film. The amazing part is that in Chennai and Hyderabad, it is doing a good business. It is surprising that people want to see the same film in different languages. It is the same film after all."
He has said he has been really excited to be back in the action avatar but also relises that balance of genres and styles is a key to a successful career, "When I used to do action movies earlier…everyone used to say I am doing a lot of action movies. These are nothing but mood swings of people and even audience also has mood swings. What I have learnt is one should do everything from comedy to action, from romantic to negative roles. There should be balance in everything."
Getting back to Rowdy Rathore the actor said in an earlier interview about his return to action, "I don't think I could have got a better comeback."
Director Prabhu Deva told TOI, "All of us worked hard on Rowdy. We hoped it would be liked. But the response at the theatres is something else. We are all very happy."
Siddharth Roy Kapoor also said, " All of us – UTV, Sanjay Leela Bhansali, Akshay, Sonakshi and of course Prabhu Deva are immensely thankful to audiences for helping this film to rewrite box office history."
Rowdy Rathore is in theaters now! Be sure and check out our interview with star Sonakshi Sinha about the film!