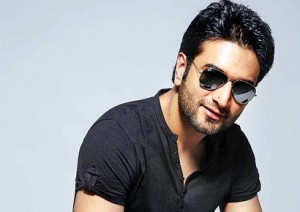 When you think of Bollywood music we are sure that the fabulous Vishal-Shekhar will be one of the names that comes immediately to your mind. Made up of Vishal Dadlani and Shekhar Ravjiani, they have been the maestros behind some of the biggest hits and best songs to come out of Indian movie music! With each new track for each new film, the duo really works hard to make fresh sounds, novel grooves and to give an innovative flavor to Indian cinema music! On many of the tracks we hear their vocals as well. If you have read any of my music reviews, you know that I always think Vishal's vocals rock and that Shekhar is one of my favorite singers! I loved his smooth vocals on the acoustic 'Bin Tere Reprise' from I Hate Love Storys and his newest 'Khudayaa' from Shanghai also was added to my all time favorite song list. I got the really cool chance to chat with Shekhar and we had a fabulous conversation that ranged over all kinds of music topics. To be honest I could have talked with him for hours and did not even get to many of my questions! Read on to see what the composer and singer told me in this in-depth rockin', fun chat!
How did you and Vishal come together?
I used to do a lot of music for ads. I was working with Madsion doing lots of advertising and one day Mukul Anand's assistant Raj Kaushal, who had started doing a lot of ads on his own, was starting a film called Pyaar Mein Kabhi Kabhi. He asked me to do a couple of songs for his film. While I was recording the songs I met Vishal, who I had know for about five or six years, but never had worked with him. So for Pyar Mein Kabhi Kabhi, we scored the music for it individually but we didn't know we were working on the same film. We just met each other one day and were like, 'Hey, what's up? What are you doing here?' He was like, 'I am working on this film' and I was like 'I am working on the same film'. Vishal was asked to do two-three songs on the film. We heard each other's work and we decided let's do the title track of the film together. So the title track 'Pyar Mein Kabhi Kabhi' was the first track Vishal-Shekhar did together. After that Jhankar Beats happened and then lots and lots and on and on. It's great working and making music with a friend. It is beautiful.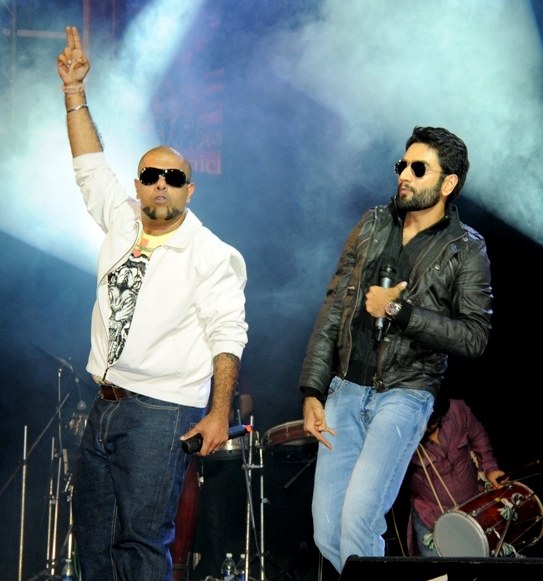 When you go into compose a song or a whole soundtrack, how do you guys do that? Can you walk us through the process a little of how you guys work to create music.
So what happens with us, is a director comes to us with a script and he gives us a narration. We basically take three or four narrations to really get the vibe of the script. We also keep a copy of the script with us to get the vibe of the whole film, to get the feel of the whole film. We also hang with the director a couple of times to figure out what is in his head, because at the end of the day it is just like an extended screenplay, music is part of the film. We find out what the mood of the song is, if the director likes or has any reference to the kind of music he wants. Basically we study his mind completely to figure out what he is looking for. Then Vishal and I sit together and we write songs and we create a sound for the film – a vibe for the film, which really works with it. That is what we do, we just have fun, and we just hang out. All the directors we have worked with so far are friends of ours, we hang out for coffees and we meet up regularly. Like Farah Khan, Sujoy Ghosh, Tarun Mansukhani, and Siddharth Anand, they are all close friends of ours so when they come to us for a film we kind of know their taste because we have worked with them earlier. And then, as I said, as they give us the narration of the script we figure out the vibe of the script and then it becomes a very easy process.
You guys always manage to bring in something new… like you had the great vibe of 'Chammak Chalo' in Ra.One with Akon.
Yeah, that was crazy
But with Shanghai you went a completely different way… How do you decide how the sound is going to go be and do that?
From the outside point of view when you hear these soundtracks each one will sound totally different. You will be trying to figure out who has done the music for that because the same people who have done 'Chammak Chalo' have done Shanghai, and those same guys have done Kahaani and Ra.One. What happens is at the end of the day, it is the film which we are working on that creates the mood, creates the sound. Like Kahaani, for example, is about this pregnant woman looking for her missing husband and her journey from Kolkata so that creates its own kind of mood for the entire soundtrack. Ra.One, being a humungous project and the kind of story, the kind of entertainment quotient there was to the entire film, we had to come up with this kind of music. With Shanghai, it is very raw because the film is very raw; the film is set along a political backdrop. It has got that kind of zone to it. It has got a very street vibe to it so it needed a street sound to it.
So all the films, their types, the directors and their inputs, it really is a team effort, which results to such soundtracks which you like. So it is when the team gets together, that is Vishal, me and the director, that is how the music comes together and we are working for the film, for the scene, for the screenplay, for the script, for the whole vibe of the film.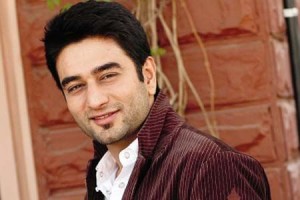 Music has changed from Jhankar Beats until now, how has it changed for you guys over the years?
What has been happening is that we have been having a lot of fun. We listen to a lot, a lot, a lot of music. I listen to a lot of classical music, a lot of folk music. I listen to new indie bands, which are just coming up – I listen to a lot of stuff. Vishal listens to a lot of stuff too. What happens is that we know what exactly is happening globally in the music scene and a lot of these things inspire us to push the envelope every time we do something. We don't really keep that in mind before we start working on a project, but because of the kind of film it is and because of the kind of director it is and his taste in music, the results are something which we have never done before. Also Vishal and I like to structurally do something new all the time. We like having fun with our songs, we like introducing surprise elements in the song, which you never heard before and even more something you would never expect to hear in a song. With us when a director comes and wants to hear the first song we know we will present it only if Vishal and I are happy with it!
When you look back on your earliest work, how do you feel?
It feels great actually. There have been a lot of songs that have affected a lot of people like 'Tu Aashiqui Hai' (Jhankar Beats), 'Allah Ka Bande' (Kailash Kher), 'Tu Na Jaane Aas Paas Hai Khuda' (Anjanna Anjaani). We have been getting a lot of emails from people, messages on Facebook and Twitter, about the way the song helps them change as a person, the way the song inspires someone, the way a song touches someone's heart – in whatever emotional condition that person is in. A lot of people have reacted beautifully over the last couple of years. We are really fortunate that we got to do these songs, got to work with really good people, with great directors, it has been a great journey!
So let's talk about your singing. You know I am a fan! What was the first song you ever sang?
Actually the first song I ever sang was the first song I ever composed, which was 'Dil Se Mera' for Pyar Mein Kabhi Kabhi. That was special thing for me because Raj Kaushal, the director, he wanted me to sing the song. I sang the song with Mahalakshmi Iyer and even now today on radio that song plays like crazy and it has been almost eleven years now. Then of course there is 'Bin Tere' and the most recent 'Khuadyaa'.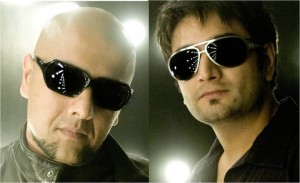 I love those songs!
Then I have come out with a single that is a Marathi song called 'Saazni'.
Oh yes!
That song, even being in Marathi, has close to 36,000 hits right now on YouTube. It is a good feeling. People are loving it. That is all you can ask for!
With 'Saazni', you are doing something special were the proceeds are going to a charity. Tell us about that.
What happened with that, Stacey, is that I really wanted to do a song in Marathi, because a couple of years of my childhood I spent in a place called Nashik, which is in Maharashtra. My family had a farmhouse there, like a wine yard kind of a place so I spent about five years there. I have a lot of friends who are Maharastrian. I listen to a lot of Marathi music – it is really very rich. It is beautiful, really nice music. I always wanted to do a Marathi song and one day Ravi Jadhav, who is the director of Natrang and Balgandharva and is a National Award winner, he came to offer us to do the music for his next film. So I was sitting there strumming the guitar and feeling the song and he was like, 'What are you doing? What song is this?' 'Oh it is my song'. 'Which film is it for?' he says. 'It isn't for any film', I said. He asked, 'What are you doing with it? I was like, 'I want to do the song in Marathi and I am looking for a Marathi lyricist.' He said, 'If you don't mind I would love to write the song'. 'Well, yeah! Sure absolutely'! He took the rough draft of the song with him that I gave him and in two days he came back with this very beautiful song. There was a creepy kind of energy happening in the studio at that point… I was composing the song, Ravi came in and he wanted to write the song, my engineer, who is also a very good guitar player, without me knowing went into the room and started playing the song. Everything was so natural it just happened on its own. I did not put that much effort in getting it done, you know. There was some kind of energy that made that song happen. There is a gentleman named Neeraj Roy, who owns a company called Hungama, they do distribution. He came over one day and he heard the song, loved it and he really wanted to support this song. Since it was not planned and everything happened on its own I was really happy. God was planning this. I had nothing to do with this; I really think he was planning everything. That is why I decided that whatever proceeds come from the royalties from digital downloads to your ringtones, everything goes to an NGO called Ma Niketan. I believe a lot in girl child education. I think every girl child should be educated, should be looked after really well. Even now in small, small villages in India because of lack of education and poverty parents abandon their child at age three and four. These kids find a home in Ma Niketan; they take care of their education as well as guidance and whatever their requirements and needs are so everything is really looked after by that NGO. Hopefully by the downloads of this song more kids will be helped.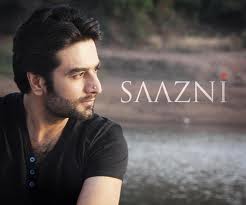 That is beautiful.
It is something that was natural, it was not planned. It was like He wanted it to happen and so I think God made sure everyone got in the same room and made it happen. Marathi is a language, which I don't speak well; I am not very fluent in it. There are some really tough words in the song, a couple of tongue twisters but I took up this challenge that I really want to when a Maharastrian hears the song he should be a bit shocked that and think that even not being a Maharastrian he has sang this song so fluently. And that has been the response, people are enjoying it, people feel I am a Maharastrian when I am not. It has been fun… it is good.
The Copyright bill was just passed…
Yeah, it was a big day. I think this day will be written down in the history books. This is something, which will really, really change the way things are done in the industry at the moment.
What are your thoughts abut the music industry outside of movie music?
There are a lot of artists who are phenomenal. Unfortunately, except for saying putting your song on YouTube or tying up with a digital distribution thing, you rarely have channels playing your music. It has all become reality television everywhere. Earlier we had MTV and it was all about artists and playing their songs and videos and everything, but now it is all about having reality shows on there. However, now they are getting into Coke Studio, MTV is. It is good to know that MTV and the music channel V are more concentrating on the music rather than getting into that reality show space.
Also there is also a lot of support for independent music out there. There are a lot of clubs out here who actually promote new artists. There is a place called Blue Frog, they have their own artists, but they also have new artists come and perform.
It used to be a little more and it needs to be a little more again – a little more push and little more support from the radio as well as television for these independent artists to be seen and be heard. If that happens and people actually do that then it will definitely help the independent scene.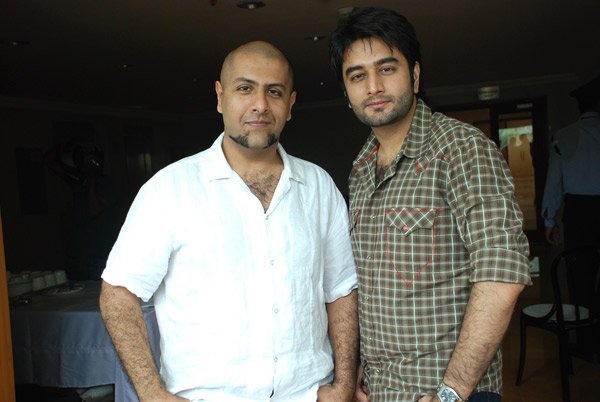 It seems as if Indian music is certainly making its way out in the world even more now than before. Not only with you guys bringing Akon, but artists sampling beats, or adding Indian flavor and beats to their tracks and so much more. Do you see that in your work?
Indian music is all over the globe. It is all over the place. Our instruments, our players, everything is so rich and so beautiful it is attracting a lot of attention from producers internationally. People are loving the use of tablas, sitars and sarods. You know, I get really happy to hear when in a hip-hop context people include those sounds in their songs. You know music is travelling everywhere. Every single genre of music from any place is travelling all across the world. The way I see it there is a lot of hip-hop, there is a lot of house music happening in Bollywood. There is a lot of Indian arrangements and music happening globally. It's beautiful. There are collaborations happening across the world. You get to bring in your own vibe; you get to bring in your own place, your own culture, and the kind of music you have been brought up with. Collaborations are such a beautiful thing!
What are you working on next?
At the moment we are working on Mr. Karan Johar's Student of the Year. Of course, Shanghai just came out. We have a couple of films people are talking to us about but we haven't finalised anything yet.
There was so much more I wanted to ask but I had kept him long enough and he was off to make some more beautiful music! Be sure to check out Vishal-Shekhar's latest OST Shanghai, it has some of my favorite songs on it. (You can read my review here). I look forward to the next fab beats and tracks we will hear from them and of course the next song Shekhar will sing! We will try and catch up with him again soon so stay tuned!