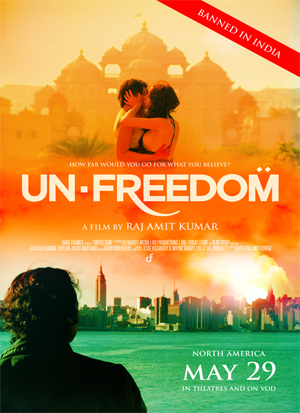 Raj Amit Kumar's film Unfreedom remains banned in India.
Having watched this brave film I must say that it touches on the taboo of lesbianism, honour and shame and the position of a daughter amidst South Asian Society.
If one explores the histories of South Asia then one will find same-sex love and the blurred lines of a fixed state of gender in abundance. For instance Agni the Hindu fire God is stated to have been born of two mothers. Urdu poetry celebrated same-sex female love through Rehkti Poetry.
So why so much ignorance and shame towards lesbianism, same-sex love?
There are many factors including carrying on the generation and producing offspring, the issue of whom one marries reflecting family honour and of course, a woman's chastity representing the family reputation.
These hard hitting and raw realities are explored in Unfreedom through Preeti Gupta's lesbian character, Leela. I had the opportunity to interview Preeti Gupta and ask her about her experience playing an Indian lesbian character – certainly a big step in a country that has banned homosexuality as criminal offence.
Did you feel hesitant playing a lesbian role because of the stigma surrounding homosexuality in South Asia?
No I did not, exactly because there is a stigma attached to it, so I think more and more people should help the LGBT community by taking up roles representing them. 
What reactions have you received since the film? Have you received any negativity or any threats since playing a lesbian character?
I have only received support and encouragement… If there's any negativity, no one has directly expressed it to me.
Describe your character in 3 words:
Love, Light, Vulnerability 
What challenged you most about your role?
Playing a homosexual and getting inside the skin of someone who is deeply fighting her own sexuality and for the acceptance of that.  
What did you love about Leela?
I love that she loves fully and expresses it to the person she loves. 
What annoyed you about Leela?
That somewhere she forgets her own self in being this and that for people she loves whether it's her father or her partner Sakhi, they are always first for her… Which is how it is for many of us.. But I like that by the end of the film she is more resolved and in a space of strength. 
What is your opinion on "honour and shame" in South Asian society?
My opinion is that honour comes from living as a good human being and truly being able to care for people whether we agree we them , their cultures or not.. Being expansive and tolerant is honourable for me. 
What are you taking away from your experience with UnFreedom?
I'm taking away a lot of gratitude that my life allows me to be who I am, also it opened my eyes towards the plight of homosexuals in India.
You recently praised the fashion app Myntra for portraying a lesbian couple in their advert. How can other brands be encouraged to also stand up for LGBTQ rights?
I think everyone should think in their own way how they can support this cause. 
Do you see same-sex love appearing openly on the Bollywood screen soon?
I don't see it happening currently but I truly hope to see it very soon.
In the film, a father and daughter's relationship is explored. What advice would you give to a parent who has had a child come out as LGBTQ?
I would say please love your child and accept them, your love and acceptance will give them strength to face an unkind world, being a homosexual is neither a curse , nor is it a psychological problem not is it something that can change… It's just. A natural state of being. So please accept the apple for being an apple instead of trying to make it an orange  
What advice would you give to a person who is thinking of coming out as LGBTQ?
I would say be wise, be patient with your own self and others, understand that change and transformation is a process which involves time and lot of mistakes, there is no right way of doing it… But you will surely find a way that suits you best if you keep walking…