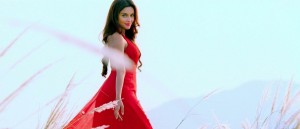 Bollywood's '100 crore' actress Asin speaks to BollySpice about her latest film Khiladi 786.
You have had two blockbusters this year with 'Housefull 2′ and 'Bol Bachchan'. Congratulations!
It has been a really good year for me and I hope to end it on a good note withKhiladi 786.
You are paired with Akshay again after 'Housefull 2′ in 'Khiladi 786′. Were you concerned about being repeated with an actor in the same year ?
No, I was actually happy that I was paired with the same actor again in the same year because it just shows how much of a great working experience we had with each other. We don't take the pressure of the Box Office, because I think, that should be handled by the makers of the film. I just do the best, to my ability, that I can with my character. I took no pressure nor was I worried about the repetitive pairing with Akshay afterHousefull 2.
How different are the characters you both portray in the film compared to 'Housefull 2′?
The characters are very different. I played a girl who lives in London in Housefull 2 and in Khiladi 786 I play a Maharashtrian girl for the first time – Indu Tendulkar,  who is the sister of a Don, played by Mithun Chakraborty. She is a very 'desi' girl and a little rough around the edges. She is not shy, coy or a sophisticated classy girl, being the sister of a Maharashtrian Don. I have gone all out to play her. Even with Akshay Kumar, in this film he plays a very Punjabi character who is from a village located near the border of Punjab and Haryana.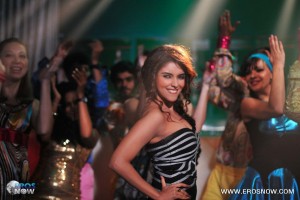 What do you look for in a script? What is the one factor that makes you sign a film?
It's not just one factor. It starts with the script and secondly what my character is in the movie. Thirdly, it would be who is directing the project as the director is very important. Fourthly, I look at who is producing the film because you need a strong producer to make sure the film is completed and released properly. Finally, it would be my co-artists, whom I would be acting with in the film. Not just the leading actor, but also the whole cast of the film. These are the five important criteria that I look into and help me decide which film to take up. But everything does not come together in every project, so I look for most of these factors in a film while signing up for movies.
It seems like you have a strong sense of choosing the right film since they all make a lot of money at the Box Office.
(Laughs) It does take some planning from my side but not everything depends on that. My past films have had fun and emotional stories and appealed to the masses. I have done those movies and I guess, it really is because of intuition and sense, like you said. It takes, of course, a lot of hard work and planning.
Do you worry about your films not doing well at the Box Office?
I don't really worry about it because I know, success and failure are part of this profession. There is nothing permanent here. I have been in the film industry for quite a few years, not just Hindi films, and in the part of my career when I was doing South Indian movies I have also mostly experienced success. It has been quite similar with record-breaking films in the South as well. I have been around to see what happens, how equations change, how people change and how the graph changes Friday to Friday – with every new release. I don't take success too much to my head and similarly I won't take failure to my heart. I know these are temporary things and we should not be taking them seriously. Of course, we learn from failures and try to be better next time and for your successes, you just have to be grateful that people have accepted your hard work. I really take no such tensions. I just think that okay, this project seems fun to be part of and it looks like it will do well at the Box Office, and there is where my worry ends. The rest is up to the producers and I move on to the next project.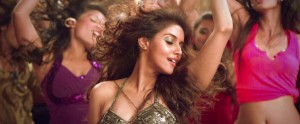 There are reports that 'Talaash' and 'Khiladi 786′ are fighting for screen space. What is your opinion on the issue?
I have not heard about it but journalists have been asking me for the last few days. I don't really know about it but as far as I have heard from Akshay and Himesh Reshammiya there is no problem. Himesh said at a recent press conference that we already have the screen space that we want for Khiladi 786 which is ok. I am not aware about a problem and am sure that both films will release without one, since there is a gap of a week between them, which means there is not really any direct competition between the two films.
How was your experience working with Himesh Reshamiyya as he is acting in the film, is a producer and has also composed the music?
I have worked with Himesh in a South film as he composed the music for it. It was a film with Kamal Hassan called Dasavatahaaram. We also had a song by Himesh this year in Bol Bachchan called Chalao Na Nainon Se. Now he is part of Khiladi 786, and he is not just composing the songs of the film, but also acting in the film and co-producing it. He has also written the film and is very involved in it. The music has done really well, whether it is Long Drive, Hookah Baar or Saari Saari Raat. I am glad that is the case because songs really help create buzz around a film before the release. I must say, Himesh is very focused and it was lovely working with him. He is also very work oriented. I have not had one conversation with him which was beyond work, everything is work related whenever I meet him or talk to him. He plays a Gujrati character in the film of a wedding planner and has done a very adorable job of playing the character. It has been good experience.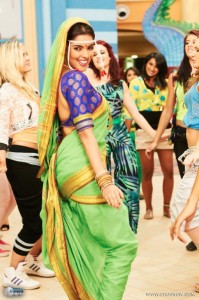 You are seen in both looks – desi and western – in the film.
There are certain scenes in the film that required me to stay true to the traditions or where Akshay's Punjabi character is fantasizing a song about me and him. He imagines my character to be in typical Maharashtrian attire. That gave us an opportunity to portray my character in a traditional look. Otherwise, my character lives in Mumbai and dresses like a normal girl. There are two more fantasy songs – Saari Saari Raat and Long Drive – which required more western outfits. The looks have been designed by the directors wife, Komal.
Your fans complain that you are not on Social Networking sites. Have you given it a thought?
I have thought about it from the time Twitter came about. To be genuine about the interactions with my fans, I don't think that I would be a person who would be regular on Twitter. I did not want to join Twitter and keep away from it from time to time. I like to keep to myself a lot of times and I like things to be more private. There are times when I want to go all out and interact but I don't know how understanding people would be of those periods when I just want to be by myself. I am on BBM (BlackBerry Messenger) and those are people I know and I have added to my contact list. Even if I say something or make a comment, they will understand the context in which I am saying it. They know my personality and will not take it in any other way or would not misunderstand me. On Twitter there are many people, who don't know me. There could be comments that people will not understand the tone of. I took all these things into considerations and kept away from it. I would love to interact with fans but because of these factors I chose not to.
What do you like to do when you are free?
I like to spend time at home. When I am working, I spend a lot of time away from home. I like to spend my free time at home with my loved ones, family and friends. I like to call my friends, catch up and watch movies. If I have a few days off, I like to go to a foreign destination on holiday.
Khiladi 786, directed by Ashish R Mohan and starring Akshay Kumar and Asin, will release across UK cinemas through Eros International on 7th December 2012.