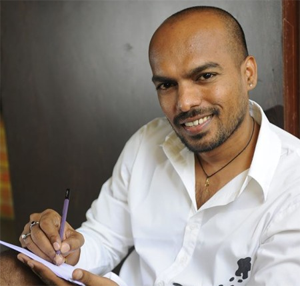 We first heard the words of Prashant Ingole adding to the story of Mary Kom in the incredible lyrics for the songs 'Adhure' and 'Ziddi Dil'. After that huge success, the lyricist was tapped for an even more challenging job, writing lyrics for three songs for the Sanjay Leela Bhansali directed epic historical drama Bajirao Mastani. Starring Ranveer Singh, Deepika Padukone and Priyanka Chopra, the film, set to release on December 18th, is the saga of a warrior, his wars and his loves.
For the highly anticipated drama, Ingole has penned the words for three of the epic tracks, which by the way were composed by Sanjay Leela Bhansali, including the recently released 'Malhari', as well as the hit 'Gajanana' and the still to come 'Fitoori'.
I caught up with the lyricist this week to talk about working with Bhansali, creating the lyrics to enhance the tale of Bajirao and more in this in-depth heartfelt exclusive interview! Check it out!
No matter what film, how do you begin and then what is your process for writing the lyrics to a song?
I look first at the film and the script if it connects me. Once I like it, I read the script and get into the skin of the dialogues and write my lyrics according to the mood and feelings of the character. I do loads of research if it requires, for example if it's a period film or biopic.
What to you is the most important thing when you are writing the lyrics to the song?
Most important thing is conveying the emotion of the character's situation. And trying to connect with every heart and making them feel as if it's their own situation or the one they have gone through.
How did you become a part of Bajirao Mastani?
After Mary Kom, the CEO of Mr. Bhansali's production company, Sandeep Singh and Mr. Bhansali asked me to come for a meeting. They informed me about the script and gave me a song. When he said I would be a part of this mega dream project of his I was numb!
What did Sanjay Leela Bhansali first tell you about this film?
This film is based on one of the greatest Maratha warriors, and I knew it. And with me being a Marathi person it helped me to get some authentic flavor for the songs.
For a film like this, with it being an historical epic, how did you prepare?
I just happened to be normal in my approach (research, situations and the requirements of those situations). Besides every situation I wrote is a different one.
Tell us about working with Mr. Bhansali on the lyrics for the songs.
He is the Bajirao of India film industry. Bajirao Mastani has been his dream project for more than 12 years. You know, I actually tried to meet him for 8 years before I wrote for Mary Kom. So it was a wish coming true. Thanks to Mr. Bhansali and Sandeep Singh.
Do you think it helped since he is both composer and director?
Yes, it does help as he knows every moment of the film be it the expression and the visuals. He is very clear about what he wants.
What was your underlying thought as you began to work on these songs?
I only love writing to my best and create a new benchmark for myself. I am always scared when I start on a project – I think "will I be able to deliver as last time?".
What do you draw from the script for your songs?
I draw dialogues and their lingo and their mindset so that it blends well and takes the story ahead and doesn't look like out of place.
How are the titles decided for a song?
Titles are very crucial. That's the beauty of writers… if we crack some good and heavy title it makes a big difference for a song – like 'Malhari', 'Fitoori' and 'Gajanana'.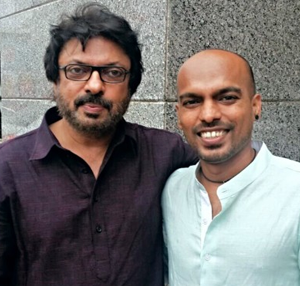 Let's talk about the songs you wrote:
'Gajanana'
What brief did Mr. Bhansali give you for this track?
He just said it's a background score and very important scene in the film and a Ganesh aarti is performed. So I needed to write something on Lord Ganesh.
What goes into creating a devotional piece like 'Gajanana'?
I am a big fan of Lord Ganesh. I always wanted to write a song for him and I honestly feel him around me. This situation came to me and as a matter of fact, the song itself, which was written in 2 days, was approved as written with no changes whatsoever. And the launch event went into Guinness Book of World Records.
What is it like to hear your song sung so brilliantly by Sukhwinder Singh?
Priceless! The word gajanana itself is so soothing.
The first time you saw the finished scene that this song would accompany what were your thoughts?
Speechless…I think everyone will love it in the film.
'Malhari'
What story did the director tell you he wanted for this song?
They have won a very important battle and have returned. They want to celebrate… that's the brief I had.
How would you describe this song?
Whenever we "marathi" people celebrate we have loads of dhol, taashey and we throw loads of bhandaara / gulaal. All the elements I have put in the song.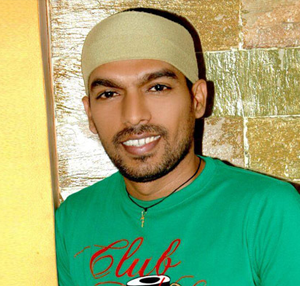 This has a bit more of a modern spin, did that change how you approached and wrote this song?
No, I had to write my words correct and make sure it connects to the whole of India and not only Maharashtra. The whole feel of fusion came afterwards in the music. This was all Bhansali sir's vision again.
How does it feel to hear your lyrics come to life when a singer like Vishal Dadlani sings them?
Vishal is a powerhouse. And he brings madness to any song. He had already sung my song 'Ziddi Dil' from Mary Kom, which became a big hit.
And then to see it onscreen with Ranveer Singh as the focus with your words telling that part of the film, what was that like to experience that?
Ranveer takes the madness to different level. He is such a passionate actor. One I have not seen for ages. He gets into the character so well. It is very rare.
'Fitoori'
Though we have not seen it, from hearing it is more of a folk number, what went into creating the words for a song like this?
This is a typical Marathi style called "lavani". Again it kept a Marathi touch and the era and feel.
What story does it tell?
It's a story of a dancer who is performing and she says don't trust me I am not trustworthy… you will fall in love with me while I will just be playing with you.
What do you love about this song?
The melody and lavani in Hindi – amazing.
What inspirations do you use?
Lord Ganesh inspires me. I get into the skin of the character as I said and I feel as if I am there… it's a trip – a different level of trance. When I write a song like Malhari I go mad headbanging, when I write a sad song I cry and when I write a romantic song I feel being in love right that moment living it.
Of the three you have written, do you have a favorite?
Both 'Gajanana' and 'Malhari'.
What about the other songs on the album, do you have a favorite?
The whole album is a good album… 'Deewaani Mastani', 'Aaj Ibaadat'. I have yet to hear all the songs peacefully.
Are you happy with the final result?
Can't be more happy than this.
What do you think of lyrics in Hindi films today?
They are very temporary. We need to concentrate on making an effort to have some story and content into it as per the requirement. And have more story telling as one song and not as a bit and pieces of 3 different songs into one.
What do you think Mr. Bhansali brought out in you as a writer?
Confidence.
What are your thoughts on the whole film? The performances of stars?
Mind-boggling! Very passionate, hard working actors and the whole crew. This film is not a cliché film with an actor stretching his arms, cars being turtled – no stupid stuff. Real authentic stuff and new visuals.
When we talked last time, you were so happy to be writing for films after a long struggle, how does it feel now, to be working with and for Mr. Bhansali on such an epic film?
As I said before 'Gajanana' is my planner… he has designed my destiny and I am very happy. I knew one day I will do this and rest is history now.
What other projects are you working on?
I am currently writing lyrics for a heart touching biopic, which will be releasing next year. Plus 2 more mega movies.
You can hear Prashant's songs and the rest of the incredilbe music on the Bajirao Mastani Jukebox! Stay tuned for our review coming up soon!