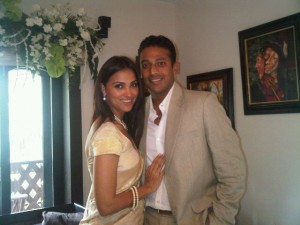 Former Miss Universe, Lara Dutta, gave birth to a baby girl on Friday afternoon. The proud father and husband, Mahesh Bhupathi, posted the news on Twitter. "ITS A GIRL!!!!!!!!!!!!!!!!!! @DuttaLara. I Love u…."
Lara was last seen at the party hosted by Parameshwar Godrej for Oprah Winfrey on Monday night. Lara posted on Twitter: @Oprah and @iamsrk, two people I absolutely adore! Thank you for making my day! Now can go into labour happily! :-).
In an interview with a daily newspaper Lara's gynaecologist and obstetrician, Dr. Kiran Coelho from Lilavati Hospital said: "Lara, who was experiencing labour pains, was admitted to the hospital on Thursday night. She tried very hard to have a natural delivery, but in order to avoid any complications we took a call and went ahead with a C-Section at 3:30 pm yesterday. Weighing 3.5 kg, the baby girl is healthy. She's very beautiful just like Lara. Both, Lara and the baby are doing well."
Lara and Mahesh tied the knot on February 16, 2010 in a civil ceremony in Mumbai. They also had a lavish Christian wedding in Goa.
After Beti B, born on November 16, 2011, Lara's baby is the second celebrity baby girl born in Bollywood within a short time span. So the question on everyone's mind is of course: Do they have a name for this little wonder? Or are we going to have to wait for months again as is the case with the Bachchans, whose Beti B is still nameless.