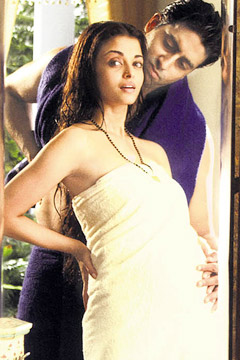 We may finally have an answer to what seems like an age-old question in the entertainment business. What will Aishwarya and Abhishek name their baby?
Media and fans all over the world have been dying to know since the day mother Aishwarya Rai Bachchan gave birth to a little girl on November 16th, 2011. What will be the baby's name? Up until now she has been called Beti B, even by father Abhishek Bachchan, but as to what her real name would be, it has remained a secret. However, a report now claims that the Bachchan family has finally picked a name.
Times of India has published a story that Beti B's name is Aaradhya, saying it was registered two days ago.
However, both Dada Amitabh and Papa Abhishek have said numerous times that they will reveal the name on Twitter to all their followers and neither have tweeted any news about Beti B yet, be it name or anything else recently on their timelines.
Interestingly Aardhya is a Sanskrit word which means, "First One", "pleasable" or "one who is worth worshipping." Though the name is often seen as male orientated, it has been known to be quite unisex in the recent times.
We will have to wait and see to get the final name from the Bachchans, and you can be sure that we will report it as soon as we know!