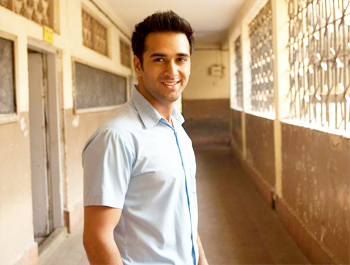 For his new film Fukrey, director Mrighdeep Singh Lamba decided to go with fresh faces instead of established stars to play the crazy lazy boys of his film. One of the actors he tapped to join in the fun was Pulkit Samrat. You have seen Pulkit's work as Lakshya Virani on the popular Indian soap Kyunki Saas Bhi Kabhi Bahu Thi and also in the film Bitto Boss. In the film, Pulkit plays Hunny, who according to the actor has a really, really unique USP! In a fun and laughter filled conversation with the actor I learned more about what it is to be Fukrey, about the film and the friendship of the four Fukras and so much more! Enjoy!
Is acting something you always wanted to do?
Yes, I always wanted to be an actor. I am really blessed, I think, that I am getting to do what I really love and something I am really passionate about.
So the story of Fukrey…
It is a very fun filled film. Fukrey is urban slang, not Indian slang, which means a good for nothing, bunch of slackers, directionless, who just want to have fun and do nothing useful in their lives. This about these four guys who are actually Fukrey and how they get into a situation because two guys out of them called Hunny and Choocha have a very, very great USP. See when Choocha sleeps at night he has this unique talent that he has some really weird dreams. Like suddenly, say for example, he sees in his dream Stacey becoming a mermaid, then getting out of the water, then playing on an elephant, then taking the elephant by the tail and zooming it around and just throwing it away. Then suddenly Choocha comes in and saves it and tears apart the elephant's stomach and from inside comes Hunny… So you see those weird kinds of dreams – it is like that crazy. (Laughs)
So in the morning, he narrates these dreams to Hunny and Hunny has his own gift. He is very talented in the sense that somehow he decodes these dreams and somehow derives a lottery number. They go and buy that lottery number and bang on, every time they win, that is 100% sure. So they actually bank up on that and it becomes a very good financial scheme for them. That is how the other two guys also get into the scheme because they also need money. There is one guy who is called Zafar; he actually is the guy who is very into music. He is there in the college and has been there a long time. He wants to get out of college but music is not allowing him too because he has lost that sense of music. His compositions don't come out that great now because the love that was there in his life it is not there any more. So he has got his own emotional baggage for which he needs money. Then there is the fourth guy Lali, he is the most innocent Fukra in the sense that he never does anything wrong. He never does anything fun filled or something that is risky. Lali doesn't try to take any sort of short cut or how we Fukras called 'jugaad'. So he doesn't believe in those jugaad's, but he somehow lands in situations around him that make him a Fukra. He also enters this thing and he also becomes a victim of this particular situation. The situation is basically Bholi Punjaban played by Richa Chaddha. She is a female mafia don in Delhi who runs brothels and drug cartels and at her casinos she would have match fixing. She would have DVD piracy. She has everything under the sun that is not legal. She is actually what takes the film to another level. As soon as she enters it goes from a slice of life and it turns into a comedy caper all of a sudden.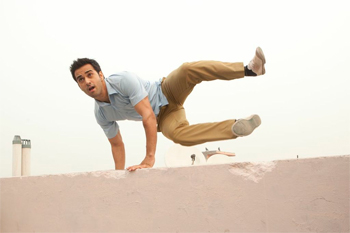 How did you become Hunny?
We actually heard the narration from the director Mrighdeep Singh Lamba. He is a kickass guy yaa! He actually is one of the biggest Fukras, because everything we have done in the film, he has done in his life. He has picked up episodes and instances from his own life and put it into our characters. So for me, personally, to be the role of Hunny I had to do nothing, I just had to copy him. I imitated him in the film so the way he talks, the way he walks, the way he eats, his speech pattern and all of that. And I think everybody else in the cast did as well. We all learned a lot from him. The kind of language used in the film and the kind of fun and the kind of seriousness at the same time that is required – we all imbibed things from him. The kind of sense of humor he has, he has imbibed in the film and in the script. The kind of experiences he has – he shared everything with us. It's basically you see four different sides of Mrigh in the film in these four characters. So it actually was very easy for us. We just believed in Mrigh and we went and did it.
What was it like to work with the other actors? It seems like you guys really became friends…
It was super yaa; the working experience was really nice. We didn't know each other before. We had some workshops and that actually served the purpose of breaking the ice. We had so much fun that actually conducting a serious workshop with us after just two days was really difficult. It was really fun. Now it's like if somebody is not there out of all four of us, even if one person is missing, like Manjot Singh is always off someplace to meet his girlfriend, (he is just behind me, he laughs) we miss him every time he leaves us. (Laughter)
I have always been curious so tell us about doing music videos/song sequences, what is that like?
I think shooting a song sequence is like having a picnic all of a sudden. You know, when you are doing the serious scenes or the fun scenes that you see and you crack up at and really laugh out, even those scenes are very serious when you shoot them yaa, because you have to take of lighting, you have to take care of the kind of framing done, you have to be sure of the dialogs that you are speaking, you have to be sure about the timing. There is a lot of work that goes into that. But when you come to the songs, I think it just turns into a picnic spot. Everybody is having fun. It is a big set up. There are new faces on the set, so along with us, there are so many dancers – there is a huge number of women around. It is a real treat to shoot a song sequence. It is more of one for the audiences when they see them; I think it is a very good relief that comes in the film.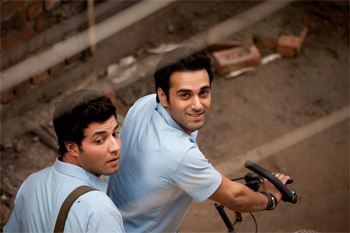 Your favorite scene in Fukrey?
I do have one definitely. There is a scene where actually Choocha has a dream where on the first day of college, when we are entering the college, we have to go there on horseback. I am on the white one and Choocha is on the black one and we are wearing red shirts and black jeans, long boots with those long chains and zippers, and black aviators. That was really fun because it was really eccentric and stupid to do. We actually pulled off in the film because we are the coolest dudes.
What are your thoughts on the music for the film?
The music is outstanding. I think Ram Sampat is a genius and he has again proved himself. He worked with Excel on Talaash as well and he did a good job there and he does an excellent job on this one as well. For Fukrey, I think it is very difficult to choose one particular song as my favorite, but if you ask me, I think the title track is really interesting. It has got a very, very interesting dub step and he actually called a very good dub step artist as well to ensure that particular process. I think that is one of the songs that would work in the West as well. He has actually cracked a formula and I am going to speak to him about this… he has cracked this formula where he has brought together the folk culture and the folk sounds that India has and the dub step and the rock sound the West has and he has actually mixed that up in our album. We are a fan of him. He is superb!
How different is it to shoot a movie compared to TV?
Personally I don't think, apart from the scale, anything has changed from my performance over here in films. It always has been a matter of entertaining people. That is what I have always believed. I just believe in entertaining them. I just want them to cry when I cry, laugh when I laugh, and dance with me when I dance on screen. I just wanted to do that – be it on the stage, on the floor, on a street theater or maybe in the film – it doesn't matter to me. It's just a different scale it is being presented at.
What are audiences going to see when they come to see Fukrey?
They are going to see funny things! They are going to see seriousness! See relationships going, relationships breaking, relationships going weird, new relationships developing! They are going to be on a roller coaster scene and be up and then come down, then go up and then there is that fall that gives them that adrenaline rush! It is totally entertaining ya. You just go there and see what these characters have been doing through out their life. They will discover the Fukrey way! It's fun to be a Fukrey and I am proud to be a Fukra!
Produced by Farhan Akhtar and Riteish Sidhwani, Fukrey also stars Ali Faizal, Manjot Singh, Varun Sharma, Priya Anand and Richa Chaddha. The comedy hits theaters on June 14th!
Here is the trailer to show you more!