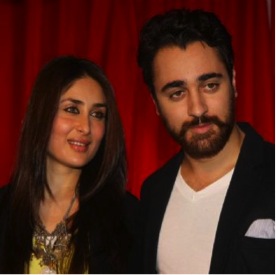 When we reported that Karan Johar, Imran Khan and Punit Malhotra were teaming up again for a new film, fans went into a happy tizzy. Then, of course, the questions and the tweets began flying wondering who, who, who Imran would be romancing? Rumors abound about who that who would be and included Sonam Kapoor and the new hot face of Parineeti Chopra. However, now we have the answer and it will definitely add to the huge buzz surrounding the film. It's Kareena Kapoor!
Yes, once again audiences will see the cute and electric jodi of Kareena and Imran. The first time was in the fabulous Ek Main Aur Ekk Tu, which also was produced by Karan Johar.
Kareena told TOI, "I'm truly excited about this project because I will be uniting with Imran and Punit. While Imran and I shared a terrific chemistry in Ek Main Aur Ekk Tu, Punit and I have known each other for a decade. He is my designer Manish Malhotra's nephew and in that sense, I feel close to him. I like his sensibility as a director and I think Karan, Imran, Punit and I will not only make a good film together; these guys will also let me boss over them."
Adding, "We're going to make a commercial mainstream masala film; something I'm looking forward to. Honestly, I'm up for the challenge and am raring to go."
Talking about the film and starring with Kareena again, Imran said, "I'm really excited with the dream team we've assembled. Having worked with Bebo in EMEAT, I know first-hand the value she brings to a film. This film is going to be a whole lot of fun."
Kjo is really excited about this new project, "Imran and Bebo are practically in-house talent for us and so this feels like a home film in every way. Their on-screen chemistry coupled with Punit's commercial expertise of handling a love story makes this film immensely exciting to all of us."
According to Punit, this film has a love story vibe and is 'super fun yet poignant' and we cannot wait to hear more about it! Stay tuned we will be bringing you all the scoop on this exciting fun new film!