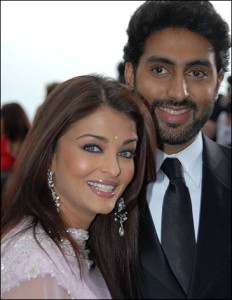 With the tweet, "IT'S A GIRL!!!!!! :)))))" Proud Papa Abhishek Bachchan announced to the world that he and wife Aishwarya Rai were blessed with a baby girl today. An ecstatic Dadaji aka Amitabh Bachchan also tweeted the families joy writing, "T 561 – I AM DADA to the cutest baby girl !! A dada ji … Ecstatic !!!!"
The congratulations have already begun to pour in on Twitter. Here are some of the first few!
Ritesh Sidhwani: @juniorbachchan Congratulations Ab and Ash.. Lots of love to the new angel in your life. Love
Boman Irani : @SrBachchan Dadaji!!!!!! All of us here are delirious with joy! Bless you all!
@juniorbachchan OHHHH MAAAARAAAAA BAAAAAAP!!!!! Overjoyed my darlings!!!!!!
Raveena Tandon: @SrBachchan CONGRATULATIONS my dearest Amitji!!love to ash and Abhishek!!godbless the lil Angel!!love Raveena Anil
Sonu Sood: Congrats@juniorbachchan..the cutest angel arrives..A BIG HUG BRO:-)
Karan Johar: Congratulations!! Baby B had a baby girl!! @juniorbachchan!!! All the love and happiness…am sure she will be the prettiest girl ever!!!
Bipasha Basu: OMG! So excited Baby B is Daddy to a lil Angel! Congrats Ash n @juniorbachchan n to d entire family!Welcome sweet baby girl:)
Genelia D'souza @juniorbachchan congraattttsss abhishek, I'm soooo excited pls give ash a biggg hugg, can't wait 2c d lil angell SrBachchan congrats sir, I'm sure Jayaji n u r thrilled,, so so happy n lots n lots of love
Later Amitabh tweeted: "Thank you all!"
No details have been given out as yet but you can be sure when we hear we will let you know. For now we will just wish the Bachchan and Rai families heartfelt congratulations and wishes for many blessings for the new baby girl!