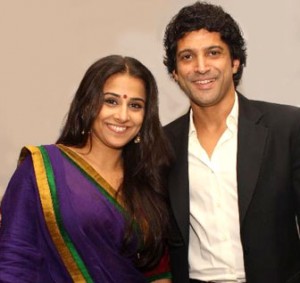 Here is some exciting casting news for you – Vidya Balan and Farhan Akhtar have signed a film together! This intriguing and very exciting jodi will be seen in Shaadi Ke Side Effects, which is the sequel to Pyaar Ke Side Effects. The original, which starred Mallika Sherawat and Rahul Bose, released in 2006 and has become somewhat of a cult hit. Now the story will go on with Vidya and Farhan taking over the roles of Sid and Trisha. So what will it be all about? Producer Pritish Nandy told TOI, "SKSE is a funny, clever, wild film full of the fascinating ways love works before and after marriage."
Adding, "SKSE begins where PKSE ends. Except the lead pair, everyone including director Saket Choudhary and music director Pritam remain. The story had very strong connectivity with the audience, so we decided to make a sequel. Unfortunately, it took a while in writing. Saket is a brilliant director but a slow writer!"
Both Vidya and Farhan are excited to be part of this film and Mr. Nandy says they both loved the script as soon as they heard it. This will be the first time the two will be seen romancing on screen and from what we can tell it is going to be a very cute jodi.
Vidya loved the original and is very excited to take this story forward and to work with Farhan, "It begins where every romcom ends. Saket's observation of relationships is simple and that makes it naturally and perhaps sometimes even unintentionally funny, mad and sexy. It's the first time that Farhan and I will be working together. He's so real that everything about our situation in SKSE would seem believable."
About his character Farhan says, "SKSE is a departure from my earlier work as an actor. It's a romantic comedy — a genre I haven't done yet — so it promises to be a new experience. Saket has written a funny yet moving story about simple things that everyone can relate to. Also, I look forward to working with Vidya."
We know we can't wait to see these two incredible actors together in a film and especially with those quirky characters we can't wait to see what happens next! Stay tuned we will bring you all the scoop on Shaadi Ke Side Effects!