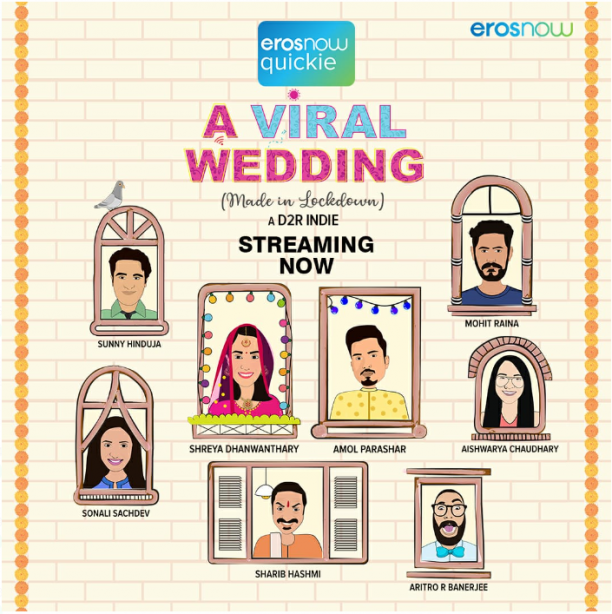 With all of us under a nationwide lockdown due to the novel coronavirus pandemic, the only thing which is keeping everyone glued to their screens is quality content. Bringing to us entertainment packed in its brand-new web show titled 'A Viral Wedding' – Made in Lockdown is premium OTT platform Eros Now. 'A Viral Wedding' will be premiering on ErosNow.com on Saturday, 9th May, 5 pm onwards. Featuring Shreya Dhanwanthary and Amol Parashar in the lead, 'A Viral Wedding' is a lighthearted attempt to look at the consequences of an unprecedented lockdown. Since many couples are willing to take wedding vows on the planned date over postponing it, they are not hesitant to try the new idea of virtual wedding.
Produced by the recipients of the Filmfare Award, Raj Nidimoru and Krishna D.K., who have built a credible reputation with films and shows like 'Shor In The City', 'Stree', and 'The Family Man' amongst various others, the show traces the story of a social media influencer called Nisha, (played by Shreya) who's planning her big fat Indian wedding with her fiancé Rishabh (played by Amol). The leads are shown transitioning their dreamy wedding into a virtual one after their elaborate plans are put on hold. However, here the big question is whether this wedding will even count, and will they get to see each other anytime soon? Well, only time will tell!
Bringing to the audiences a perfect blend of beautiful traditions and modern aspirations, 'A Viral Wedding' is a perfect Eros Now Quickie presentation delivering short-form entertaining video content. The show comes with 8 episodes of 9 minutes each and is the first ever show in the world which has been shot and created online. Impressively, all the actors involved in the series have shot their portions themselves on phones and GoPro's. What makes 'A Viral Wedding' so special is the fact that it is a rare show in which the audience and the characters are living through the same unprecedented set of events.
Talking about the show, Ridhima Lulla, Chief Content Officer, Eros Group says, "A Viral Wedding is such a unique show with a never seen before storyline. It is emotional, funny, and extremely real at the same time. At Eros Now, we are really excited to bring this one of a kind narrative for all our viewers and hope they enjoy watching it in these times of lockdown."
Excited to be a part of 'A Viral Wedding', Amol Parashar says, "It has been a fulfilling and innovative process to be able to act and create something with a great team even amidst lockdown. It is a unique show, just by the nature of its making, and it is great to see Eros Now backing such crazy endeavors. While creators like us are looking for interesting things to do in the lockdown, the audiences are looking for interesting things to consume. So, it's a win-win for all."
Shreya Dhanwanthary also got chatty about working on this special project and added, "I have been working on the show since its inception. And to find a home at Eros Now has been such a blessing! Creating content in these times of lockdown which can be enjoyed by everyone has been a great learning experience. 'A Viral Wedding' brings a unique experience to the audience in that the characters and the audience are living through the same exact reality. To add a wedding in this scenario is something that I hope audiences will like for its unique content."
Written and directed by Shreya Dhanwanthary, 'A Viral Wedding' will be premiering on ErosNow.com on Saturday, 9th May, 5 pm onwards.