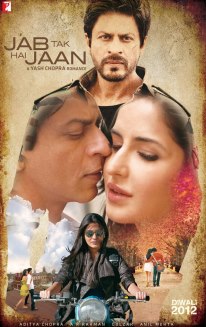 Yash Raj Film's Jab Tak Hai Jaan went live on Twitter less than a month back and has already reached a landmark 12,000 followers! This just proves how viral Jab Tak Hai Jaan truly is. The Shah Rukh Khan fans are going all out to promote the film only to have close competition from Katrina and Anushka followers. Fans are waiting with baited breath for the eternal love story and the ultimate combination of a Yash Chopra directorial starring Shah Rukh Khan.
The fans on Twitter are so smitten by the trailers and music videos that each tweet goes to receive over 200 retweets while hundreds mark it as favourites. Shah Rukh Khan received accolades for his look in the movie, Katrina looks more ravishing than she already is; wearing gorgeous dresses and romancing Shah Rukh Khan. What surprises us is Anushka Sharma's new biker chick avatar which wants you to see more of her when the trailer plays.
When the music video 'Challa' was launched sung by Rabbi Shergill, it went on to become the top viewed music video in less than 4 days of it going live, and the same response is expected with the launch of the entire music album. The movie has big names to it right from The King of Romance to the grand maestro A. R. Rahman composing the music and the legened Gulzarji penning the lyrics. The trailer looks promising and now with the launch of their music videos and their popularity on social sites, Jab Tak Hai Jaan is definitely one of the most awaited film of the year.
Twitter link: https://twitter.com/JTHJTheFilm