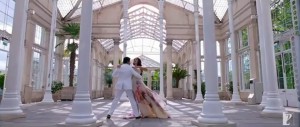 Yes! It is finally here! We finally get to see Shah Rukh Khan, Katrina Kaif and Anushka Sharma in the love story by Yash Chopra. Add in music by AR Rahman and lyrics by Gulzar and this film tops probably eveyone's list of films WE MUST SEE!
Talking about the film Yash Chopra said, "It's been 7 years since I directed Veer-Zaara and as I begin work on my new film I hear my inner voice asking me a lot of questions. Are you sure you want to direct again, you are nearly 80 years old and the audience is getting younger day by day. Can I really speak from my heart and still expect today's youth to listen to me? Will I be able to live up to the blind faith that Shahrukh Khan has in me and give him yet another memorable romantic film? Will I be able to present the beautiful Katrina Kaif and the very talented Anushka Sharma in a way they have never been seen before? Will I be able to inspire Rahman and Gulzar Bhai enough to create their best work yet?
The honest answer is… I DON'T KNOW! All I know is that I'm making a film that I believe in, a film that is about love and nothing else. A film which has an old soul but a young heart. A film which is classic in its look but contemporary in its language. A film which I'm making on one simple faith… the love that my audiences have given to me over the years. They have tolerated my indulgences for the past 50 years, I'm sure they will indulge me one more time."
Since I know you are hitting play and not reading this I will simply say…. Is it November 13, 2012 YET?
httpvh://youtu.be/v0UXgoJ9Shg
We also have the trailer with English subtitles
httpvh://youtu.be/6Mp-7kM3Uqg