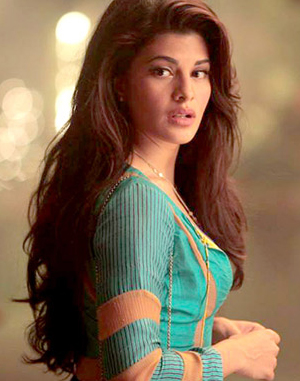 Kick, starring Salman Khan, hits the big screen on Friday. Directed by Sajid Nadiadwala, the romantic action film also stars the fabulous Jacqueline Fernandez. Also taking part are Randeep Hooda, Mithun Chakraborthy and Nawazuddin Siddiqui.
The intriguing story of Kick is about man's desire to live life to the fullest and get a 'kick' out of every opportunity that comes his way. Salman Khan plays the character of 'Devil', an adrenaline junkie who is addicted to risk, be it in his job or in his personal life. Along the way he meets Shaina, played by Jacqueline Fernandez. They embark on a whirlwind romance, until one day he breaks up with her for a new 'Kick' and walks away never to return. Of course that is only part of the story, but you have to wait to see and find out more when the film hits the big screen.
We had a fabulous, fun and laughter-filled conversation with Jacqueline about starring opposite the hunky Salman, working with Sajid the director and what she thinks makes Kick so special! Check it out!
What drew you to this project?
Umm…Salman. (Laughs) That pretty much drew me to the character. (Laughs) Honestly this is like a dream come true for any actress. Any actress would have wanted to be a part of this movie. I think I have just been really blessed to have been have gotten a movie like this. I can't stop thanking Sajid sir and Salman for giving me this opportunity. It has been such an amazing experience.
Tell us about your character.
She is very sweet, simple girl who is a psychology student in Delhi. She lives a very ordinary life. She comes from a good family. Then a person comes into her life who is completely extraordinary. Whose mission in life is to live every day getting a kick out of something. So it is basically what happens to her and how her life changes and evolves because of him. Everything turns around and she experiences life in a very different way because of this person.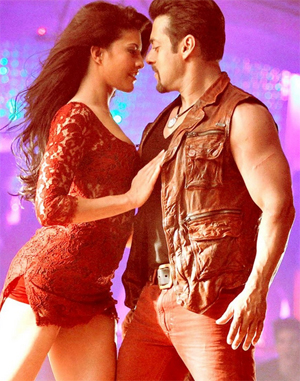 How is it to act opposite Salman Khan?
(Giggling) It is difficult because he is so good looking. It is so bloody difficult. (We Laugh) But seriously, he is actually one of the most inspiring people I have ever met. He has an amazing sense of discipline and an amazing sense of focus. He takes his work extremely seriously. That is something I have learned from him because I always felt as an actress sort of like…'I'm an actress. We are artists. We do things according to our style and mood.' But working with Salman, he respects his job so much. You know, he works from the minute he opens his eyes to the minute he closes them. It is like his religion. That was what opened my eyes to what it is really like to be a superstar or if you want to be a superstar or if you want to have success, I think that is the answer to it. You know? I think it was such an amazing learning experience for me.
Now Sajid Nadiadwala is a very well known and successful producer, but this is his first time as a director, how was it to work with him in that avatar?
I have worked with him as a producer and he was seriously one of the coolest producers to have. He loves his actors and takes such good care of them. He is known in the industry as someone who spoils his actors. But God, if I thought he was amazing as a producer, I had no idea what to expect as a director. As a director he is triple of that! He is every actor's dream. He is a delight to work with. He takes such care, I think, of his characters and then puts that into what he wants from his actors. He is able to put that forward to you in a way that is so gentle yet so precise. Seriously, every time I see him I just want to hug him. (Laughs) What he has done for me, how he has helped me… He has pushed me to my limits but in the most amazing ways. He is really someone I look up to.
I just hope that I have made them proud with what I have done. This is something I have definitely worked really hard on. I have always kept in my head, 'Listen don't disappoint Nadiadwala. Don't disappoint Salman. Work hard. You have to do this! If anything you have to do this for Nadiadwala, you have to do this for Salman!' That was always running in my head! It became about them.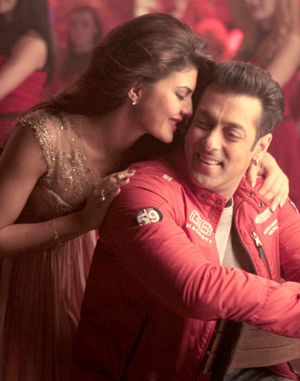 The song 'Hangover' has such an interesting and unique look. So colorful and looks so beautiful…what was it like to shoot that song?
It was so dreamy! See for me…and not just for me, but I think every girl's dream is to be in a romantic song that Salman Khan is actually singing in…(Laughs!) where he is looking amazing. (Laughs) When I see the song I am just like 'Oh My God! It's like a fairy tale.' And you know it is a real life fairy tale for me to be a part of that! It's super special!
What was it like the first time you saw yourself onscreen with Salman Khan, your first thought?
I was in SHOCK! My jaw had dropped and I gasped and said 'Oh My God!' When I saw the trailer I was like 'I am part of this movie, NO way!' It was a very emotional moment for me because after having been in the industry for a couple of years and kind of slowly working my way through, it this was pretty much everything that I had worked towards. Then to see it on the bring screen was really realizing a dream.
What do you love about Kick?
I love the fact, honestly, that it has amazing action! It has very, very high action and the quality of it is amazing! But apart from that, it has got so much heart! It has such real characters that you can really care for and really be a part of the journey with. I think that that mix and balance of the two has been brought together so well. It just makes it really special I think. It doesn't just go into a one track. Like I said, it has SO much heart to it. I think that is what I love most about it.
The story…it is an amazing journey of one man. It will inspire people, I think, all kinds of people and from different walks of life, to maybe live life a different way. In a more positive way. Because that is pretty much what it is and that is pretty much what his character does and who he is. It is definitely very uplifting!
Did you get to do any of the action or was that all Mr. Khan?
No, I didn't. Thank God! (Laughs) I am so sick of that. Seriously, in other films all they ever want me to do is kick and punch and look hot and do some action. In Kick, I didn't have to so it was good.
Can you give us any sneak peeks about Roy?
It is very exciting. It is a double role. You know it has Ranbir and it has Arjun so that is going to be quite cool!
We would like to thank Jacqueline for such a great interview! We can't wait to see her on the big screen!