Actress Jacqueline Fernandez has found a best friend in Bollywood , actor Varun Dhawan. The twomet on the sets of Rohit Dhawan's film 'Dishoom', and immediately got along. They have spent a lot of time together while shooting in Morocco and have recently returned to India.
Speaking about their friendship, Jaqueline said, "He shares my sense of humour. Last week, he took my phone and started posting random pictures on my Instagram account. When I asked him to stop, he posted a shirtless picture of himself and tagged it.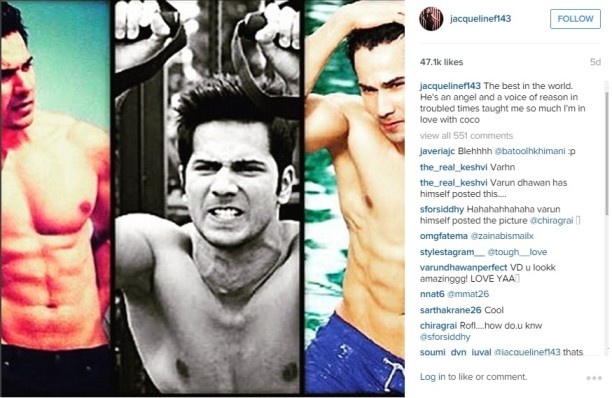 Reacting to Varun's prank, Jacqueline quickly replied by posting a meme: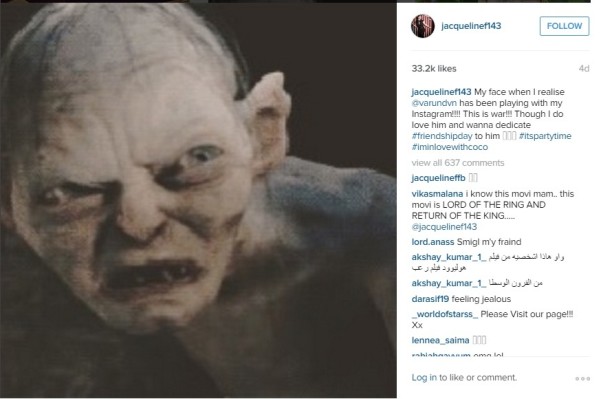 The duo also shares their love for animals. The doe-eyed beauty will soon be adopting a monkey with her friend Varun. She plans to hire an army of servants to look after all the other pets she plans to bring into her home.
Jacqueline confirmed the news saying, "Now, Varun (Dhawan) and I are adopting a monkey. We met Coco during the shoot of Rohit Dhawan's Dishoom in Morocco. We're waiting to bring him home as soon as the formalities are completed." 
Here's hoping the two continue their friendship for years to come. We sure can't wait to see their friendship on screen in Sajid Nadiadwala's action-adventure Dishoom.