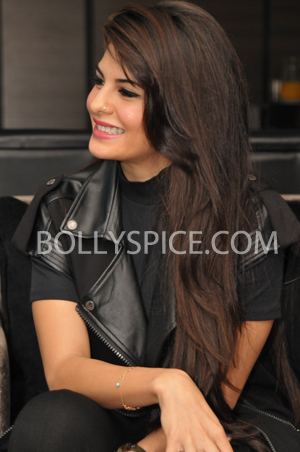 Jacqueline Fernandez is one of the most happening female actors in Bollywood right now. The 27-year-old beauty made her acting debut in the Hindi Film industry with Aladin in 2009 starring Ritesh Deshmukh and Amitabh Bachchan. Fernandez was already known since she was crowned Miss Sri Lanka Universe in 2006. Most recently, Jacqueline was seen in hit films like Murder 2, Housefull 2 and Race 2.
The sultry actress recently descended into London to attend a fundraiser for Pratham UK, a charity that helps to educate illiterate children throughout India. The event raised a staggering £42,000 for the charity that was attended by a 350 strong audience of women. India's leading fashion designer Payal Jain mesmerized the audience with her collection 'Butterflies In My Heart' for the fundraiser.
Jacqueline spoke to our Bollywood Reporter Sunny Malik ahead of the event and talked about the cause, her films, friendships in Bollywood and much more…
Welcome to London.
Thank you. I love London. It has been amazing to be here. This time it's a little different because I am here for a certain cause. Its work but it's very fulfilling as well.
You are in the city to attend a fundraiser for Pratham UK. How did your association with Pratham come about?
I have a friend who is part of the Pratham group. Pratham is also very well-known in India. My friend knew that it's a cause I am quite interested in and passionate about. I think education is something every child in the world has the right to. That is how my friend got me involved in the fundraiser in London and so I am here.
Can you tell us a little bit about Pratham and their work?
Pratham is all about education and literacy. Over the last twenty years, they have been able to educate over 33 million children all over India. They have done some amazing work. It's great and really important to have a helping hand for such an issue in a country like India. Pratham has educated over 2 million children in the past year. They want to reach a target of about a 100 million kids. It's amazing that we have such generous and passionate people involved. Being a Sri Lankan myself, I see the need for it in India. Pratham is one of the most important charities that we have.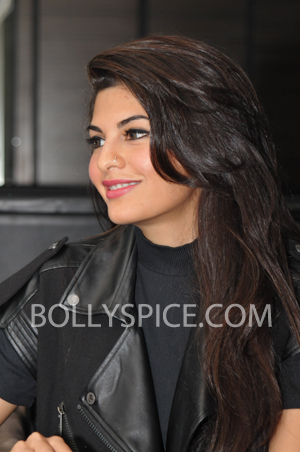 You filmed for Housefull 2 in England. How does it feel to be back here and what do you like to do?
You know, I haven't been back in London since I filmed Housefull 2 in 2011. It's been a while (laughs). I am actually here just for Pratham but after finishing that up, hopefully I will have time to visit Harrods (laughs). I also love Hyde Park and I have to go there (laughs). That's about it.
Congratulations on the super success of Housefull 2 and Race 2 at the UK Box Office. Housefull 2 earned over £1 Million and Race 2 earned close to £1 Million here and is still the highest grossing Bolllywood film for this year, so far. How does that feel?
It feels good. It has been a graduation of sorts. It has not really always been this way. It has been a slow process for me but I think since Murder 2 happened, a lot of things have changed for me. With films like Housefull 2 and Race 2, it has been about working with great directors, producers and actors and I think there is just no looking back from that.
Lat Lag Gayee from Race 2 is the most watched Bollywood song on YouTube this year, so far.
Yes, it did get quite big on YouTube.
When we met Saif Ali Khan in London he said the makers should cut him out of the song because his dance moves are really bad.
(Laughs) I know. He keeps telling me 'Thanks Jackie. You made me look really bad'. I always tell him that I did not do anything. You did it all by yourself (laughs).
Did you expect that Lat Lag Gayee is going to be so popular?
The song was really good. I was definitely promised a very good song by my producer, Ramesh Taurani. He said that I am going to have a 'Touch Me Touch Me, Kiss Me Kiss Me' song like Katrina Kaif. When I heard Lat Lag Gayee for the first time, I thought it is nice. But I think what really helped the song was the choreography. Ahmed Khan gave us a really cool signature move and made it really fun and funky. It just came together really well. I did not expect it to become as big as it became but I knew that it would do well.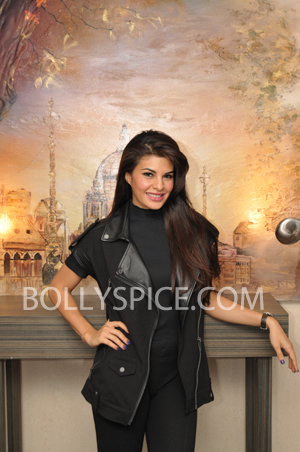 After Lat Lag Gayee, Tips Films signed you for an item song in Ramaiya Vastavaiya. The song is very 'desi' compared to what you have done before.
I wanted that actually. Initially, I was not interested in doing an item song. I told Ramesh ji that I am not interested in doing another item song. He told me that it was with Prabhudeva and that they want me completely desi. That is something I haven't really done. I thought to myself that it is something I haven't done and that it could be quite interesting. At the end of the day, songs and dance mean so much to us. I thought, maybe if I get another one in my pocket, it wouldn't be such a bad thing. I also really wanted to work with Prabhudeva. He is someone I have been dying to work with. He has danced with me in the song and trained me for it as well. That in itself was an experience.
Sonam Kapoor considers you as one of her best friends. That's rare in Bollywood, to see two contemporaries being close friends. Asin is also a good friend of Sonam and yourself.
I have worked with Asin in Housefull 2, which is how we became friends, after doing an entire movie together. But Sonam is just one of those extremely cool and confident young ladies. She just has no insecurities about her. That is amazing and you can tell that. She wants to go out all the time and is all about having her girlfriends around her. She is one of those typical kinds of girls who want to go out and shop. She is fantastic and gives me wardrobe and styling advice. I can't see any other actress doing that. Asin, Sonam and I go out all the time. It's fantastic when you can open up to someone about things like films, working with certain actors and just have your own little gossip group going.
Those gossip conversations would drive tabloids crazy if they were to leak out.
Oh yeah. You don't want to know (laughs). That's between our little trio. But we have so much fun together. It is true that you never really come across people, especially actresses, with whom you can actually just talk and have fun with.
You refused a few big films like Raaz 3 and Krrish 3 and then there were reports that you said you regret those decisions. How are you choosing your films?
Not in the way I was choosing them before (laughs). You know, it's really sad though because I had not refused those films as much as there were date issues involved. When it came to Krrish 3, I was in full preparation and I was practicing stunts at Juhu Beach (Mumbai) every day at six in the morning. That went on for about a month. It just happened to clash with a schedule of Housefull 2. Both films were shot abroad with international technicians. I had to obviously honour my prior commitment which was Housefull 2. With Raaz 3, the script was changed around. When I heard it again, I was just not comfortable with it and I opted out of the film. Those stories were slightly fabricated that I had turned them down for specific reasons. There were valid reasons. Right now, I am a little bit more open and less choosy.
You are not on Twitter even though you were using it a few years ago.
Yes, I am not on Twitter anymore. When I was doing Jaane Kahan Se Aayi Hai, they (marketing team) set up a Twitter account for me which was @jackie_alien.
Your last post was in 2010…
(Laughs) I don't even remember what my last post was or when it was. But at that time Twitter was new and it was the biggest thing happening. I was told that I will really need it to promote the movie. I went with the flow of it but only for the actual movie. I did not enjoy it too much. I thought that if it is something that will help promote the movie, then I will do it. When I finished with that movie, I didn't think it served me any purpose, honestly. I did not see the need for it. It wasn't like I really felt the need of putting my personal life on display, the way other celebrities feel comfortable with. But to each their own, I suppose.
Some celebrities also use Twitter to promote social causes. Would you consider that since you are here for cause, Pratham.
I would but I feel that there are different ways of reaching out to people. I am actually going to be at an event. I am speaking to journalists about it. It's not all about Twitter as not everyone is on there. The people who are on Twitter are the same people who will go and read articles and go through websites online to read the news. I really never was too fond of it.
Photos by Hayat Khan